K5 Furniture began in Melbourne in the early 2000s. A family owned business, it regards sustainability as paramount to true success – taking an holistic approach to production which celebrates reuse, restoration and regeneration in a full lifecycle. Mixing Italian design flair with Nordic craftsmanship, K5 Furniture has expanded to encompass lighting, acoustic solutions and furniture systems in their ever-growing collection.
Its commitment to sustainability extends not only to our environment but also to ourselves, and our own internal worlds. The brand aims to connects people with products which help them to experience and enjoy life, building a sustainable mindset and helping them to achieve a state of balance. Its newest products are a supreme example of the elegant nudge towards healthier habits and self-care. Explore three exciting ranges here.
1. Moon-lit revelry
This phenomenal lamp was greatly inspired by the atmosphere and energy of the moon. A globe-shaped lamp created with stunning precision, innovative design and exceptional acoustics, Moon provides bespoke directed lighting of the highest quality.
"I've given a lot of thought to outer space and the Moon – to the kind of vacuum that exists there. A place with light, yet utterly silent," says Thomas Bernstrand, designer of Moon.
The acoustic capabilities of Moon are truly astounding. Concealed in the lamp's housing are two acoustic felt blankets which absorb ambient sound along with the internal air, and its generous shape and scale allow it to absorb high and low frequency ambient noise with maximum efficiency.
Find out more about the glare-free, peaceful light inspired by the silence between planets, celestial bodies and moons.
2. Channelling the inner oasis with Zen Pod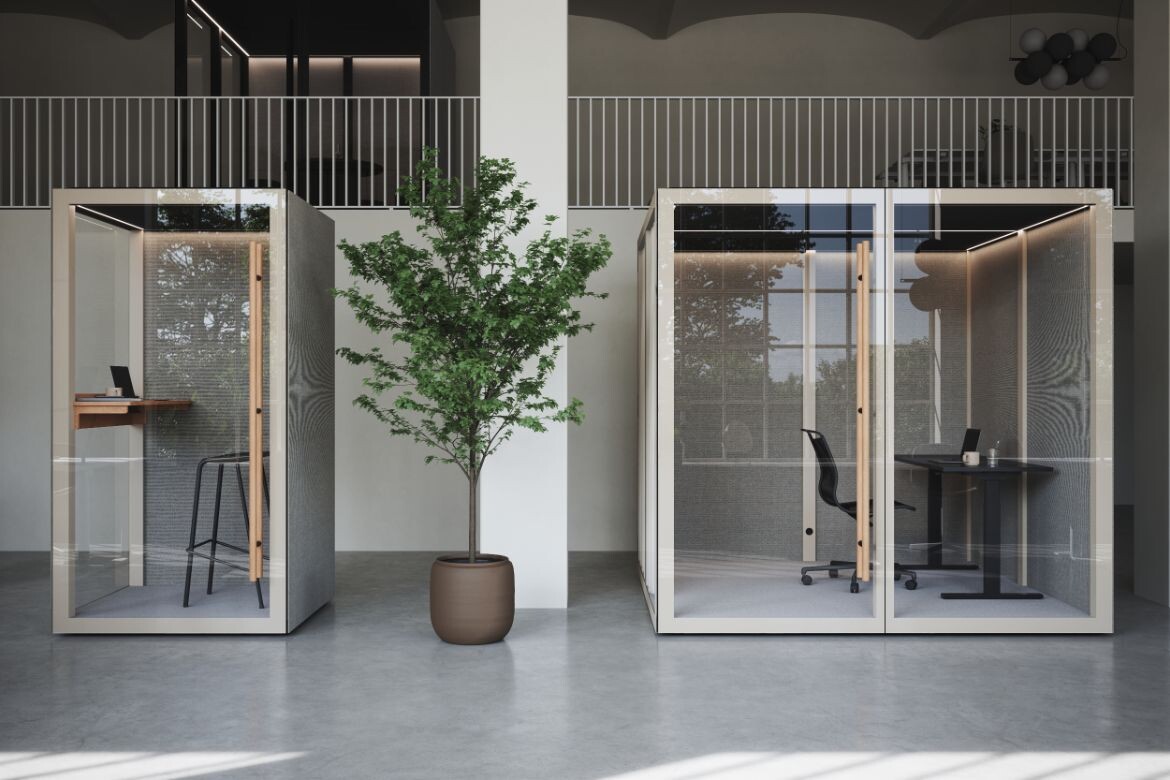 A private haven of true acoustic peace, the Zen Pod quiet rooms are an elegant retreat inspired by the inviting simplicity of Japanese design. Accented with welcoming, sympathetic materials such as wood, wool, glass, aluminium and steel, the Zen Pod provides a space to be enjoyed and to catch your breath.
"Zen Pod allows you to sense the surrounding environment without being disturbed by it. The room is quiet; not isolating," says designer Staffan Holm.
Melting seamlessly into the surroundings, the harmonious design is easy to assemble and a pleasure to use. Find out more about the private acoustic oasis perfect for creating a productive work environment.
3. Laid back and flexible with Bau
Bau is a modular seating series unlike any other. Conventional sofa designs mean nothing to this playful collection. Softer, lower and more eccentric than traditional systems, this collection consists of six modular units which can be used as solitaries or combined in new and exciting ways. Learn more about Bau and the future of modular seating.
K5 Furniture
kfive.com.au