You could say that the Danes are having a moment. The epicentre of design has taken the spotlight as a new generation clock onto their inimitable and instinctive blend of the cutting edge and the timeless. And now, coveted Danish brand HAY has brought this trademark flair to a new collaboration with industry stalwarts Herman Miller, with the release of a fresh take on a classic Eames collection.
As lifetime admirers of Herman Miller, Eames, and modern design more generally, HAY founders Rolf and Mette Hay jumped at the chance to collaborate with the Herman Miller team. Although the two brands have had a close partnership for many years (Herman Miller acquired a majority stake in HAY in 2019), this collection marks a new venture for both teams, a chance to explore the full extent of creativity provided by two of the leading brands in the international design space.
The brands responded to a challenge: what could they do together which could not be done apart? The answer was a reinterpretation of the classics, a play on modern design that would look equally at home in a New York loft as it would in a Copenhagen cafe.
And so, eight Eames mid-century classics are here, reinterpreted with new colour palettes and updated materials. But this is a thoughtful reinterpretation, born out of a familiarity with Eames designs and research time spent amongst Eames ephemera catalogued by MillerKnoll archivist Amy Auscherman; one-off furniture prototypes listed on auction sites and in museum catalogues; and out-of-production textiles by Alexander Girard, archived at textile brand Maharam's New York studio.
"Being very familiar with the existing colour range, my intention was to focus on looking ahead, instead of looking too far back," says HAY founder Mette Hay.
And look ahead she did. Expect spirited colours like Toffee, Iron Red, and Powder Yellow and considered material updates to Eames classics. Cast-glass balls replace the original painted wood of the Eames Hang-It-All, while the Eames Wire Base Low Table and Universal Base Round Table are also updated with cast-glass tops.
Eames Wire Chairs have been powder-coated for outdoor use and the Molded Plastic Shell Chairs have been crafted from 100 per cent post-industrial recycled plastic and are available in the fresh new colour palette. The iconic Eames Molded Plywood Chair has been released in HAY's iconic emerald green and the Eames Sofa Compact has been upholstered in a circa-1955 colourway of Girard's Jacob's Coat textile.
For Herman Miller, this release marks the latest instalment in a long history of collaborations and partnerships, where the brand's unwavering commitment to quality and exceptional design is taken even further by relationships with the most visionary designers of the day.
HAY joins the likes of George Nelson, Isamu Noguchi, Robert Propst, Bill Stumpf and – of course – the Eames Office in their alignment with the historic brand.
"Herman Miller is built on a legacy of risk taking and creative collaboration," says Ben Watson, president, Herman Miller. "With this collection, HAY thoughtfully reimagines Eames classics in a forward-thinking, first-of-its-kind collaboration. A unique vision of colour, the evolution of thoughtful materials, and a beautifully interconnected story of design partnership harnesses the enduring spirit of Herman Miller."
In Australia and New Zealand, the Herman Miller x HAY collection is available exclusively through Herman Miller Authorised Dealers.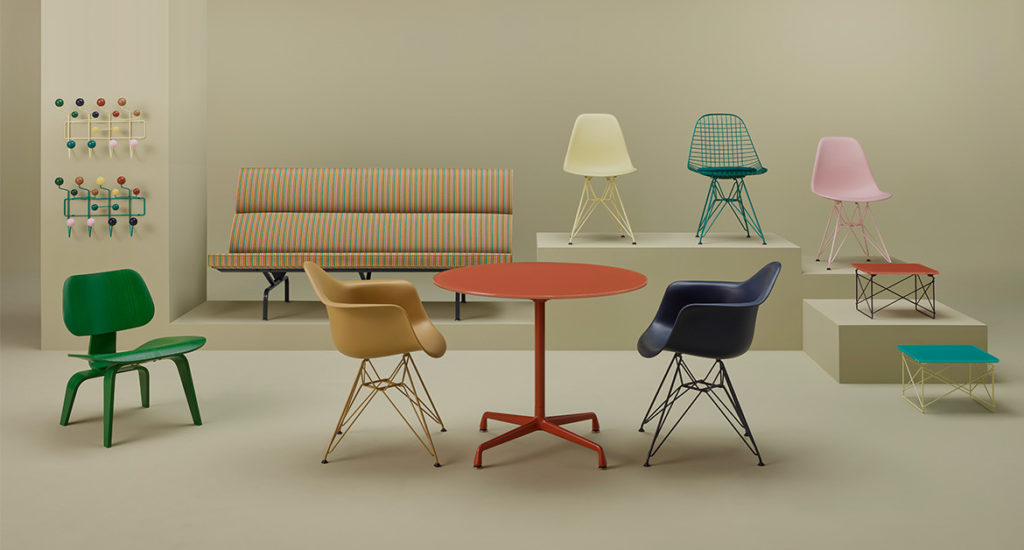 We think you might like this article about 8 sculptural furniture creations.