The tyranny of the open plan office has been widely debated for many years. And in its wake are new forms of office furniture solutions that allow for privacy and small team collaboration. Here are seven picks from Orgatec 2018.
1. Prooff
The Dutch company has not one but several products that specifically speak to the need for office privacy. All of which come with a cheeky reverence that would make them feel right at home in cool tech office, or anything in between.
One standout is the Ear Chair, which envelopes its users with large side panels, or ears. These fully upholstered panels help to block out peripheral distraction, while also helping to quiet the office noise for those wanting a spot to concentrate.
Another product from the Prooff range that brings some much needed privacy, but for a group scenario this time is the Niche. The Niche is pop-up meeting space that can accommodate four people and comes fully upholstered with a roof. The result is a spot to undertake a quick meeting, or escape from the typical distractions of a bustling office.


2. SoundRoom by Noti
Noti is a Polish brand that brings a high-quality design aesthetic to the Australian landscape. One of its key products is the SoundRoom – this product comes in a range of sizes, from a single phone booth through a larger sized room to fit a group or even a single workspace.
What makes SoundRoom so unique is its interior ribbed finish, which helps to drown out the sound and ensure that those inside the space have a lovely quiet spot to get through some work.
3. O Video Conference by Framery
A fully-enclosed pod option, Framery offers plenty of variety, but the newly released O Video Conference system is set up to allow instant conferencing capability. Bringing the same technology as seen in other Framery products, the demountable and adaptable pods are a welcome addition to any overly noisy office space.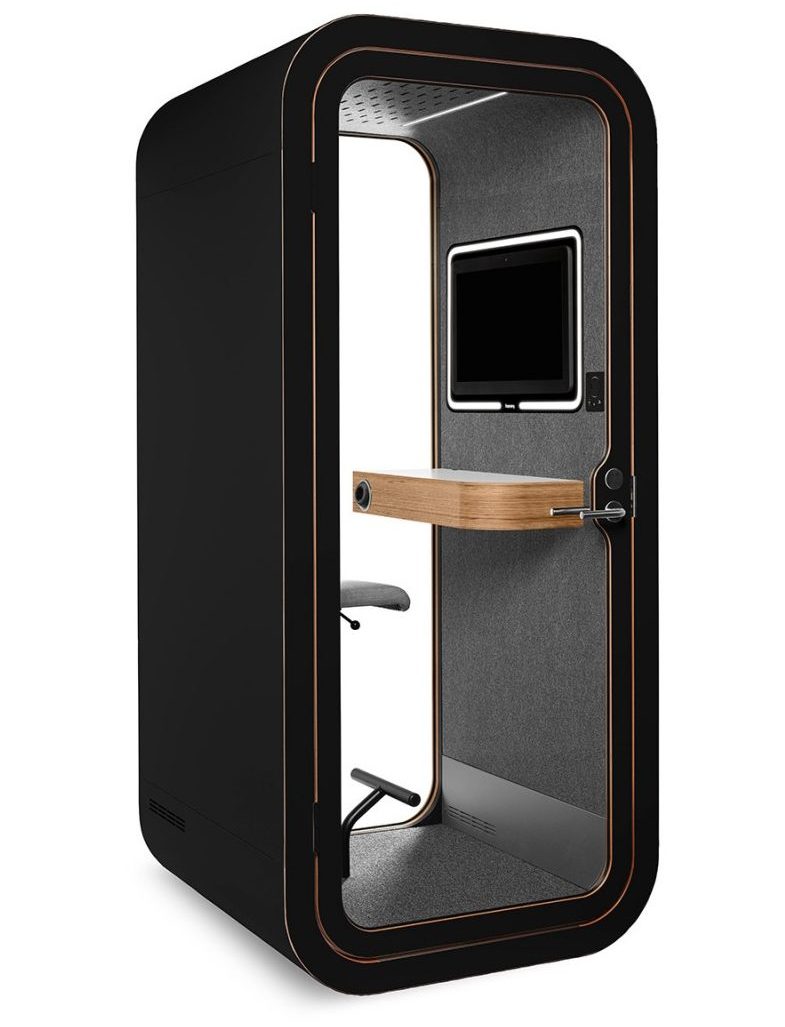 4. Human Space Cube 4.0 by Dauphin
Knowing the value of an ambient office, German company Dauphin has brought its 50 years of experience together to create the new generation of office – the Human Space Cube. Integrating glass and panelling, the Cube comes in three variations – telephone, dialogue and the new Human Space Cube 4.0. Bringing a modular design, the Human Space Cube 4.0 can be configured and installed in next to no time.
Wanting to offer places for different types of encounters, sometimes private, sometimes casual. The Jaan Silent by Walter Knoll is about creating an oasis in open space. Comfortably fitting into any stylish office, the Jaan Silent creates private islands of respite. The design incorporates a sofa and with high-backed screening for tailored retreats – essentially places for concentration or communication.
6. Eleven by Alias
Designed by British duo PearsonLloyd for Alias, the Eleven High Back Work is part of a collection that now includes a useful highback option. This versatile addition makes it suitable for many different scenarios where privacy is a necessity – office, airport and hotel for example.
An integrated work surface can be fixed with a sofa option, or a height adjustable desk, making it like a modern-day walled-in office space.
7. BuzziBracks by BuzziSpace
Described as a room within a room, the BuzziBracks is an entire architectural system designed by Alain Gillies for BuzziSpace. Designers can use BuzziBracks as an office within an office with standalone framing, then draped in curtaining to provide that much-needed privacy. In addition, the room can be equipped with add-ons such as tables, desking and accessories. Part office, part perfect agile mobile office – BuzziBracks is the antidote to today's open-plan spaces.
Catch all the latest from Orgatec 2018 here.