The pandemic raised the stakes for companies looking to retain top-tier talent and build a corporate culture that brings people back to in-person working experiences. With face-to-face events slowly returning, designers are looking towards reshaping executive offices and conference environments to meet the heightened requirements of today's workforce.
Almost 25 years ago, Wilkhahn examined the symbolic role furniture plays in their Conference Space Furniture Guide. A decade later, the Planning Guide for Conference and Communication Environments, published by Birkhäuser, provided an analytical look at face-to-face communication in the work world. Today, with their Executive Workspaces book, Wilkhahn highlights how these essential spaces can reflect both the identity of the people using them and corporate culture.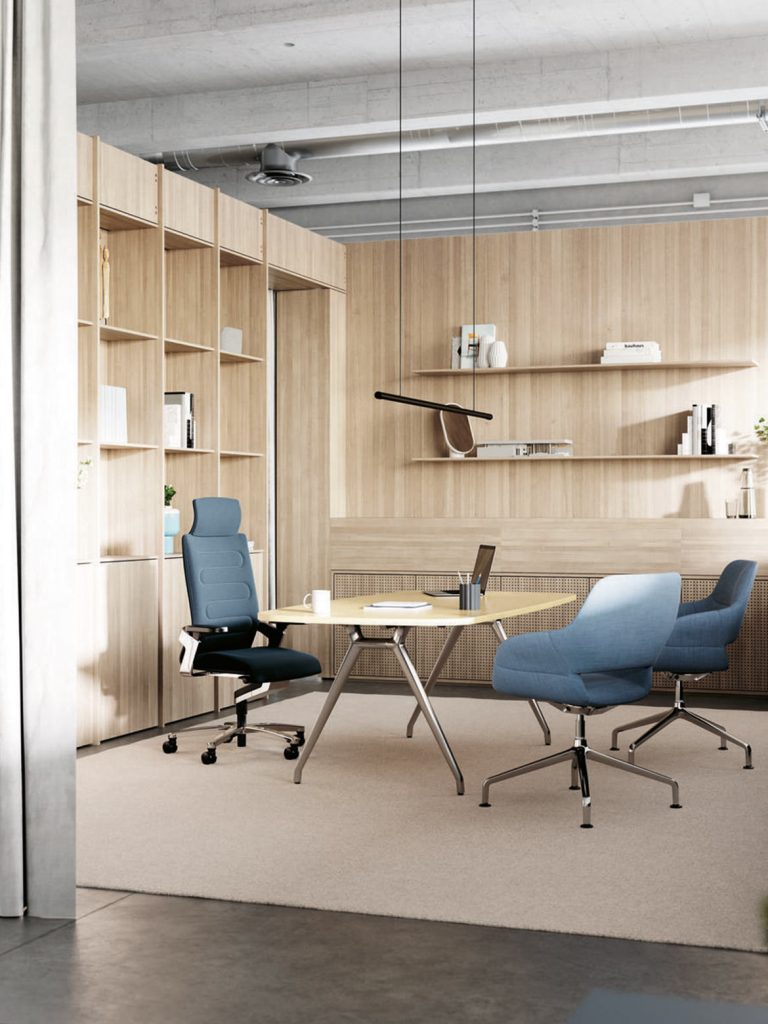 As with other workspaces, the goal for today's conference settings is to create an environment that fosters well-being, comfort and collaboration with furniture that is designed for longevity. In its new 60-page book, Wilkhahn outlines these furnishing principles, using attractive reference projects to demonstrate how cutting-edge designs can make these spaces stand out.
The combination of perfectly-shaped design, exceptional materials and outstanding craftsmanship are what lend Wilkhahn furniture that premium look and feel, making them ideal for executive workspaces. For example, the ON conference chair combines healthy sitting with a prestigious look and feel, with its slender backrest silhouette and precise stitching on the fine napa leather covers.
The Graph range is the number one choice if superior quality, seminal design and an exceptional aesthetic are required, with a selection of chairs and table systems that look seamless, appealing and timeless. The distinctive, sculptural shape of the chairs is balanced by the crisp lines and fluid transitions of the tables. Providing ultimate design flexibility, upholstery materials, colors and surfaces can be customised to match any interior design concept.
In large conference settings, the Justus Kolberg-designed Sola chair stands out for the precision of its die-cast aluminum base frame and its slender, understated appearance when viewed from the front and rear. For a more relaxed look that does not feel out of place in either the boardroom or the home office, Intra is the right choice with its organic shape, integrated armrests and motion functionality.
Beyond seating, Wilkhahn offers adaptable table solutions such as the Versa table range designed in collaboration with Wolfgang C.R. Mezger. A highly adaptable standalone table or table system that can be set up, dismantled or rearranged into different configurations, Versa offers workspace flexibility in a stylish table frame and organic table top.
Sofas are ideal for putting people in a relaxed frame of mind after a day of high-pressure meetings, so Wilkhahn teamed up with Marcus Jehs and Jürgen Laub to develop the Asienta chair, sofa and upholstered bench with backrest. Asienta is a seminal interpretation of traditional values and a combination of crisp design with home-like appeal.
The Modus executive chair, with its slender contour and looser-fit leather is the style icon for the 21st century. The high-tech backrest frame, the incomparable torsion mechanism, the slender seat bearer, swivel arms and star bases made of die-cast aluminum come together with custom-crafted components to set a new benchmark for dynamic sitting the world over.
Wilkhahn shows that spaces more open to the public gaze require carefully chosen interior design concepts. As one of the leading trend-settings in innovative furniture concepts, the company is a step ahead of trends and delivers pioneering workspace responses for their customers.
To view Wilkhahn's Executive Workspaces in its entirety, visit their website here.
Wilkhahn