The COVID-19 pandemic has led to widespread changes in work practices, including a dramatic increase in the number of people working remotely. In order to strike a balance between in-person and virtual work, many organisations are implementing hybrid working models to meet employee demands for greater choice and flexibility.
While our relationship to the physical office has evolved, it remains a vital component of a productive and happy organisation. After several months working from home, employees are yearning for the social connections and sense of belonging only an office environment can foster. At the same time, their expectations have changed, demanding high-quality spaces that support their health and wellbeing, reduce stress and discomfort, and reflect their values and beliefs, including a greater emphasis on sustainability.
What does this mean for office design? What will ultimately entice employees back to the office are superior settings and features that are worth the commute. In this context, workplace seating takes on a prominent role in promoting safety and comfort, as well as providing different options depending on the work activity. Manufacturers like Buro Seating take this elevated role seriously with their extensive range of flexible seating solutions.
To create a functional hybrid workplace that encourages productivity, collaboration and community, three key spaces must be considered: ergonomic workstations for focused individual work; touchdown spaces for short bursts of productivity; and collaborative areas for teams to connect formally and informally. Below we look at these spaces in more detail.
Ergonomic workstations
Even in the workplaces of the future, the traditional desk workstation has a significant role. These spaces are designed for long periods of focused individual work, from 4 to 8 hours at a time. In this setting, ergonomic seating is essential to support employee comfort and wellbeing, and to promote healthy work habits.
Featuring a high-density moulded foam seat upholstered with Sustainable Living Fabrics, the Buro Tidal ergonomic chair is highly adjustable, supporting an optimal posture seating position. The award-winning Konfurb Sense chair, made from 100% recycled plastic, offers another excellent ergonomic option. Its sleek lines encasing a flexible, dual-sided lumbar support, and synchro mech technology responding to the body's natural movements.
Related: Buro Seating navigates the blurred lines between work and home with the Konfurb collection

Touchdown spaces
Touchdown spaces are designed for short bursts of focused work, usually 30 minutes to three hours. These spaces accommodate flexible workers dropping into the office, or for quick meeting debriefs and catch-ups.
Tall-backed booths, such as the Konfurb Studio booth and the modular Konfurb Star, promote privacy and a focused atmosphere. Bar leaners and stools, such as the Konfurb Fly Barstool Swivel and the Konfurb Fly Barstool Sled are great for creating transitional spaces for people on the move. To promote flexibility and creativity, customisable soft seating like the Konfurb Eightby4 Series and the Konfurb Block Series can be configured to suit any space and any need, with endless options for custom upholstery.
Collaboration areas
With its sleek design and high-quality construction, the Konfurb Harmony chair is ideal for occasional collaborative seating. Its adjustable seat provides continuous dynamic movement and good lumbar support, promoting active sitting for improved health and wellbeing.
For more natural, relaxed communal settings, consider tall-backed booths and ottomans like the aforementioned Konfurb Studio and Konfurb Star. Tactile furniture and colours bring a sense of warmth and comfort. Custom upholstery available in the Konfurb Collection can combine residential and commercial influences to give employees the best of both worlds.
Buro Seating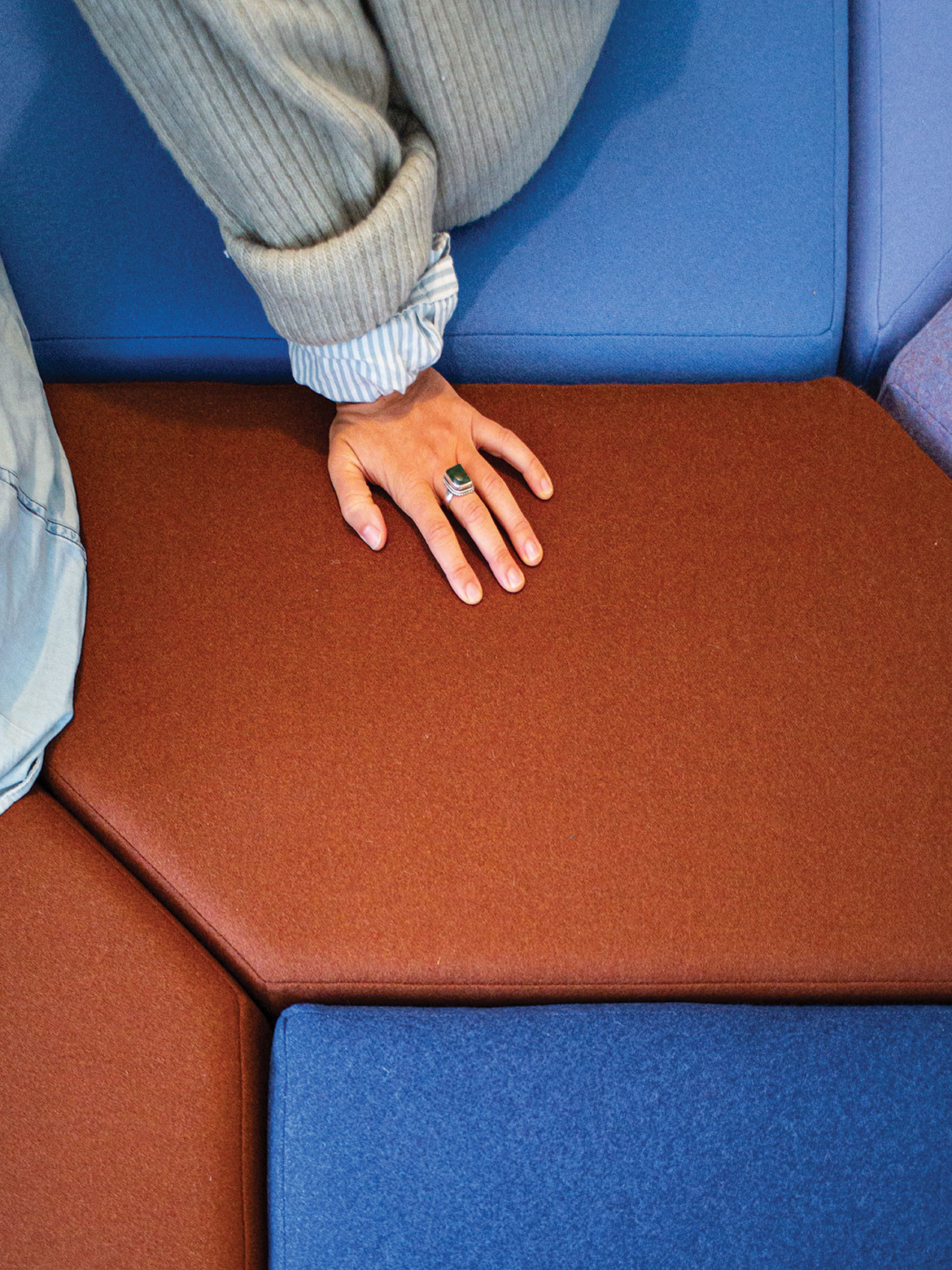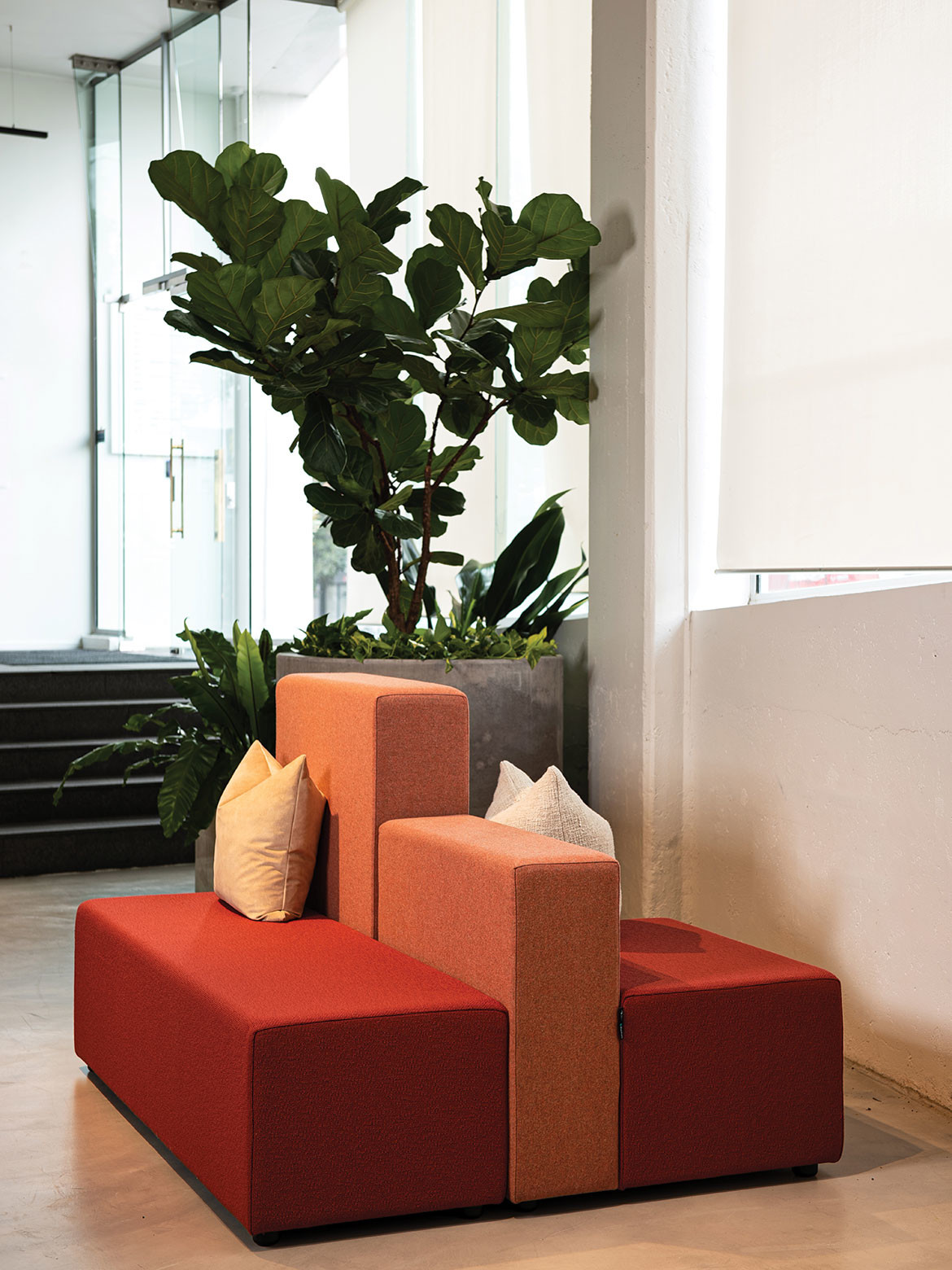 We think you might like this story about the Specialist Facility at Saint Kentigern Boys' School, which features flexible seating solutions from Buro Seating.