The Fiore seating collection, designed by Jessica Engelhardt and the Dauphin Design Team, is renowned for its elegant contours, vibrant colours and functional versatility. Since its launch in 2016, the Fiore collection of chairs was swiftly recognised as an industry all rounder. With a Comfurnancy seal of future viability and special mention for excellent product design in the 2019 German Design Awards, Fiore has made its name as a 'future proof' furnishing element providing a comfortable and stylish solution for any room. 
Fiore's design ingenuity stemmed from its organically curved seating shell. Inspired by the smooth contour of a flower petal, Fiore's shell follows the shape of one's back. Carried off in high-quality polypropylene, the chair cuts a slender lightweight figure – highly stackable with a robust easy care surface.
This superior materiality and ergonomics coupled with a vibrant colour palette and a variety of frame and upholstery options pushed Dauphin's Fiore chair program into the specifier's spotlight – as a highly customisable seating solution with the ability to rapidly change to suit the demands of any interior application.
In 2022, the Dauphin Design Team further cements the transversal nature of the Fiore Collection, as it takes the Fiore concept outdoors. Fiore Outdoor, with its bright and playful UV resistant shells and frames, is a fresh and practical iteration of the Fiore chair classic – full of character and individuality. "We want to make it easy for businesses, restauranteurs and private individuals to furnish their terraces, gardens and balconies in an inviting and creative way" says Engelhardt, lead designer of the Fiore Collection, "Fiore Outdoor celebrates variety."
Fiore Outdoor moves indoors and outdoors with ease thanks to the 100% UV resistant surface finish. With the choice of ten stylish colourways, the plastic seat shells and aluminium legs of the Fiore Four-Legged Chairs can be configured individually – their colour brilliance ensured to last beneath the UV-protection.
Customisation continues with the option of washable upholstered seat covers, available in six matching colours. For a clean and monochromatic look, black and white editions are also available. Fiore's Four-Legged Chair can be further modified, switching out the aluminium legs for a slender steel frame. Perfect for stacking and compact storage, this design is clean and understated.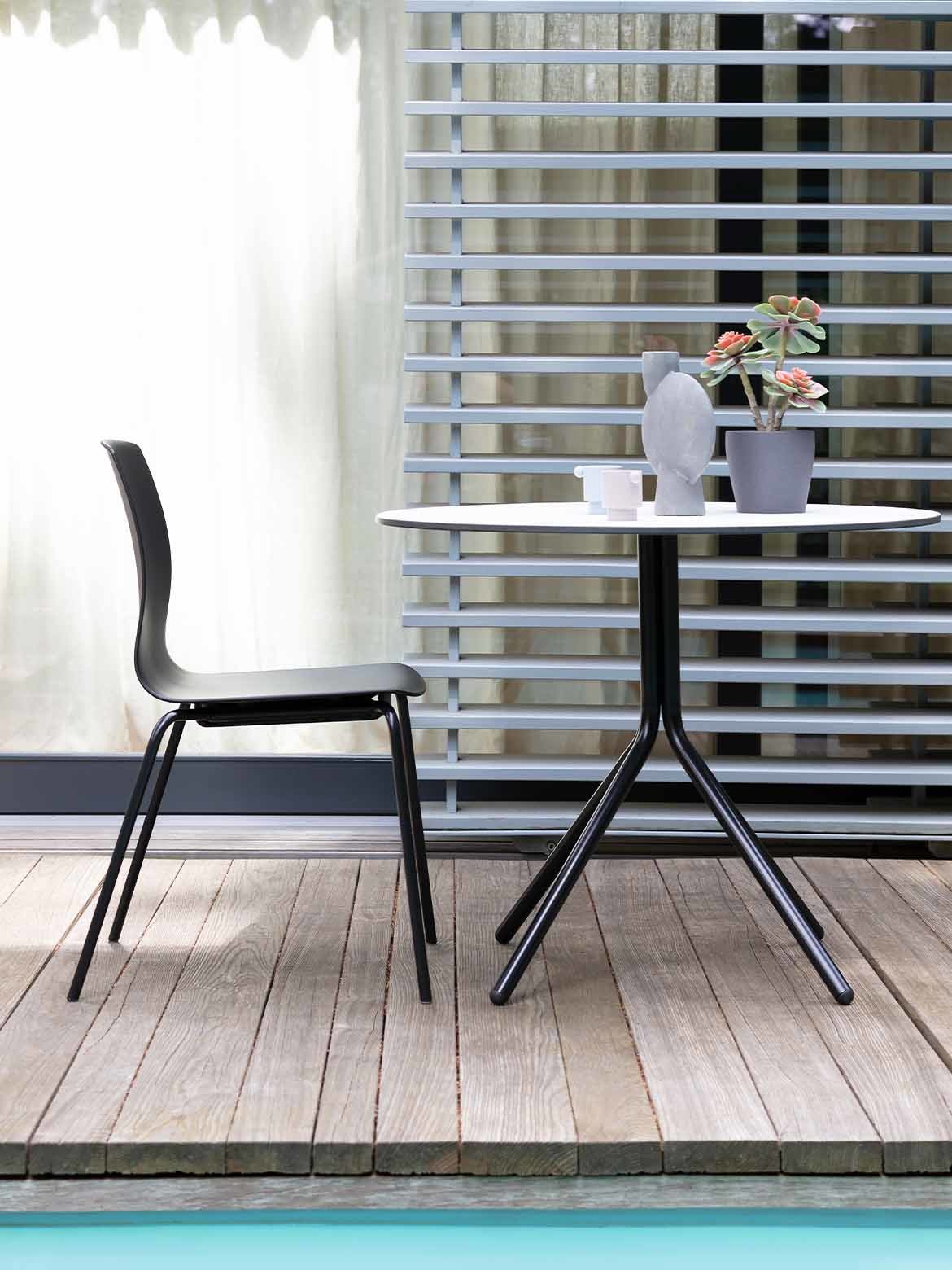 The collection continues to deliver with a black or white cantilevered frame option. Without rear legs, the seat gently rocks with the movement of the user, bringing a sense of dynamism to any seated setting. It is within the hospitality arena that the next frame options from Fiore Outdoor excel. Skid-frame chairs with optional armrest and bar stool versions can be quickly stacked and rearranged to serve the fast paced user demands of restaurants and cafes. All the while, these hard wearing frames can be matched with the vibrant and stylish seat shells.
It doesn't take long with the Dauphin product configurator to understand how highly customisable the collection is. With ten colour ways, 19 frame variations and six upholstered seat covers, there is a total of 750 combinations available – giving you total creative control.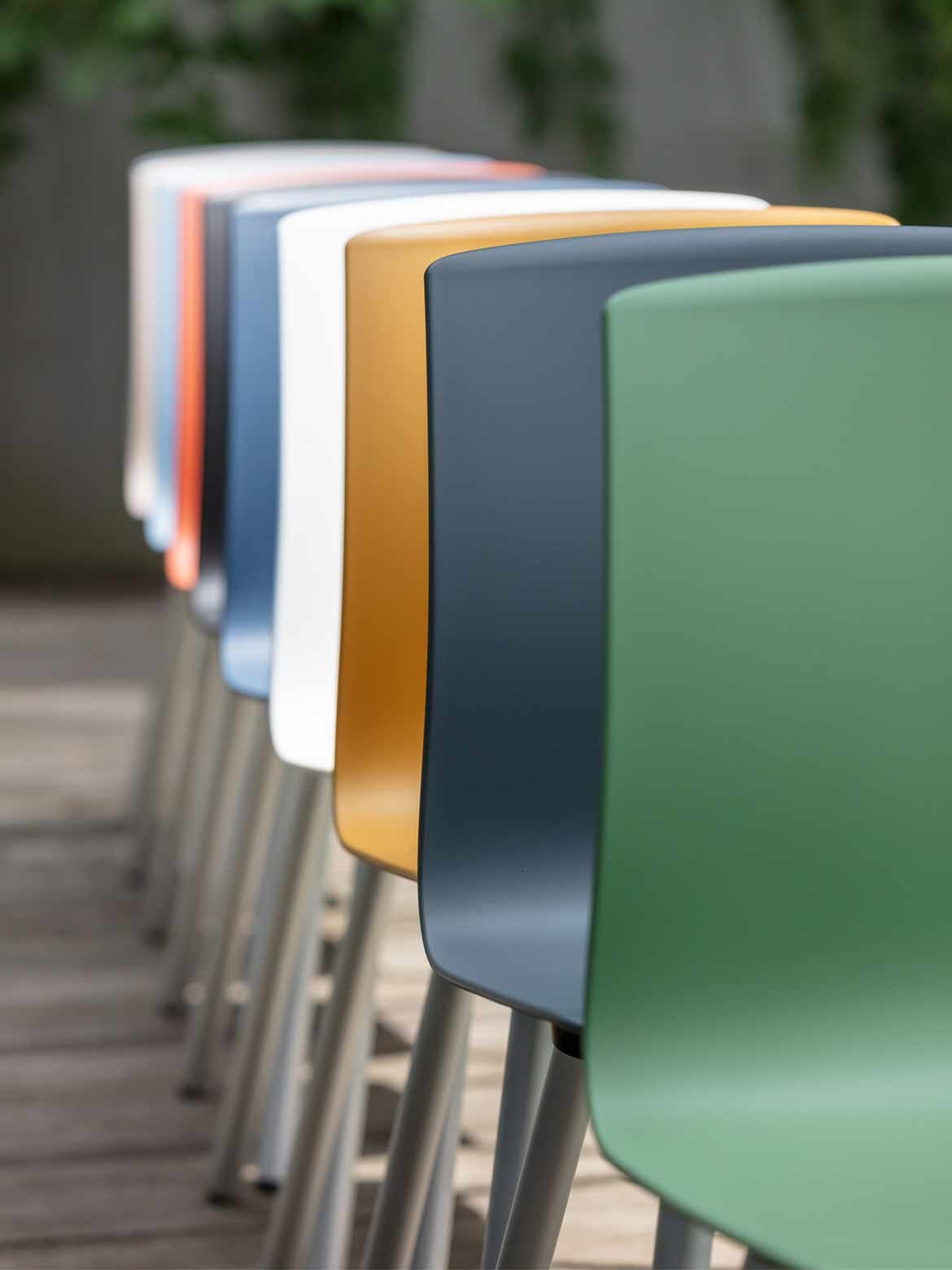 It is this aesthetic flexibility on top of Fiore's superb ergonomics that makes Fiore Outdoor suited to a variety of typologies and applications. From intimate private patio's to high traffic alfresco hospitality venues; from institutional and corporate staff break out spaces to chic leaf-covered courtyards – Fiore Outdoor makes a welcoming and colourful statement. A practical, lightweight and endurable seating solution that charms its way into and enlivens any indoor or outdoor scheme. A true design chameleon.
Manufactured and distributed by Dauphin, get acquainted with the Fiore Outdoor Collection here.