Since its inception five years ago, nau has been quietly changing the furniture game, with a refined selection of products that capture the Australian design vernacular. Simple yet versatile, durable yet beautiful, nau's range of products speak to the uniquely Australian approach to life: where hard work is balanced by an approach to leisure that is anchored in the natural world that surrounds us.
October marks the latest nau collection, which has been designed once more by award-winning design Adam Goodrum. Each of the three pieces in the collection feel deeply authentic to both Goodrum and nau, the latest evolution for a brand that has cemented itself at the heart of local and international design.
With soft curvature and considered materiality, this collection – like all of nau's products – are made to fit in commercial and residential spaces. Their silhouettes are designed to enrich spaces with both form and function, and are equally at home in an office space as they are in a living room. However, this launch marks the company's first full-scale residential shoot, allowing us to imagine how these pieces may not just compliment our homes but also our lifestyles. With home and office blending more than ever, it has never been more important to uncover pieces than can anchor our spaces, matching the versatility of our lives without adding to their complexities.
Inspired by the Lincoln Continental cars of the 1970's the Lincoln sofa is all long lines and soft curves with the classic elegance and deep proportions typical of luxury cars of that era. Making a statement through the beautifully stretched silhouette, this is a lounge made to sink into. It's shape and proportions perfectly balance the chasm between formal and informal living, while the pieces in the range ensure its spirit can be captured even in different kinds of spaces.
Customisation means you can order sofas with or without arms, with closed sides also available if side-by-side is preferable over the stretched L shape. Sofa widths can be varied, and single seat and ottoman sizes offer stand alone pieces to create smaller vignettes or fill larger floorplans. Upholstery from Kvadrat Maharam can also be played with here – with the design of the lounge ensuring maximum customisation with the seat, back and arms all fixed to a timber base sled as separate components.
If you're looking for additional surface space, small floating coffee tables can also be added to the ends of the sofa, with Walnut, Natural Oak and Black-Stain Oak finishes available.
If the Lincoln was inspired by the mechanical, the Furl Coat Stand offers something decidedly more organic. Taking its cues from mother earth, this piece recalls Australia's rainforests and bushlands, the natural landscape so central to the Australian national identity. Here, Goodrum has created a sculpture that is equal parts art and practical home furniture. It's shape is reminiscent of a tree trunk cut into quadrants, each stacked vertically together with roots and branches unfurling along the trunk's spine. Each curve provides space for coats and hats, while brass pegs allow for bags to be hung.
If the Nest Tables feel familiar to you, that's because they are. First released in 2016, the tables quickly became an iconic piece, with their circular silhouette providing a modern update to the vernacular of nesting designs. Once separated out from each other, the table's unique shape allows them to fit snugly into sofas, beds or chairs, appearing to float over surfaces to provide a space-saving and flexible surface solution.
Now, this best selling piece is back, with Goodrum offering a new material option to the original timber composition. Injecting earthy hues into the Nest range, these new pieces come in red, green, grey and blue and are made from powder coat metal for a modern finish.
The nau 2022 campaign was shot at Queens Park House in Sydney, Australia, designed by Tribe Architects. Styling by Claire Delmar, photography by Anson Smart: an ode to Australia and living life beautifully.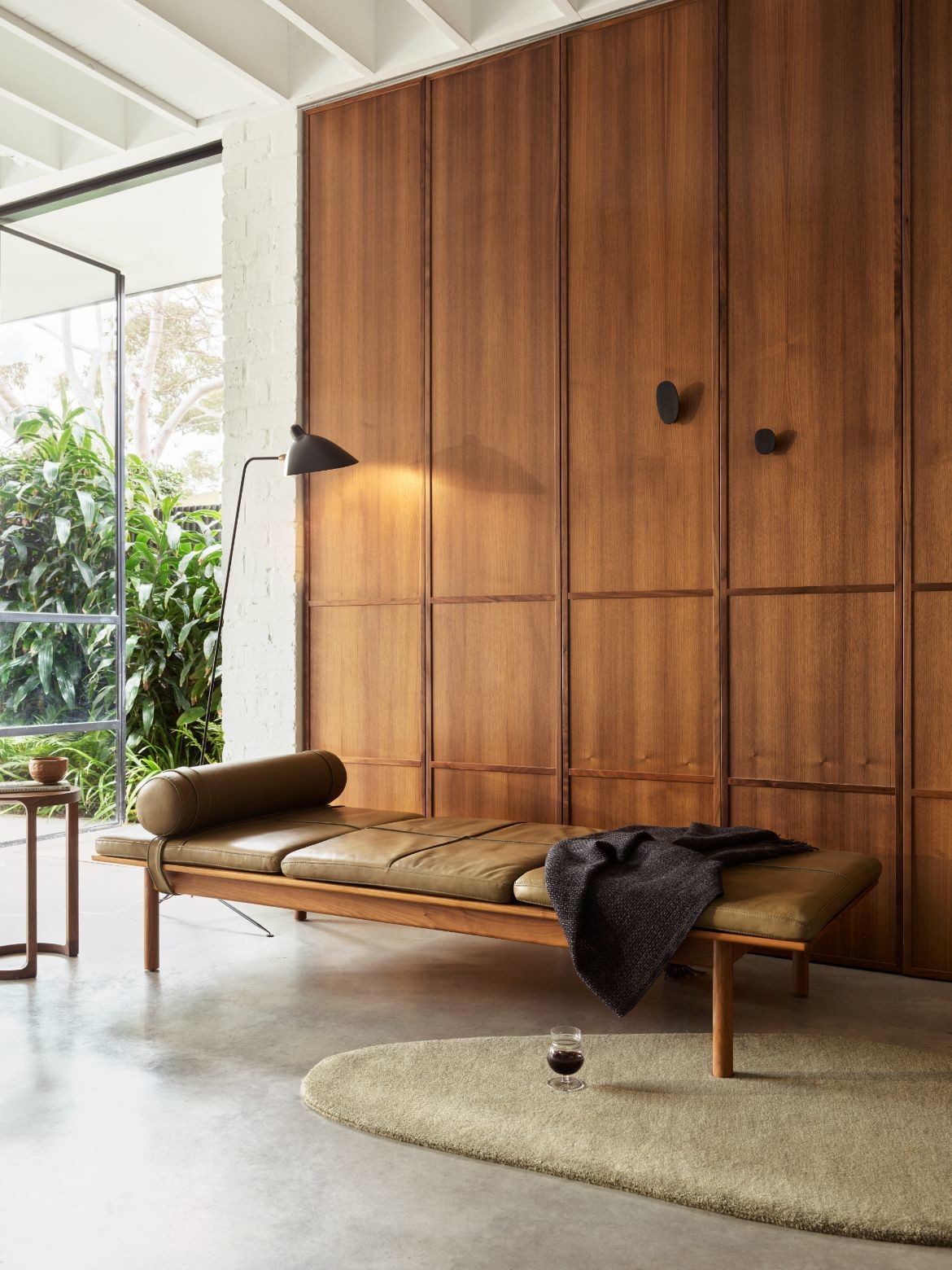 We think you might like this story on design, success and process.