As we move into the second quarter of 2022 this month's On The Move column looks at who's going where – the latest appointments and promotions in architecture and design are as follows.
Starting with Buchan:
Buchan has appointed two new senior associates to its global design team in Sydney.
Nataly Ernst, a German native with 18 years of experience in architectural design and construction in Germany, Australia, and the United Arab Emirates, joins the studio as Senior Associate, Architecture; while Marcin Zugaj, who has 15 years of senior design experience across the Australian, Asian and USA markets, has been appointed Senior Associate, Interior Design.
Welcoming Nataly and Marcin, Buchan Head of Strategy and Marketing, Laraine Sperling, says their arrival heralds an investment in growth and diversity as the firm flexes to increase its market share.
Carter Williamson
With a string of five promotions, Carter Williamson has announced a major expansion of its leadership team.
Stepping up to the role of Design Director, Ben Peake will lead the studio's client engagement, marketing, and critical projects; while Nuala Collins and Julie Niass have been promoted to Senior Associate roles; and Thu Zaw and Elke Jacobsen have been named Associates.
All five new appointees join the existing senior leadership team of Shaun Carter (Principal), Julia English (Project Director) and Christina Banks (Office Manager).
Haworth
Global office furniture manufacturer, Haworth has announced four new additions to its local operations.
Brendan Bruce is Haworth's new Managing Director for Australia and NZ, having relocated back from Singapore where he was previously the International Workplace Ideation Director. He is excited to be back in his home town, and is looking forward to working with the local Haworth team, Stylecraft and clients in ensuring our continued success in the local market. 
Charlotta Resvik is one of Haworth's Strategic Account Managers, covering NSW and QLD markets working with both national and global accounts. She has extensive experience working closely  with her clients to produce solutions that help create happy, healthy and productive workplaces.
Amilia Wallace takes on the position of Workplace Strategy Advisor for Haworth (Australia and NZ), and becomes part of the Ideation team, roles in which she will focus on helping clients better understand the workstyles of their employees, and in the process, help them make better product choices.
Meanwhile, Lindsay Liem brings her Bachelors Degree in Textile Design – along with her passion for interiors and the furniture – to her new role as Strategic Account Manager (NSW and ACT).
John McAslan + Partners
Announcing three new appointments, global architecture and design practice John McAslan + Partners has bolstered the capacity of its local team.
Imran Patel joins the Sydney team from the London studio. A rail and infrastructure specialist, he is working on the delivery of Waterloo Station for John Holland Group and Sydney Metro; Ryan Wazir, a heritage specialist, joins the practice from the NSW Government Architect's Office; and Jeff Tang joins the practice from Cox, where he was involved in large-scale transport and multi-residential projects.
Mim Design
Melbourne's Mim Design has announced the appointment of Charlotte McGill to the role of Director, and Lisa Ransom to the role of Associate Interior Designer.
Having joined Mim Design in 2015, Charlotte has established herself as an integral member of the interior architecture team. With an acute passion for design, her ability to connect people with places has been invaluable to the practice.
Meanwhile Lisa, who also joined in 2015, has demonstrated a solid flare for conceptual design. Her project experience includes high-end multi and private residential projects, along with hospitality and workplace design.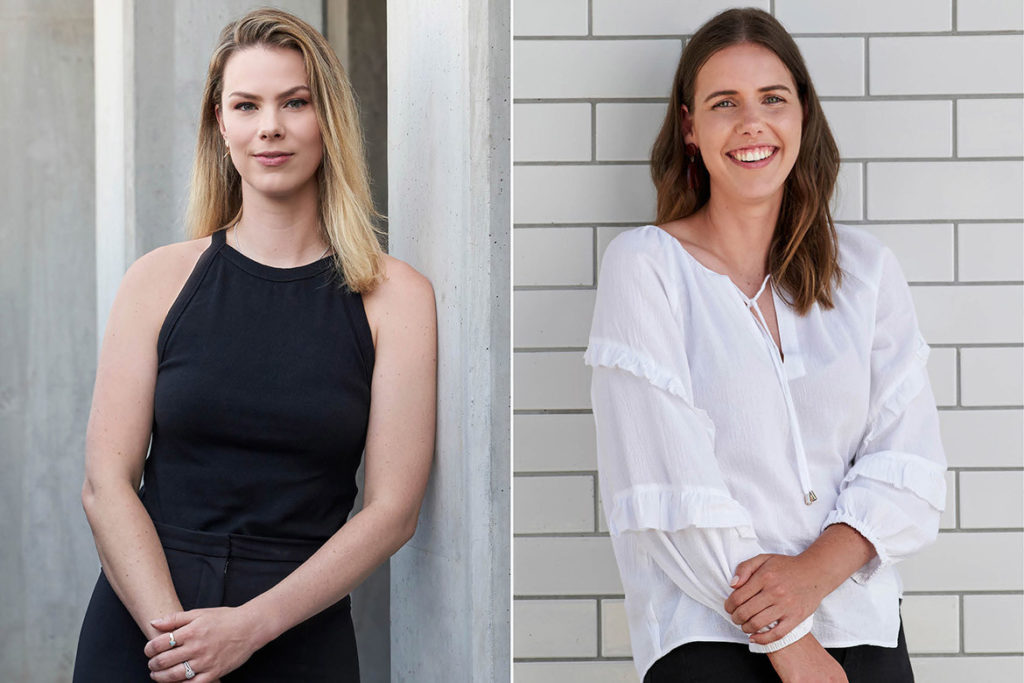 Porter Davis Homes
Following an extensive recruitment process, Porter Davis Homes has appointed Tom Griffiths to the role of CEO. He succeeds Adrian Hondros who will step back from the role in June 2022.
Tom has been with Porter Davis for the past three years, most recently as Chief Commercial Officer for Englehart Homes.
Speaking on the appointment, Tom comments, "I feel incredibly privileged to be appointed CEO of this great business. Its success has always been about respecting our customers' dreams and providing beautifully designed, styled and quality homes."
Related: Who you'll meet and hear from at Saturday Indesign, Sydney 21 May
PTW
PTW, the Sydney-based practice whose history dates back to 1889, has announced several new appointments, including Associates Emily French and Michelle Treisman who both bring with them a wealth of experience across the mixed-use, multi-residential and commercial sectors.
In addition, the practice welcomes returning team members Architect Melinda Lim and Senior Project Professional Eric Yang; and says hello for the first time to Architect Arshia Ebadi, Senior Project Professionals Jillian Salter, Dilon Wong and Graduate of Architecture, Michael Gai.
ThomsonAdsett
Last but not least ThomsonAdsett, the firm that this year is celebrating its 50th anniversary, has appointed Cameron Frazer as its new chief executive officer.
"When the opportunity arose to lead ThomsonAdsett as CEO, I jumped at the chance. Helping people do their best to make business and creativity intersect is intriguing, challenging and enjoyable. I'm excited to be leading a practice with such a significant legacy and so much potential," says Frazer.
"ThomsonAdsett is looking ahead to the next 50 years with purpose, as one team united across four studios, with the shared intent of creating places that enrich people's lives and build on our ethos of care."
We think you might like this article about staff movements in Q1, March 2022.