Now in its 7th year, Melbourne Design Week (MDW) is huge, so to say this is a top 12 is over-simplifying it a bit. Indeed, some on the list are a suite of activities, such as the NGV offering which includes the Melbourne Design Fair, Melbourne Now and Melbourne Art Book Fair – easy favourites and already on the top three radar.
The 2023 iteration continues to explore 'Design The World You Want' and this year introduces three new pillars: Transparency, Currency, and Legacy. Yep, its giant – both philosophically and physically – so get your design skates on and embrace everything fabulous MDW2023 has to offer.
Housed within six former grain silos in inner city Melbourne, the exhibition responds to the unique site and forms an architectural intervention to a now obsolete industrial monolith. Implications of material obsolescence and industrial labour, urban "renewal" with gentrification and our collective response to the built environment explored.
Informed and specific to the historic site the work's also present new and experimental design strategies and future propositions. In this sense, the abandoned site provides an exit or dream space and an inversion of the meaning of silo as verb, where rather than working in isolation, collectivity and creative fluidity is implicit. There is a focus on lighting and object design but also an interest in more ephemeral and conceptual design practices. Presented by Ancher Architecture Office, Corey Thomas and Josee Vesely-Manning.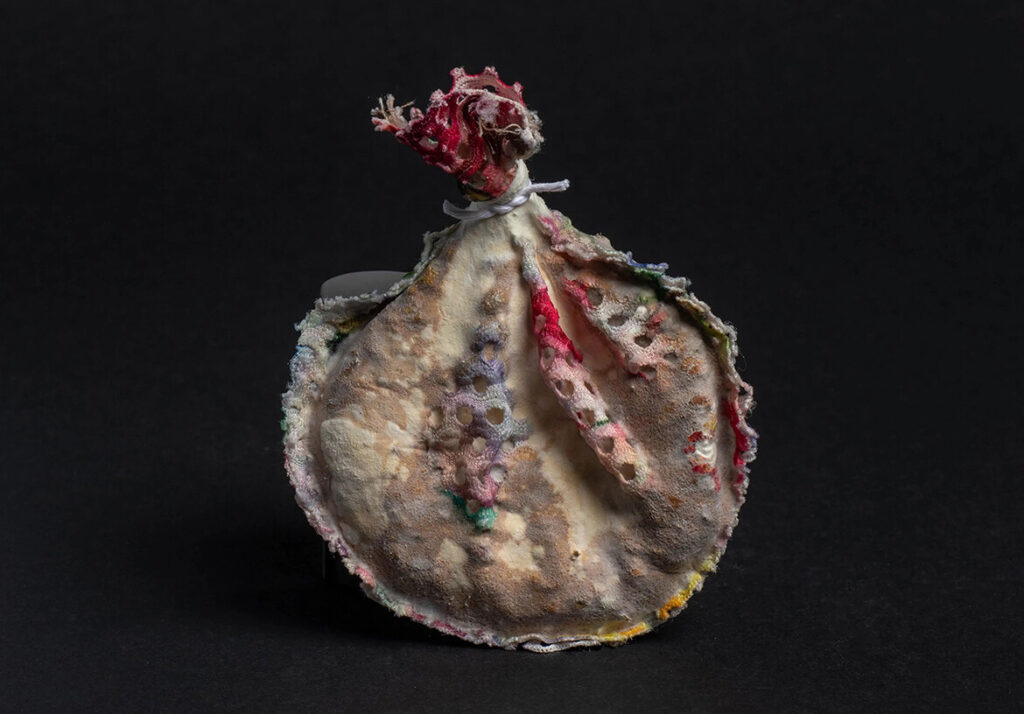 Experimental fungi design is truly celebrated with this exhibition spotlighting emerging innovations in mycelium design, with works from mycologists, award-winning designers, researchers, architects and students. Ellis Jones and RMIT Industrial Design will present 20 fungi-based artworks, spanning sculpture, apparel, lighting, architectural pieces and more, the exploration covers furniture, apparel, lighting, bio scaffolds, sculpture, packaging, architectural pieces, soil- based production experiments, prints and even an animal shelter.
"I've developed a MycoFibre Shelter, which is a mycelium-based screen that provides protection to native wildlife from predators after a bushfire…This new approach opens up exciting possibilities for sustainable and eco-friendly construction in the field of animal conservation," says exhibitor and product design engineering student, Flynn Williams.
Related: Students leading the way in biodesign
Fitzroy-based OIGÅLL PROJECTS will present a group show of 10 Australian based designers with new works being contextualised within the recently completed restoration of OIGÅLL PROJECTS UPSTAIRS. This domestic setting offers an opportunity to celebrate conceptual design in context — functional art, performing its function. Participating designers include Volker Haug, denHolm, Brud Studia, MMDO, Olivia Bossy and more.
WORKSHOP 01 from New Assemblage x Misc Objet is an exhibition-as-provocation. Showcasing new work by 11 emerging designers with wildly diverse outlooks, under the curatorial direction of Julian Leigh May, Tess Pirrie, and Ella Saddington, they are united by a desire to push boundaries beyond the aesthetically consensual.
The exhibition provides unique insight into the varied influences and processes that shape creative output. The works on display in Workshop 01 are not just visually compelling, they manifest a commitment to sustainability, social responsibility and desirability beyond conspicuous consumption.
On Thursday, 25 May, artist talks provide a unique opportunity for visitors to engage with the creative minds behind the work. Hearing directly from the designers, providing insights into their creative process, inspiration, and the intentions behind their work.
Vitrine from Marsha Golemac is an invitation to reflect upon the significance of objects and how they can shape and reflect our identity. The exhibition serves as an opportunity for viewers to engage with and understand how progressive societies, communities and cultural understandings act as a foundation for innovative practices. Exhibiting at 43 Derby St, Collingwood.
Developed through a process independent collaboration, Tom Fereday and Charlie White have sought to create a series of works that explore the turning of end-of-life materials and the challenging of their perceived value. Versa, meaning to be 'turned' or 'changed' in Latin, is a collaborative series of installations, showcasing a collection of unique furniture and architectural elements tailored to the three spaces of the Meat Market Stables.
With a self-imposed constraint to make only one design gesture each per room, works have been conceived as the transformation of a material into an interior element – seat, table, light, roof, wall & floor – and then designed to express a sensory quality – dark, light, soft, warm, sharp and hard.
In its second year, HARD from Calum Hurley invites exhibitors to incorporate found materials into new works, using their surroundings as inspiration. The event showcases queer creatives from across Australia and celebrates queer sexuality and identity in tandem with the Australian ritual of sneaking out after dark to scour the streets for hard, hard rubbish. The unspoken acceptance of these covert kerbside movements mirrors the queer experience of growing up in Australia. Both involve a search for identity and a desire to create something from nothing.
Prompted by the question 'what MATTERS to you?', a notable collection of Australian and international designer-makers will explore 'process' as the key instigator for new design possibilities. Each practitioners concept is gradually developed, and the result are presented in three exhibitions, spaced over three years: (NO THINGS), (SOME THINGS), and (ALL THINGS) MATTERS.
The first instalment, (NO THINGS) MATTERS will take over the ground floor of Villa Alba Museum. Hosting a tactile cornucopia of material samples, interpreted tools, experimental forms, and visual documentation. (NO THINGS) invites audiences to engage with an unusual approach to design thinking, from its infancy, and follow on the journey as design works manifest into reality. (NO THINGS) MATTERS is made possible with valued support from Eco Outdoor.
Comprising a temporary, one-hour exhibition hosted in a pre-renovated concrete warehouse space in Fitzroy, 1-Hour Exhibition invites designers, architects, creatives and the general public to bring an object that can be sat on – think a piece of paper, closed laptop, pizza box, backpack – to be exhibited in Friends & Associates' shortest group exhibition to date. As part of the exhibition, all seats will be documented and if unavailable, seating will be provided. The only requirement of the exhibition is that you must stay for the complete 60 minutes.
1-Hour Exhibition is presented by Friends & Associates in collaboration with Myf Doughty. Over the past six years, Friends & Associates have organised various exhibitions that have asked creatives to think about issues ranging from environmental degradation to intellectual property theft, including Welcome to Wasteland, Self Portrait, 26 Original Fakes, and A World We Don't Want.
Agency and Tait host an immersive activation with the Numbulwar Numburindi Arts pop-up studio, exhibition, and weaving circle in the Tait showroom.
Built on self-determination, Numbulwar Numburindi Arts is a collective of artists whose mission is to keep culture strong. Established in 2019, Numbulwar's first art centre is 100 per cent owned and controlled by the community. Born from the community's desire to practice and engage with traditional culture, Numbulwar Numburindi Arts is a space for artistic and cultural expression.
A key focus will be NNA master weavers, Joy and Rose Wilfred's reimagining of Tait's iconic Tidal chair, which references ocean and wave patterns. The studio will not only highlight the beauty of the Numbulwar weavers' practice, but is designed to encourage a conversation around the use of discarded ghost nets, which wash up on the shores of their remote community in the Gulf of Carpentaria. Ghost nets account for about 40 per cent of all ocean plastic, and take 600 years to break down. Removing these polluters from their oceans and shores has an enduring legacy and is a modern act of caring for Country for Numburindi people.
Related: The Ghost Net Collective, Mermer Waiskeder (Stories of the Moving Tide)
Over eight years, Ben Landau and Lucile Sciallano worked together to develop machines, unique visual languages and projects that questioned the relevance of 3D-printed clays and its multitude of uses. In 2022, Ben tragically passed away. This exhibition retraces their projects, from their very first prints to their latest exhibition works in 2022 as a creative couple, along with the future of Alterfact Studio.
The NGV presents a range of programming highlights including the centrepiece of Melbourne Design Week, the Melbourne Design Fair at the Melbourne Convention and Exhibition Centre, 18-21 May. The Melbourne Art Book Fair brings together publishers, artists and designers to showcase some of the world's best publications at the Stallholder Fair in the Great Hall at NGV International, with further satellite events taking place at venues across Melbourne and regional Victoria.
At The Ian Potter Centre: NGV Australia, the second edition of the ground-breaking exhibition Melbourne Now is on display highlighting the extraordinary work of more than 200 Victorian-based designers and artists. Design Wall Business Forum, Design Wall Stories is a panel discussion about how Melbourne-based designers, brands, and manufacturers featured in the Design Wall at Melbourne Now are contributing to the dynamic landscape of applied creativity in Melbourne.
Read more about Melbourne Design Week here.
Melbourne Design Week
designweek.melbourne