It's evident that, throughout the architecture and design industry—and even more broadly, the built environment fields—the vast majority of us genuinely want to do the right thing by First Nations people, as well as Country. The challenge, however, is knowing where and how to begin cultural engagement in a way that goes deeper than what leading historian Mark McKenna dubs the "ornamental recognition of Indigenous Australians", and instead starts to create meaningful change.
Our hats go off to Arcadia Landscape Architecture for releasing a truly groundbreaking report, bequeathing answers to the questions so many of us have been wondering in simultaneous silence. Questions like… How can I integrate connection to Country into my work, without it being another buzzword or just a box-ticking exercise?
"What is the point if you're not connecting people to place?" – Alex Longley
Produced in collaboration with Dr Danièle Hromek, a spatial designer, researcher, and Budawang woman of the Yuin nation, along with Arcadia's own Kaylie Salvatori, a landscape architect and proud Yuin woman, the report is titled: Shaping Country: Cultural engagement in Australia's built environment.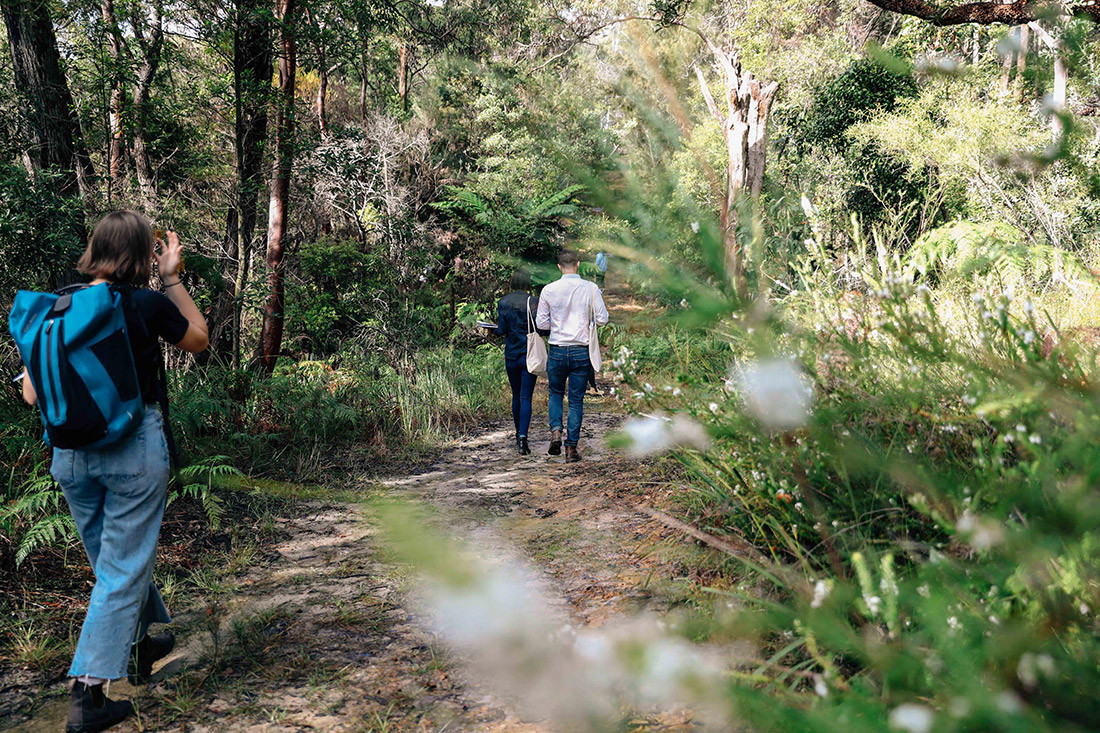 "In the last 12 months, we've been approached by clients and others seeking guidance and advice on how to go about engaging First Nations peoples in their projects," says Arcadia's founder, Alex Longley. Arcadia's own journey of consciously honing its approach to First Nations engagement and connection to Country as a practice began about 5 years ago, well before it became the latest buzzword.
"When an industry decides that 3% of the population now needs to be engaged and included in their work after 300 years of being ignored, you can expect to encounter high demand for very few Knowledge Holders" – Dr Danièle Hromek
Even prior to that, acknowledgement of Indigenous narratives and consideration of Country have always been core elements of the firm's projects. in fact, it's the first thing the team looks into when embarking on a new project. Susan Wakil Health Building and St Leonards Health Organisation Relocation (SHOR) are two examples from Arcadia's body of recent work that serve as exemplary case studies of First Nations engagement in practice and the unique value it brings to the design perspective.
"We were once tasked with designing a new landscape area for a school. There was a Casuarina tree on-site that was earmarked for removal, to accommodate the built form. But during a walkshop on Country with a local Elder, he shared with us that Casuarina trees have been purposefully planted in play areas throughout Indigenous communities for centuries as a tool to protect children from snakes," says Michael Barnett, Arcadia's director, in an anecdote quoted in the report. "…the Casuarina became a focal point of the design from there on out."
Suffice it to say that the Sydney-based landscape architecture practice is well poised to offer advice on the best etiquette for cultural engagement – and it's getting noticed.
Shaping Country: Cultural engagement in Australia's built environment is the result of a passion project Arcadia began earlier this year led by Indigenous landscape strategist, Kaylie Salvatori, and Dr Danièle Hromek. The project heeds the industry's silent yet resounding call for guidance in achieving more meaningful First Nations engagement – but to Salvatori and Hromek, the opportunity to raise the bar of First Nations awareness in Australia's built environment was of personal significance.
"There is a lot of pressure on me to have all the answers or know all the intricacies of my culture. But even I am still learning" – Kaylie Salvatori
The report itself is a prudently articulated culmination of pertinent insights and learnings Arcadia has derived through its extensive experience with cultural engagement in practice. Its contents address everything from the 'right' language and etiquette; how to engage with Knowledge Holders and common challenges that are encountered; steps for engaging with country (complete with case study); through to how meaningful First Nations engagement leads to 'Better Placed' design, and the impacts on commercial outcomes. On top of all that, it also presents advice on what to do when cultural engagement is not possible, actionable next steps and suggestions for further reading.
"More than anything, I hope [Shaping Country] fast-tracks awareness amongst the industry," says Longley. "It would be great to see us reach a base level of shared understanding across the built environment sector – only from there will we be able to move forward."
"If we are truly going to start designing for this place, we need to start including the longer narratives of this place – the narratives that go back to before time can be measured – in the design of the place," says Dr Hromek. "To me, this means ensuring Country is lead architect and First Peoples are narrators and interpreters for all projects – not just those with perceived Indigenous values or relevance."
Well, what are you waiting for? Have a read of Shaping Country: Cultural engagement in Australia's built environment now. We'd love to hear your thoughts.
Photography courtesy of Arcadia Landscape Architecture