Making Architecture is published by Thames & Hudson and set to be released on 24 August, 2023. More information is available here.
Esteemed British practice, John McAslan + Partners (JMP), has launched a new monograph celebrating the work of the practice around the world. Making Architecture is a fine object of design in its own right, but it also features written work by leading figures in architectural criticism and history. One contributor, Sydney-based Elizabeth Farrelly, was also on hand to open proceedings in the Utzon Room at the Opera House. 
The book, however, was only one half of the celebration. JMP's Sydney studio recently marked five years in the city, having originally set up a base here to work on Central Station in collaboration with Woods Bagot. London-based John McAslan was joined on-stage by Troy Uleman, director and head of the Sydney studio, for a Q&A that explored some of the global practice's most iconic works.
"JMP is a boutique practice that operates nimbly as one studio across four locations around the world," says Uleman. "We're committed to building our Australian portfolio, drawing on our strength in adaptive reuse and the clever use of existing structures."
Related: Reviewing Richard Francis-Jones' 'Truth and Lies in Architecture'
With Central Station's Northern Concourse largely complete, JMP is focusing its Australian attention on another key transport infrastructure project, Waterloo Metro Station. It follows the practice's work at Kings Cross Station in London in a design which has set a new benchmark for train stations, particularly in terms of balancing heritage with new facilities.
Kings Cross Station, a project which ran from 1997 to 2012, is featured in beautiful detail in Making Architecture. The monograph explores all aspects of the project, from initial concept sketches and historical research to images of models and architectural drawings – as well as stunning photography of that iconic roof.
Elsewhere, Elizabeth Farrelly – who recently ran as a candidate in the NSW state elections – writes about how "the latest adaptation of Central Station extends the liberation of Sydney's historic core." Again, archival photographs alongside images of the project under construction, drawings and models bring the project to life.
Many design books are beautiful, but not all have substance. With its essays from leading architectural theorists and global scope, however, this monograph packs an intellectual punch.
The practice's global reach was a prominent part of the event's discussion, which was led by director, curator and recently appointed director of Western Sydney Creative, Dolla Merrillees. McAslan, for example, explained in some detail the context around the practice's work in Haiti in the early 2010s. In Port-au-Prince, JMP redesigned the city's Iron Market following the catastrophic earthquake in 2010. It's a project that illustrates the strong social dimensions of JMP's work, something that was also evident in McAslan's discussions around housing during the event Q&A.
"I'm excited about what we can achieve locally in the next five years as an Australian team informed by a global perspective," says Uleman. It's an apt summary of where the practice stands as it looks ahead to more years in Sydney.
Making Architecture is published by Thames & Hudson and set to be released on 24 August, 2023. It's edited by Chris Foges with contributions from Kenneth Frampton, Alan Powers, Elizabeth Farrelly and Marwa El Mubark. More information is available here.
John McAslan + Partners
mcaslan.co.uk
Photography
Jes Lindsay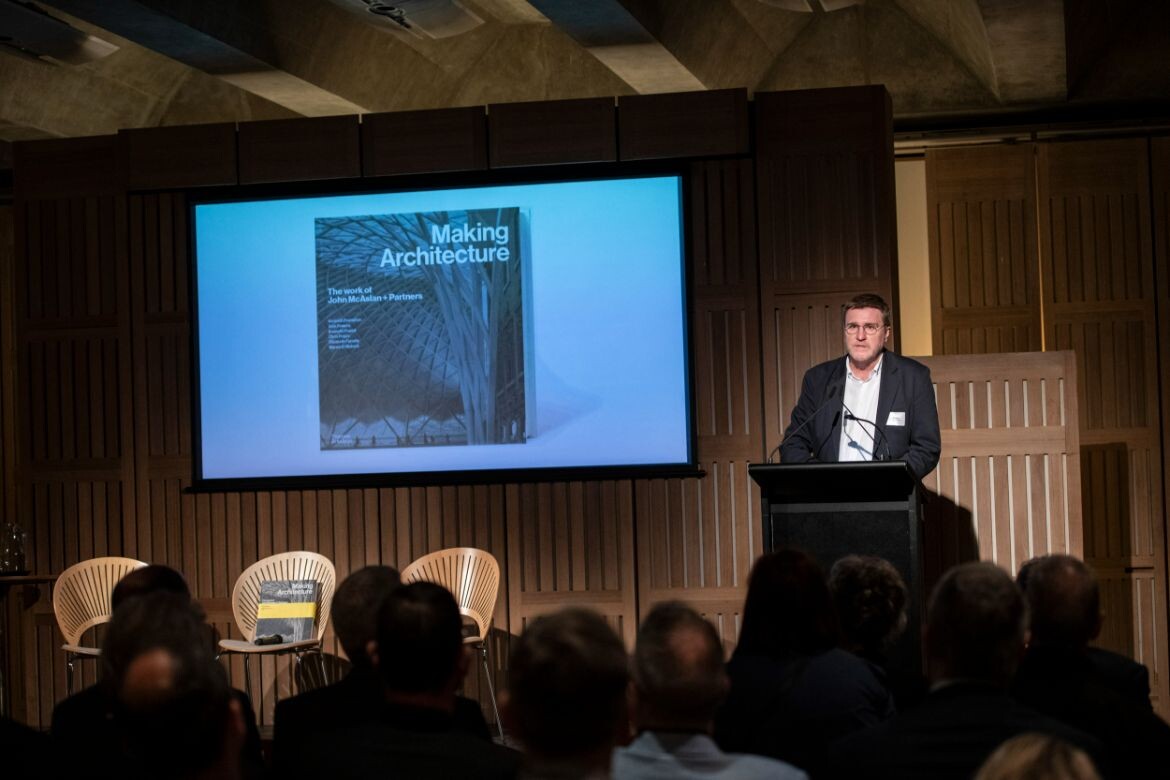 We think you might also like this book review looking at modernism in the tropics.