Session Synopsis:
How to expand your design capabilities and deliver exceptional architectural features.
The presenter, will outline ways that collaboration with an industrial designer can deliver an architect's creative vision using the latest technologies, materials and manufacturing techniques. Pushing creative boundaries to deliver unique and site-specific results.
He will highlight a range of opportunities where architects have collaborated with industrial designers to deliver highly complex features such as the heliostat system for the international award-winning One Central Park, the intricate sun shading system at UTS Library, product design for NSW Architecture Medallion winner Phoenix Central Park and other unique design features including facades, skylights, retractable roofs, furniture, landscape structures and playgrounds.
This will be a demonstration of how collaboration with an industrial designer can realise an architect's designs beyond the limits of traditional construction methodology.
Presented by:
Tim Phillips, Managing Director, Tilt Industrial Design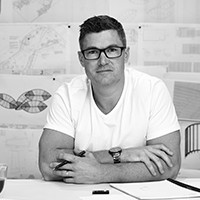 Tim Phillips is a highly regarded Industrial Designer specialising in design consulting for Architects, Creatives and the Construction Industry. He has extensive experience in architectural projects, with a passion for using the latest technologies, materials and manufacturing techniques to bring the creative ideas of his clients to life.
Tim manages a dedicated team of industrial designers and engineers, pushing the boundaries to achieve truly unique design solutions. Motivated by architectural challenges, the Tilt team enjoy the
opportunity to thoughtfully consider the design intent and then deliver it through a proven design process.
Tim is also an educator and academic, with an ongoing association as alumni of the University of Newcastle, the University of Technology and University of NSW.