Session Synopsis
Globally, despite the ongoing efforts of environmentalists and others, deforestation has continued at an alarming rate. According to the World Bank, between 1990 and 2016, 1.3 million square kilometres of forest (an area greater than South Africa) were lost.
While all efforts to reverse this trend – and ensure that only sustainably sourced timbers find their way into our homes and offices – are to be encouraged, it is also critical to identify the most effective of these.
As it stands for specifiers, assessing the sustainability of forest products generally amounts to checking whether they have received forest certifications (such as FSC and PEFC).
The problem here is that these certifications are limited. They can't easily be applied to all products, such as American Hardwoods grown in the US, where there is clear evidence that hardwood forests are well managed and expanding but where certification is challenging because management units and supply chains are fragmented.
So, what are the alternatives? Beyond certification, are there any emerging assessment methods that let you know if forest products are sustainably sourced and suitable for use?
View the video now by filling the form below.
CPD Documents:
Presentation: CLICK HERE
Access the CPD Questionnaire: CLICK HERE
Download the CPD Answer Sheet: CLICK HERE
*Please remember you are required to attend the full hour of the presentation in order to receive your formal CPD Certificate.
*You don't need to submit your Questionnaire to the AIA or to CPD-Live organisers, please keep on file for your records.
*By registering to watch this you agree to share your information with Indesign Media and it's third-party partners.
Key Learning Outcomes
At the end of this presentation, you should be able to:
Identify the various certifications associated with timber products and sustainability.
Outline the means by which forest certifications assess timber products.
Explain why forest certification is of limited value when it comes to assessing U.S Hardwoods.
Outline the ways in which sustainably managed forests can help maximise carbon storage.
Identify emerging and alternative ways of assessing timber products.
AACA Competency Standards
Design: Project Briefing 1.2, 1.4, 1.5
Design: Conceptual Design 3.3, 3.4, 3.7
Design: Schematic Design 4.2, 4.4, 4.6
Presenters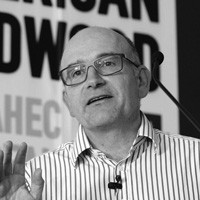 Rupert Oliver, Sustainability Consultant, AHEC
Rupert Oliver is an independent forest products consultant and an internationally recognised authority on environmental issues, sustainable forest management and certification. Rupert has a degree in forestry and also worked for a number of years for the TTF in the UK, helping to coordinate the Forest Forever campaign. Rupert is a popular speaker at wood forums and conferences all over the world and is a regular contributor to the AHECconvention.
George White, Certification Consultant, AHEC
George White, currently independent consultant working with AHEC on development of new sustainability verification procedures, also Global Timber Forum Director (responsible for Projects, Oversight & Governance), and formerly Head of WWF Global Forest & Trade Network (GFTN – working in more than 30 countries with over 300 companies employing over 50 staff to develop FSC certification of the forests they manage or to apply a stepwise approach to responsible sourcing of forest products), before that environmental sourcing specialist for leading UK retailer Sainsbury's, developing and implementing responsible sourcing policies and associated management processes for Sainsbury's, Shaw's and Homebase.
Fill in the form below to access the video:
"Please scroll to the top to view the video."
Please note by accessing advertiser content your details may be passed onto the advertiser for fulfilment of 'the offer'. The subscriber also permits the advertiser to follow up the fulfilment of the offer by email, phone or letter.