Human interaction with modern technologies have slowly begun to strain our posture, and as a result, have created the need for the unassuming office chair to evolve. As our work environments continue to change with more people working from home now more than ever before, one cannot afford to sacrifice comfort and support.
Steelcase have spearheaded the constant progression of office chairs since their founding in the early 20th century. Built on the core value of being ready for "whenever work happens", Steelcase products are a reflection of a true leader in furniture design, as well as being environmentally conscious, considering the impacts of their work through every step of the design process.
After a study that observed the postures of 2000 people across the world in both a work and leisure space, Steelcase discovered the emergence of new behaviours that led to nine new postures not adequately addressed by current seating solutions. Their comprehensive range of workplace solutions deliver excellent performance on both functional and aesthetic levels, as well as accounting for these new postures.
Gesture
Steelcase's Gesture is the first chair designed for prolonged use of digital devices. Voted the New York Times' Best Office Chair for 2021, the Gesture was designed through looking at the unique movements and gestures of the body, and to provide continuous and persistent support in a wide range of postures.
Series 1
Delivering on what's important—performance, style and choice, the Series 1 is an adaptive and dynamic chair that is ready made for both the office and home study. It retains everything that's valued in a chair, while making it attainable for everyone. With a lightweight, slim profile and one of the smallest footprints in its class, the Series 1 performs well in any setting.
Series 2
Building on the best in ergonomics from Series 1, Series 2 introduces additional performance features and fresh new style choices for personalisation, expanding on one of the world's most popular office chair collections. Featuring Steelcase's signature Air LiveBack® technology which provides sophisticated support, the specially engineered 'wave' pattern is scaled to provide support for each part of the spine, allowing it to flex in multiple dimensions to create responsive, personalised comfort and fit.
Think
The ergonomic office chair that senses what your body needs. Think is the chair with a brain and a conscience, that's intelligent enough to understand how you sit and adjust itself intuitively. The intelligent ergonomic design allows the user to personalise their comfort through few manual adjustments, and the headrest has been redesigned for enhanced comfort and a wide adjustment range.
Leap
A perfect fit with an exceptional range of adjustments, the Leap office chair delivers full support for various body shapes and sizes. With 98% of the chair's materials recyclable by weight, the Leap helps reduce pressure on the spine, sends oxygen to your muscles, and increases blood flow to your brain. It's also backed by a year-long study, that found that users of the Leap had a 17.8% increase in overall productivity.
---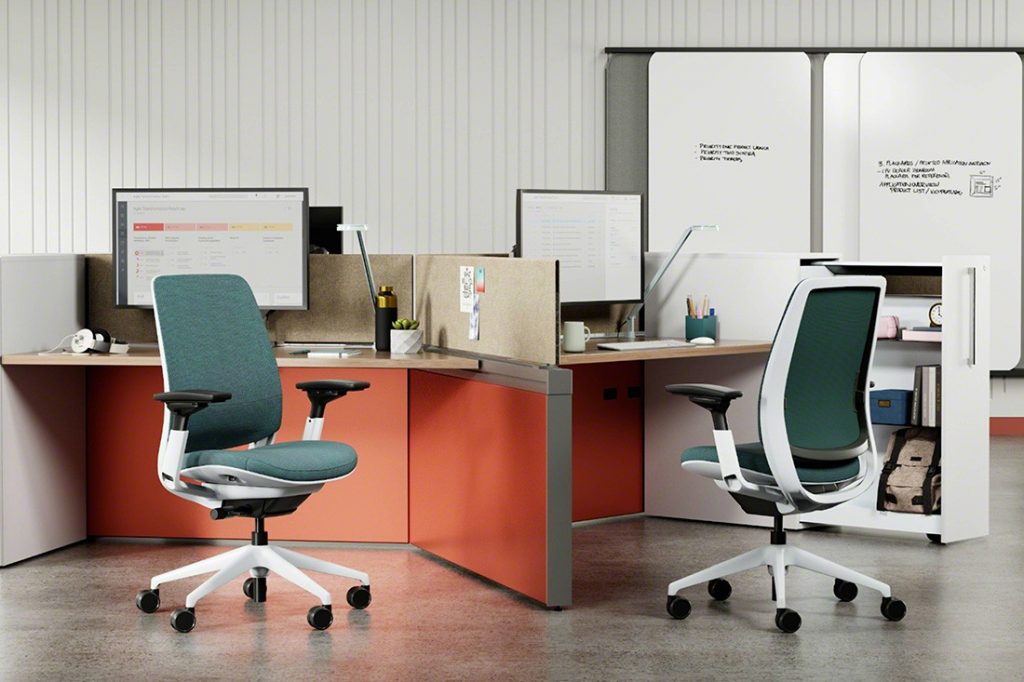 All Steelcase products displayed within this article are available Australia wide. For more information, head to steelcase.com.