Home to 310 luxury apartments, The Realm is Adelaide's new crown in the city skyline. The capital's highest residential skyscraper, The Realm's design, inside and out, pays homage to its site history as Assay House, built in the 1850s. For the interior, custom designed Royal Thai rugs courtesy of Above Left proved to be the finishing touch on a spectacular build.
The design of the Royal Thai rugs themselves comes from the building's exterior, where golden mesh pinnacles intertwine around the structure, standing high in the skies of Adelaide.
The team responsible for the design, Elenberg Fraser, have a history of using architecture and design to tell a story, and for The Realm, a sense of calm and simplicity was essential. The design aesthetic for the project is a sense of classic minimalism utilising soft tones with an intuitive, responsive and human-centric focused approach for living.
The golden tones throughout pay tribute to the adjoining Assay House's, where lucky gold rush prospectors took their gold to be weighed and melted into the Adelaide Pound. This golden motif carries through with the Royal Thai rug design.
"Having this opportunity to custom design elements such as the inset rugs within the communal areas in collaboration with Above Left was exciting as it allowed us to really create something unique for the project," says Camille Guss, interior designer at Elenberg Fraser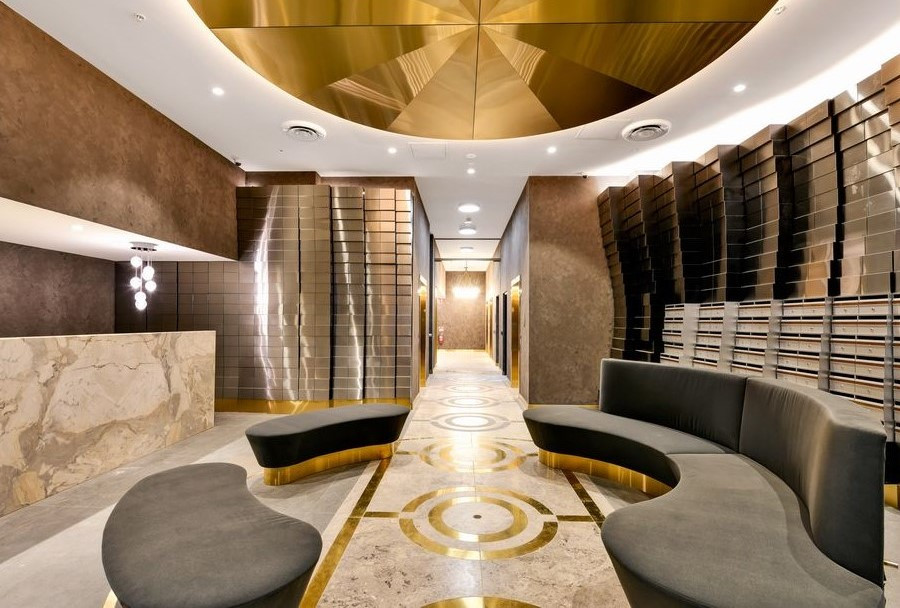 "Above Left were able to take on board our vision and throughout a series of collaborative workshops, come back with customised patterns and colours to reflect and enhance our initial inspiration and design. This process allowed us to produce products that 100% reflected our overall vision for the project, and ensured results of a level of luxury in premium, richly textured finishes, not otherwise achievable with an off the shelf alternative."
With The Realm skyscraper a beautiful new addition to the Adelaide skyline, the interior design needed to match this level of beauty, and the custom designed Royal Thai rugs, available exclusively in Australia thanks to Above Left, helped ensure this.