What is the standard bedroom size in Australia?
The average Australian bedroom is approximately 3.2m x 3m (or at least 8 SQM). This is fairly large compared to other countries, with enough space to comfortably fit a double bed, desk, and wardrobe. The average bedroom ceiling height is 2.4m, situating Australian bedrooms at the larger end of the global bedroom size spectrum.
However, bedroom standard sizes tend to differ. This is most often due to the type of bedroom. An average master bedroom in Australia is slightly larger than the national standard bedroom size, usually measuring at 4.2m x 3.9m. This gives enough room for a larger bed – such as a king – and more furniture/a larger wardrobe than the standard.
A double bedroom has a somewhat deceptive name as 'double' does not refer to the size, it refers to the type of bed. A double bedroom is a bedroom which can comfortably fit a double bed and is designed for two people sharing a bed (i.e. a couple). These bedrooms are a minimum of 11 square metres and must have at lease 8 feet 5 inches in width (2.55 in meters).
The minimum size for an Australian bedroom is 6.5m2, though anything less than 8 SQM is considered small. Bedrooms of around 10 square metres are generally considered the most comfortable as they have the space for comfort furniture rather than just bare-bones necessary items like a bed or wardrobe. More than 10 square metres is considered large.
Australia compares fairly well with the rest of the world, though one might expect a more drastic variation given that average Australian houses are among the largest in the world. The average bedroom size in the UK is 6.5 SQM, Australia's minimum. There are actually laws about the minimum sizes of a bedroom which correspond to the age of its inhabitant (for example, younger children can have slightly smaller bedroom standard sizes than their older family members). American bedroom sizes are quite large, with the average size starting at around 4.5m x 4.8m.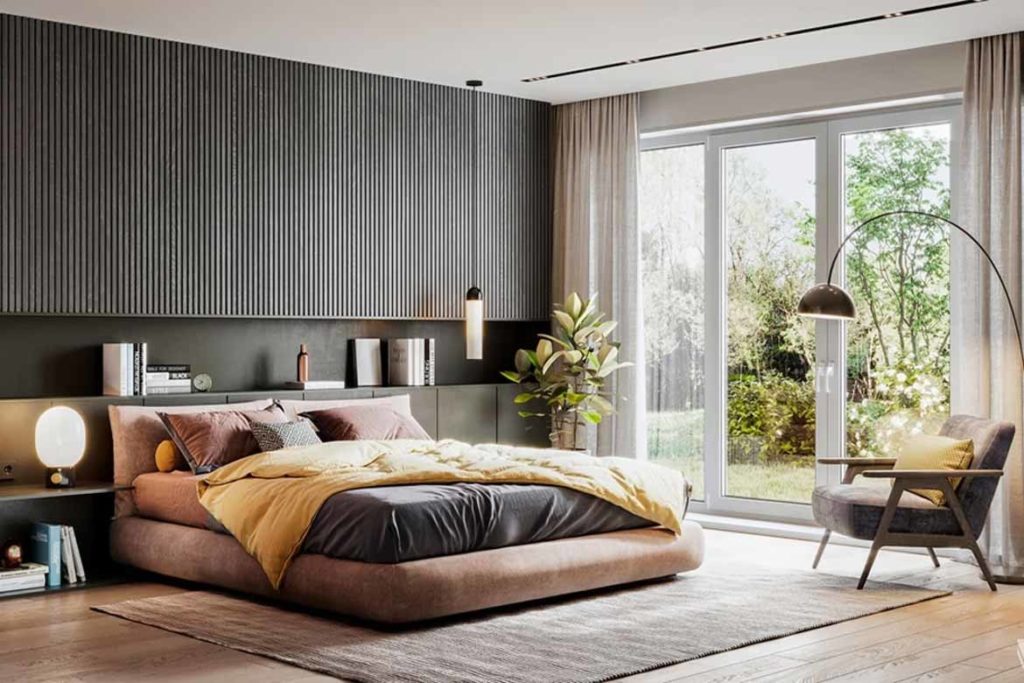 Is it cheaper to design a bedroom than use a standard bedroom size Australia?
This will depend on the specifics of your home. If you are building a new home, requesting a custom bedroom size should not be too difficult nor expensive – provided that you manage to do this in the early stages before your architect has laid down solid plans. However, renovating a home from a standard sized bedroom into a custom size can be quite expensive. That is not to say that a custom sized bedroom is a waste of money.
Custom sized bedrooms have a number of benefits. Because they are designed specifically for your home, they are guaranteed to make the most of the available space and may give you the few extra metres that you need for a built-in wardrobe or a home office space. They will require expertise to create, but you can always search around for relevant architecture firms and contractors to find a quote.
Standard Bedroom Sizes Australia: Size Guide by Type
4. Small
Any bedroom under 8 SQM is considered small by Australian standards. However, many European countries have far smaller standard sizes – and they have developed specific design styles to compliment a small bedroom space.
Scandinavian interior design is particularly well suited to a small bedroom. This is because a lot of Scandinavian design places emphasis on creating negative space, which makes the room feel more open and light. Typical tricks for styling a small space like mirror placement, low bed frames and light colour schemes are often already incorporated into the Scandinavian design identity.
Another option for decorating a small bedroom is to lean into the small space. Cozy bedrooms with well-loved furniture and ample comforting blankets/pillows are welcoming and beautiful in their own right. Styling your bedroom for maximum comfort is a great idea for a small space especially if you only intend to use it for sleeping or relaxing. Cottagecore is an emerging internet trend particularly well suited to the creation of a comforting, cozy small bedroom space. Read more about Cottagecore trends here.
3. Master
A master bedroom is among the biggest bedroom styles, with the standard dimensions being 4.2m x 3.9m. This space has room for multiple luxury furniture items such as a king bed, large wardrobe, desk or home office, and occasionally even a small sitting area (for those on the larger size).
There are many different design styles which suit master bedrooms, because of the ample opportunity to include decorative items, but without a doubt one of the best style choices for a big bedroom like this is rustic luxury.
Rustic elements like timber or exposed brick walls create a gorgeous contrast with the indulgence of a large space. Master bedrooms are also well suited to large windows, particularly if they are overlooking views of natural scenery.
2. Kids
Kids bedrooms are interesting in terms of standard sizing. There is no set size for a child's room in Australia as there are with some countries in the UK. Generally, children's bedrooms tend to be on the smaller side as, quite obviously, they require less space and their furniture is not as bulky.
Children's bedrooms are often one of the most creative spaces in a home, because you can decorate to the whims of the child. Popular design features of a child's bedroom include murals, loft or bunk beds, and naturally whichever toys hold their favour that week.
1. Guest
A guest bedroom is almost always sized at standard bedroom dimensions or slightly smaller. This is because there is an assumption that your guests will not spend excessive amounts of times in their rooms; guest rooms are mostly for sleeping/storing bags and so the design focus should be on the bed and the wardrobe.
Design styles that work well in a guest room are bright, open and airy designs which will promote healthy sleeping habits. Windows with lots of light in the morning will encourage your guests to wake up early and refreshed for their day with you. Crisp, neat designs with comforting accents are a good way to communicate clean hospitality whilst also providing a warm and welcoming space.