Since it was founded in Switzerland in 1863, Red Cross has had a mission to prevent human suffering, protect life, and ensure respect for human beings. So, when Australian Red Cross was looking to create a new fit-out for their Adelaide office, it was essential that the space felt welcoming, safe, and comfortable to work in – echoing the organisation's humanitarian values. This directive translated into a need to create a highly functional workplace with clearly defined zones and intuitive wayfinding. For Richard Simmons, Design Director at Liquid Design, Milliken carpet was key to achieving this.
"The brief was to design a new office space that can accommodate the inclusivity, humanitarian work, and community feel of Australian Red Cross," explains Simmons. As the organisation's State Office, the space also needed to be flexible and accommodate multiple uses – everything from public gathering spaces and consultation rooms, to English classes and first-aid training.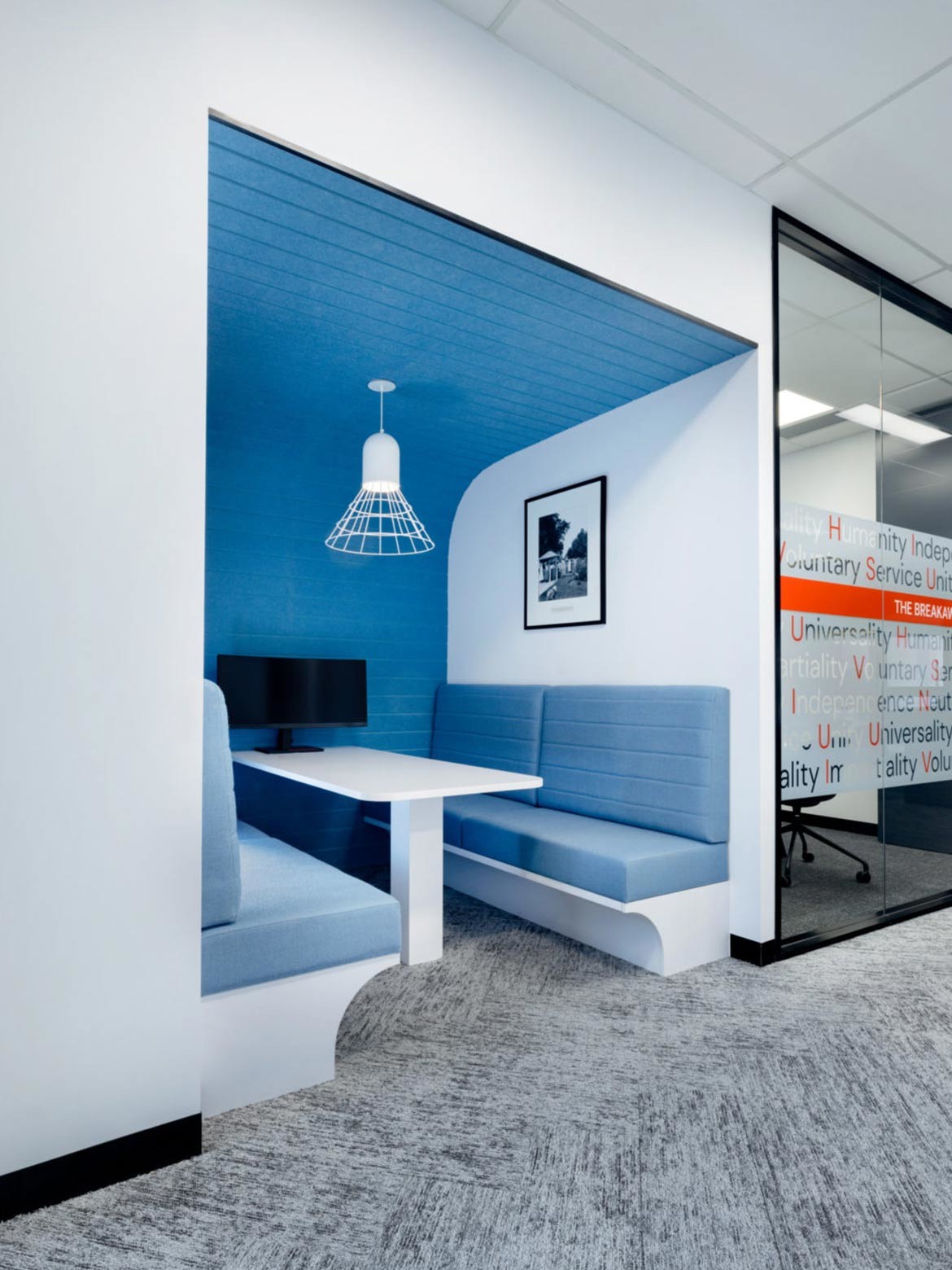 Given this in-built flexibility, it was necessary to clearly define the various zones – and the solution was Milliken flooring. The subtle static pattern of the Major Frequency: One collection defines the main workspace; the sophisticated graphic lines of the Clerkenwell: Three Corners collection in vibrant blue marks the circulation zones; and the random, organic pattern of the Free Flow: Foundation collection is found in the meeting areas. "Each collection is totally contrasting yet complimentary," says Siobhan Downey, Key Account Manager at Milliken.
To introduce dynamic movement and heightened visual interest into the flooring, the team at Liquid Design used both tile and plank format carpet tiles, laying them in either a herringbone pattern or quarter turn. "The idea of using contrasting patterns and tones made it possible for the architect to create obvious wayfinding zones and break-out areas throughout the space, without the need for walls," explains Downey. "​We started with a blank canvas and to have the ability to combine different Milliken carpets for different areas and make it work proved to be a successful feat."
Another defining element of the workspace is the mural wall by Sam Gollan, a local Kaurna and Ngarrindjeri artist. The colours of the mural have been chosen to complement the interior fit-out and the design represents the work Red Cross does in the community.
"Red Cross wants to create a space that is inclusive and diverse and welcomes all people," explains Paul Sor, National Asset Manager for Australian Red Cross. "The art piece shows the different groups of people gathering, transferring knowledge, supporting each other with a river of Life flowing between us all. The concentric circles are ripples flowing out to the community making us all one."
Throughout the new workplace, the material palette was selected to complement the existing building and updated Red Cross brand. As the project was a test case for other fit-outs, Simmons wanted to push the envelope and inject different finishes that had not previously been used by Red Cross.
The colourful patterned and textured carpets from Milliken are a particularly pertinent example of this approach. "The scope was for a hard-wearing attractive product that was manufactured in a sustainable way and was easy to maintain – yet still be welcoming," says Sor of the choice to specify Milliken. "The products chosen create warmth and achieve all of what we hoped for." And, like the other finishes specified, the carpets link back to the environmental and sustainability goals of Red Cross.
Sustainability in all aspects of the fit-out was a key driver of the design, with solar panels, LED lighting, sensor taps and lights, and green finishes and furnishings introduced to minimise the footprint of the fit-out. "Many of the situations we offer help in are caused by or made worse by environmental impacts on people," says Sor. "So, Red Cross is keen to ensure that we do not contribute to climate and it is actively looking to implement initiatives that reduce our climate footprint."
Like Red Cross, Milliken has a commitment to sustainability that made them an ideal partner for the fit-out. Over the past 15 years, the company's floor covering division has reduced its global eco-footprint by an impressive 50%, and it is working towards a goal of zero landfill, zero waste, and zero air emissions. The M/PACTTM Carbon Neutral Program is key to this ambitious goal, and has already resulted in all carpet, LVT, and entrance flooring tiles being certified carbon neutral. These products – which include the three collections used in the Red Cross fit-out – offset the raw materials and manufacturing footprint using third-party Verified Carbon Standard Credits and offer greater choice to specifiers working towards sustainability goals of their own.
An additional benefit of these sustainable initiatives is the financial payback. By saving money in the running of the space, more funds are available to help those in need by reinvesting savings into programs.
"The full project including purchase, building modifications, fit out, AV and all equipment has a 5-year payback," says Sor. "Over the next 20 years, every year we will be releasing over a million dollars per annum for programs and assisting vulnerable people rather than paying rent." And, what more could a humanitarian organisation ask from its new workplace than this kind of meaningful impact in fulfilling its mission?
Milliken
floors.milliken.com

Design Firm: Liquid Design
Name: Richard Simmons
Builder: J DV Projects
Name: Jason DeVos
Project Manager: Moda Design Group
Name: Angelo Sansano