Founders of the Caliper Journal and practising architects, Lauren Crockett, Nicola Cortese and Stephanie Pahnis, were invited to design the Reading Space at the Australian Centre for Contemporary Art's 'Who's Afraid of Public Space?' exhibition, which ran from 4 December 2021 to 20 March 2022 in Melbourne.
Raising questions about the viability of participatory public space today, the project sought to break down the idea of the static monument with a room that would be reconfigured, added to and archived through the collected agency of the public.
Unlocking creative possibilities
The designers initially approached GH Commercial to produce rugs for the exhibit, but soon, after meeting with the company's inhouse design team, they learned that they could do so much more.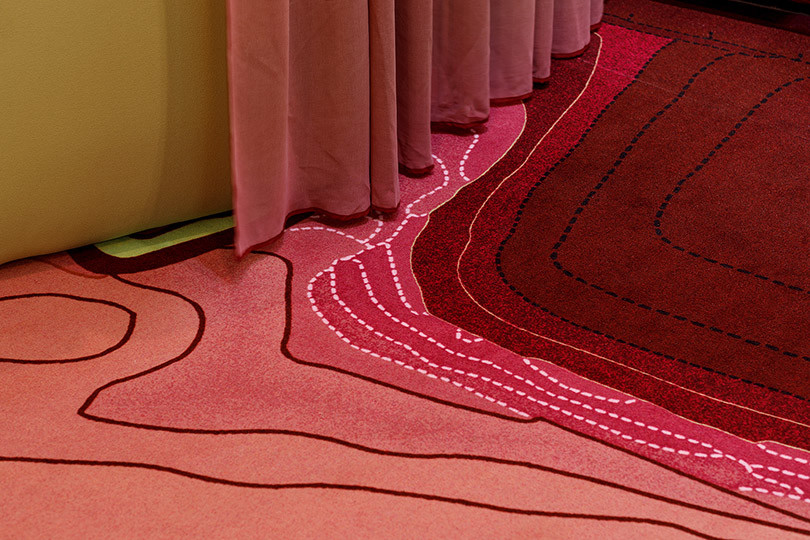 GH Commercial boasts the capacity to create full custom designs using local Designer Jet® technology. The world-class Designer Jet® precision dye injection process allows any striking pattern, drawing or image to be recreated in a multitude of sizes and texture options, offering a flexible, creative and performance-driven carpet solution.
With this impressive capability, GH Commercial was able to create a 1.96 metre wide sheet carpet that could cover the entire floor space, which eventually became the grounding element for the Reading Space exhibition.
The designers worked collaboratively with the local GH Commercial inhouse design team to refine their conceptual vision. They soon landed on their final custom design, and after approving the hand trials, watched their vision come to life on the Designer Jet® technology in Geelong, Victoria.
Watch the video here:
From concept to reality
GH Commercial's custom flooring capabilities and the Designer Jet® technology enabled the designers to amplify the design without reducing complexity, ensuring their original vision for the Reading Space was maintained.
The detailed texture and rich colours of GH Commercial's bespoke solution brought comfort and warmth to the Reading Space, providing balance with its more functional elements. Instructional design references in the flooring guided users of the space through the room, empowering them to make use of the space as they wish.
The space itself has a decentralised quality, with movable materials that ensured it was reflective of the public using it at any given time. There is no singular, centralised object, rather it is unified by a flexible flooring solution that encourages interaction and graphically embodies the space's agile and fluid nature.
Custom flooring solutions by GH Commercial
With zero design fees, short lead times, smaller minimum order requirements and a focus on close collaboration with architects and designers, GH Commercial makes bespoke carpet and flooring a reality for all. Whether it is to tie a space together, evoke an emotion or guide users to where to look next, their flexible and cost-effective offering can help architects and designers realise infinite design possibilities. From easy online customisation to a fully bespoke design with their local inhouse design team, GH Commercial's streamlined process leads designers from their initial design brief right through to manufacturing. The company's custom capabilities include fast turnaround Designer Jet® designs, luxurious wool blend woven carpets, Pattern Perfect® tufted carpet, handcrafted rugs and a range of hard flooring options.
Start creating today: Explore GH Commercial's custom flooring solutions range here.
GH Commercial
Photography by Andrew Curtis. Commissioned by the Australian Centre for Contemporary Art, Melbourne, 2021.