Avoiding the cold and clinical design style typically associated with medical environments, New Me medical centre is a consultancy for a bariatric surgeon that favours warmth through touches of colour and joy.
The brief for the Perth clinic was to create a calm and supportive environment, says Rezen's director of interiors, Zenifa Bowring.
"The client wanted to bring a soft and casual feeling to the space to differentiate it from your average medical suite and link with the business' graphic branding approach," says Bowring.
"The result is a set of spaces that feel playful and welcoming while having an overarching sense of privacy, warmth and safety."
The reception area acts as the central hub of the project, with consultation rooms bordering its perimeter. A custom-cast bespoke cement reception desk features an accordion-like zigzagged edge, referencing the pointy-edged New Me logo. The reception is private and light-hearted, creating a non-intimidating entrance for visitors.
"All our design choices were made to support a calm environment," says Bowring. "Not your average medical suite, we had to be considerate of the transformative journey of people going through bariatric surgery."
Playful and confident use of colour dilutes the otherwise soft and warm beige palette. From the Fibonacci terrazzo and the dusty pink grout in the gridded cream tiles of the tea area, to the pastel yellow and pink doors, each dash of colour allows New Me to feel more welcoming than a standard clinical medical centre. Unique considerations specific to the centre's purpose feature, such as a photo booth that allows patients to document their journey.
Despite the colourful and joyful palette, the design is still mature and considered. Cork flooring was chosen for its environmental credentials, while most of the products were locally sourced and the furniture and fittings were built for longevity, with sculptural seating and Australian-made furniture features from Jardan and Design By Them a testament to the project's calibre.
As a whole, New Me is a space that encourages people to feel relaxed in a design sphere where clinical impassivity is often embraced.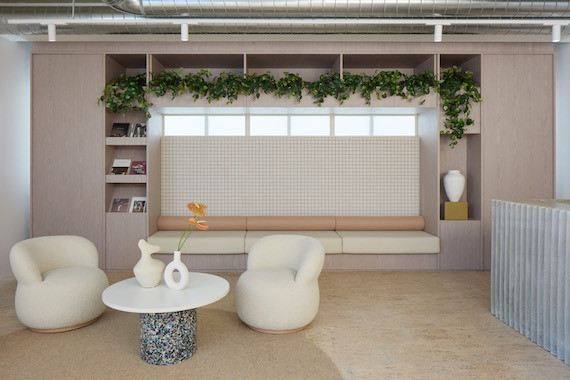 "In a simple sense we try to design spaces that allow people to connect with the better parts of themselves and others. This is especially critical in this instance where communication around people's health and well-being is at the forefront," says Bowring.
"The design of New Me hopefully embodies this approach through a series of spaces which are comforting and supportive to people who may be feeling vulnerable or uncertain."
Rezen Studio is an award-winning boutique architecture and design practice based in Fremantle, Western Australia.
Rezen Studio
rezenstudio.com
Photography
Jack Lovel
Styling
Amy Collins-Walker