Entitled "The Forgotten Spaces – Upper Floor Reactivation", the study was undertaken by HASSELL and Pracsys, and identified under-used upper floor spaces in the CBD. These spaces, which were originally occupied by tailors, jewellery manufacturers, theatres, tea rooms and residential flats, were vacated during the 1960s and '70s as freeways and technologies began to transform the city.
The Forgotten Spaces report identified approximately 40 properties with more than 17,000-square-metres of "abandoned" space within the main CBD.
As fate would have it, architect Nic Brunsdon was on the hunt for a studio space in the city. Frustrated by the lack of opportunities and aware of the Forgotten Spaces report, Nic and his partner, architecture lecturer Dr Beth George founded Spacemarket, an online platform pairing under-utilised spaces with useful people.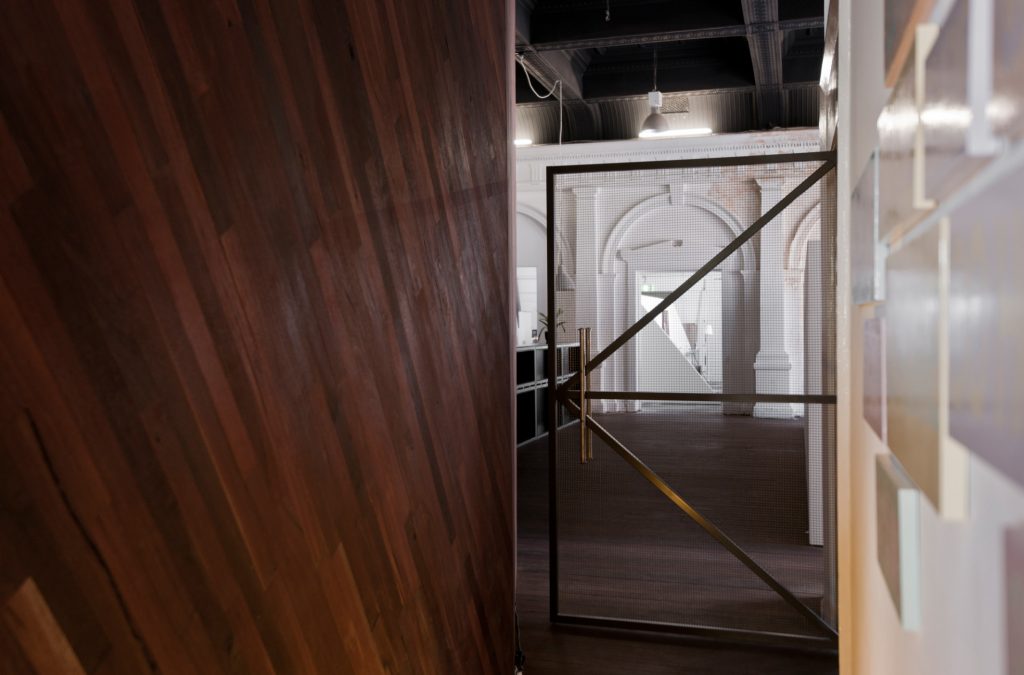 Nic and Beth had found a home for their practice and set-up an exciting initiative engaging people and places, but wanting to do more founded Post -, the development arm of Spacemarket. With their keen understanding of great spaces around town, they identified a special opportunity in the first floor of Moana Chambers (built in 1907) for a café, co-work and gallery space.
The project capitalises on Perth's evolving creative industries attracting talented local businesses to the space as key tenants. The co-work, collaborative spaces are anchored to the northern portion of the tenancy in a large volumetric space where you can almost sense inspired ideas dancing around the original ornate ceilings.
A timber clad gallery pod cleverly navigates between robust and delicate, angling at just the right moments to reveal existing heritage fabric. The cafe, Moana Coffee, provides essential fuel for the co-work spaces (and the rest of town) opening on to a balcony that hovers above the historic Hay Street mall. The cafe bar cleverly combines pressed metal with stainless steel and negotiates between the gallery and the balcony's heritage apertures to greet keen punters discovering life above the mall.
Post – has a great knack for bringing people and spaces together, and the Moana Chambers project is a reflection of this from inception through to final completion. Working with magnificent volumes provided by the original fabric and new interventions, Post – has created an exquisite sequence of experiences within a rich historical shell.
Photography by Thom Perry.
Get more design inspiration, join our mailing list here.