Perched on the edge of the CBD, the University of Melbourne's world class innovation precinct, Melbourne Connect, is the 'connected ecosystem' that houses a plethora of faculties and bodies whose primary focus is on innovation.
Within the main building, a grand 'superfloor' connects numerous functions and services including the Melbourne Entrepreneurial Centre (MEC). Some might consider this to be the very cosm of Melbourne Connect, where innovation is born through ideation.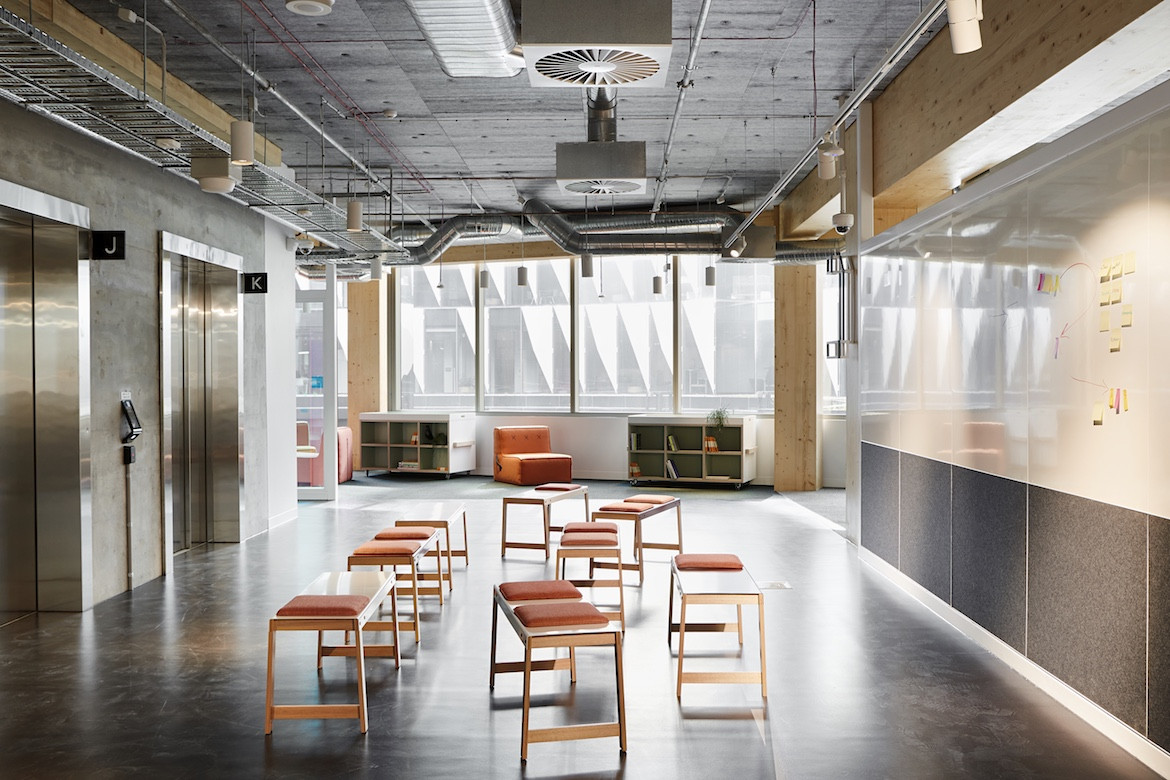 The MEC's relationship with the superfloor is one of porosity: there is no defined wall or door that closes it off from neighbouring spaces, and yet there is a distinct sense of arrival.
Architectus was engaged by the University of Melbourne to undertake full interior design services for MEC, which stretches across three levels. It was to bring together partners Melbourne Accelerator Program (MAP) and Translating Research at Melbourne (TRaM) under its one roof, as well as a third complimentary organisation, The Wade Institute.
Primary to its brief was that it be a place to work – but with maximum flexibility and adaptability, so that both MAP and TRaM – and the diversity of individuals that engage with these bodies – might mould the MEC spaces and facilities to their varied needs.
From pitch nights to hackathons, masterclasses, workshops, non-timetabled teaching and learning, plus more, MEC is designed to host and facilitate any manner of function, in the name of entrepreneurialism and innovation.
On the day we visited there were still significant restrictions in place so the MEC was uncharacteristically quiet. A sheer metal curtain doubling as a retractable wall established a sheer, yet curiously tactile membrane between the main concourse and the brains trust within.
Everything about MEC, says Architectus senior associate and project lead, Brett Simmonds, is designed to be hyper flexible and "hackable", but with the intent of keeping mess to a minimum. So anyone might change the space to suit their needs, while also leaving barely a footprint behind.
The drivers for the project came down to a set of three design principles. The first was 'object within an object'. This was developed in respect to the base building's Cross Laminated Timber (CLT) construction. So everything – from the roasted cork flooring (which offer great sound absorption, not to mention a wonderful aroma), to the kitchen facilities and even desking partitions – exists as its own entity within the framework of the base building.
Simmonds points out the services area on the first floor, located to the back of the space and neatly encompassed within a simplified box form. This sits autonomous to the base building. Recessed service points are carved out and given a pop of colour. (Incidentally the boldest point in a large, muted colour scheme which is designed to be superimposed upon by its workshopping users.) "We wanted to make sure that this was a beautiful little cubby house," he comments.
The next is 'no thing is one thing' with an emphasis on maximise flexibility. Here, Simmonds points out the double-seat benches as an example. Designed by Derlot Editions, each bench features magnetically affixed cushions custom made for the project and easy to remove should the benches need to fulfil another purpose. Smart peg-points in the legs allow the benches to be stacked, means they also double as room dividers, display cases or even a bar for event service.
"This idea of flexibility extends to the custom storage units in the workspace, which includes lockable team storage, a 'showcase' tray to display the teams' innovative product designs, book and magazine storage and even space to hang your coats," notes Simmonds. "The units are mobile so teams can move them to create spaces that reflect how they are working at the time."
The third principle was developed as a nod to MEC's very reason for being: as an incubator of ideation and innovation. As such 'changes on perspective' became a device through which the design team could establish a series of spaces that would nurture both creative spirit and enquiring mind.
"As you move through the spaces they reveal themselves," says Simmonds, who applied smart, simple gestures such as dichroic film partitions to keep things fun and energised. "We wanted to create moments of delight, where the view of the world around you changes and surprises you." It's a physical manifestation of fresh perspectives for anyone who is lucky enough to call innovation and entrepreneurialism their day job.
Architectus
architectus.com.au
Photography
Shannon McGrath