Since the onset of the pandemic in early 2020, the retail sector has found itself in the midst of a technological revolution. These circumstances have thrust many retailers into a race for survival, with the fittest and fastest flourishing. Concurrent to this has been the incredible disruption to working life, thrown up by the pandemic. Specifically, the instantaneous shift to work-from-home and the rapid transition into hybrid working modes.
This leading Australian retailer, facing converging challenges to both retail and workplace, embarked on one of its largest undertakings yet: to consolidate its support teams into a single location, and create a support headquarters which vitally feeds back into its retail destinations.
To bring all its support staff into one location began, pre-2020, as a very different conversation. As the pandemic and lockdowns unfolded, the conversation took an about-turn and the focus fell to finding the right location to support the business's rocketing digital and technology arms, and also answer the changing needs and shifting behaviours of its 1500-strong support workforce.
Under the leadership of Gray Puksand, the client pivoted its workplace strategy and settled on a location (already built). The design of its workplace flowed from there – a rapid 11-month process that delivered a hyper-flexible, hybrid-ready activity based working outcome. Notably this outcome supports a 60-40 ratio which sees just 60 per cent of the business' workforce tied to a desk.
It's worlds away from the original pre-pandemic game plan. But no one is complaining. Gray Puksand, with all its workplace design expertise, has taken this project in hand and delivered a completely woke office environment that puts emphasis on the client's workplace culture. Underpinning this is the client's commitment to people first, its strong sense of community, and its hospitable nature. From the workers' perspectives, their new support headquarters also delivers on core values of 'village life' – that elusive quality one only really gets when working from home, and a vital connection to the outdoors.
The building itself encompasses two towers, connected by a level two podium and two linking bridges on the upper levels. Teams are arranged across the two towers in neighbourhoods. This is significant, says Gray Puksand design director and project lead, Dale O'Brien, in that it reduces the friction of too much choice.
Related: Why neurodiverse, inclusive workplaces are imperative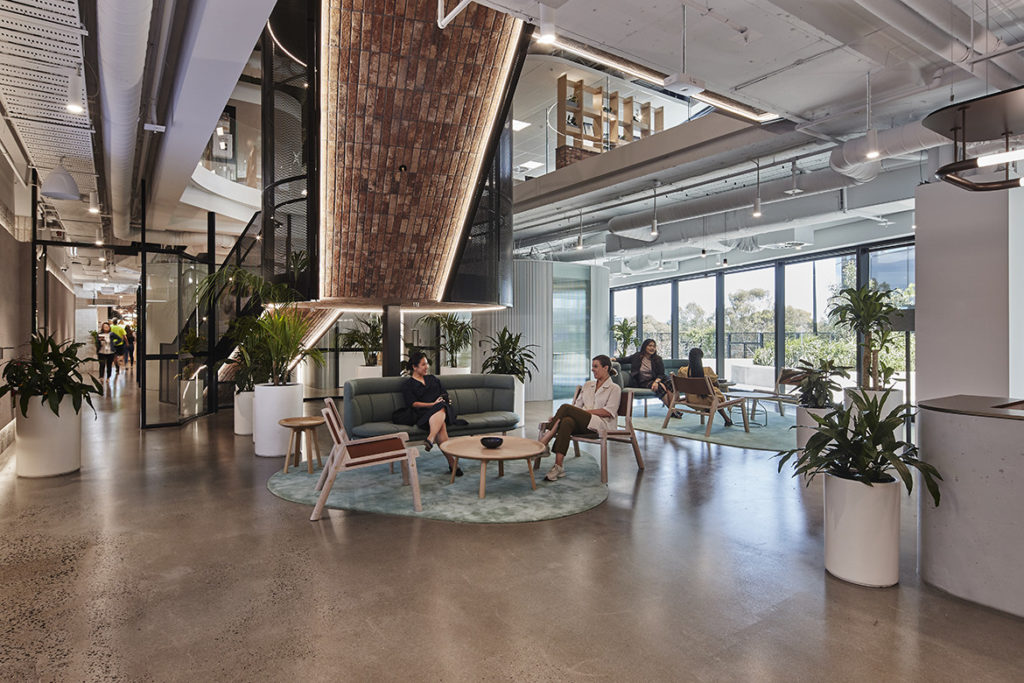 "People have a home base, somewhere they know they've got a locker. It's not so flexible that you come to point A and leave at point Z. You need this frictionless experience of coming into a space and belonging to an area," O'Brien says.
In defining the work settings within each neighbourhood, Gray Puksand posed the questions: Why are people coming in? What are they doing when they come in? What spaces do they need and how do those spaces adapt over time? This line of thinking acknowledges that an eight-hour workday (if it can be so definitively described), is composed of different scenarios and varying energy outputs.
"Low, medium and high energy zones was really the way the design was able to respond," says O'Brien. Vibrant, high-energy zones are more dynamic – less tethered, the furniture looser. Medium intensity zones cater for the 'heads down' moments, supporting individual work in a communicative team environment.
Related: Indesign's 'Hybrid At Work' Issue, purchase here.
The quieter spaces carry the behavioural influences of a library – more formal, equipped with higher screens, quiet zones with dedicated phone and Zoom booths. "These naturally happen in corners of the building where it's less transient," notes O'Brien.
With the staff already moved in and happily moulding their neighbourhoods and working zones to their everyday needs, Gray Puksand has been gratified to receive the kind of feedback every designer wishes to hear: "This feels like us. You've really captured our essence."
O'Brien attributes this to Gray Puksand's intuitive understanding of the aspirational brief: Who are they, what matters to them? As it turns out, the staff feel immense pride for their company and its role in the everyday lives of its customers. The design manifests this through its attention to detail with particular emphasis placed on honesty, approachability and friendliness.
Concealed fixings are revealed, finishes and services exposed, and recognisable materials used in unrecognisable ways. "We challenged the contractors with, 'We actually want to see how the fixing is, we want things to be exposed, we want to see through the wall.' " O'Brien references the kitchens where transparent walls reveal the inner workings of their construction, while also contributing to the light quality of the spaces.
Collaboration zones – affectionately referred to as Garden Sheds – use laser light, bent on the vertical, to refract light across the timber frames. Again, "recognisable materials used in unfamiliar ways".
"The hardest thing to imbue in the photos of this project, when you walk around, is the feeling this space brings. Raw natural materials are put into play with a muted palette of subtle sage and river gum tones."
The colour palette is a fond reflection of the surrounding Yarra landscape which can be seen from almost every part of the building in approximate 300-degree views. So, "when you walk the floor, it almost feels like you are walking outdoors".
This extends through to the 250-seat café which opens out to outdoor seating and an amphitheatre, serviced by an outdoor kitchen. The café itself provides a range of healthy food options with an emphasis on catering to staff's interests, needs and appetite.
"Healthier food offerings in a nice space, which is calm. It's just a place you want to be, as a staff member," says O'Brien. "We talk a lot these days about earning the commute, especially in hybrid work reality. The client is telling us that the space is doing that." And, really, what more could one ask for?
This article first appeared in Indesign #86, The 'Hybrid At Work' Issue.
Gray Puksand
graypuksand.com.au
Photography
Peter Bennetts
We think you might like this article about Greater Shepparton Secondary College by Gray Puksand.