The Ace Hotel in Sydney pays loving homage to all things Australian. Inspired by the famous Robin Boyd, the paintings of Indigenous Australian artist Albert Namatjira, and the historic context of the building site as a facility for pottery and ceramic creation, Flack Studio composed an ode to the Australian spirit which captures the diversity of our nation.
Located on Wentworth Avenue and standing proud at 18 stories, the Ace Hotel Sydney features a lobby bar, ground-floor restaurant and laneway café – as well as a rooftop and restaurant bar. Each of the 264 guest rooms have a cosy interior fitted with custom lighting, fixtures and furniture designed to make the space as welcoming as possible.
Furniture By Design was instrumental in the composition of the deeply authentic Australian atmosphere, working hand-in-hand with the hotel's lead interior design partner Flack Studio and Marques Interior Services to develop innovative design concepts for the built in seating, as well as the curation of bespoke furniture solutions for the project. All products from Furniture By Design are designed and manufactured in Australia with sustainability in mind. Taking a holistic and innovative approach to manufacturing, Furniture By Design ensures that every piece reconciles the ecological and social impacts of its production with a thoughtful commitment to minimum waste.
Furniture By Design demonstrates extreme flexibility throughout all of their projects, working tirelessly to provide highly personalised furniture solutions in a range of contexts. For the Ace Hotel, this meant creating a specific collection which blended seamlessly amongst the sourced range of second-hand pieces – a tribute to the collaboration and diversity found within Australia herself.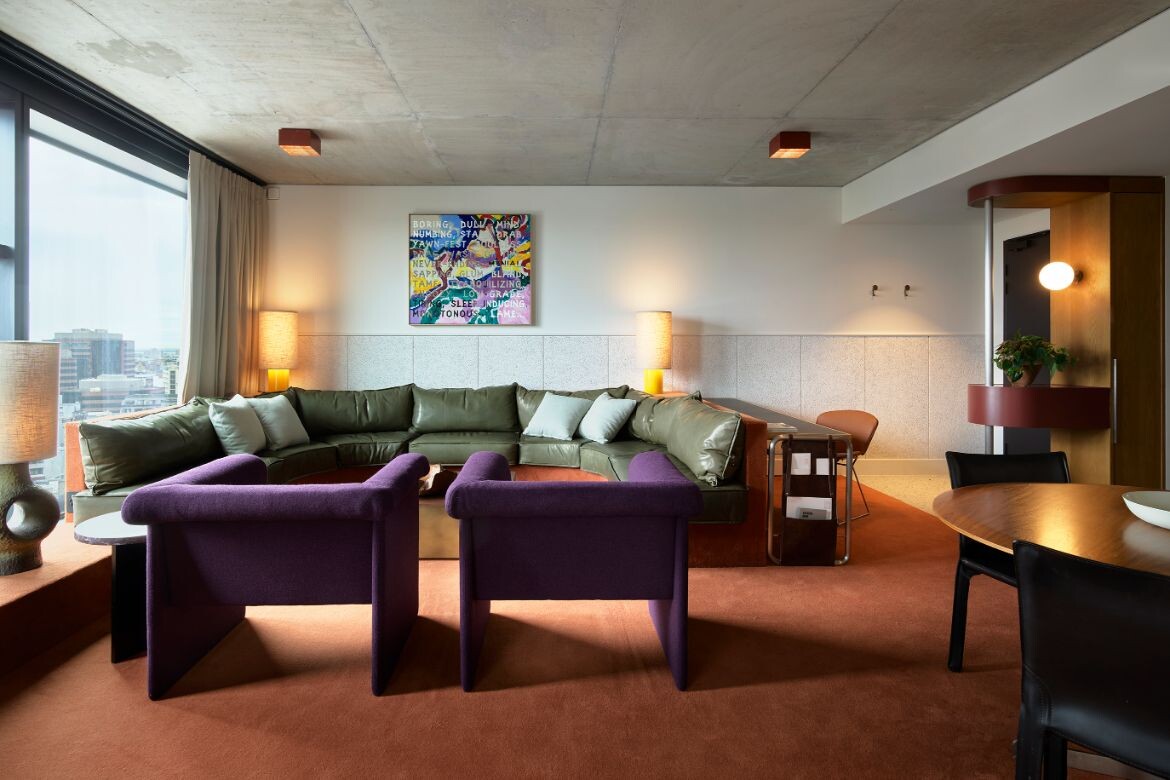 "We are so proud to be part of this iconic Australian project supplying our upholstered furniture across the 264 rooms. From our iconic 'Mellow' chair and the custom-built leather and fabric furniture, all of the rooms built in lounge seat cushions and the hundreds of scatter cushions – to the ottomans custom designed steel cork side tables and armchairs in the suites – the result showcases Australian design in its true form – modern and contextual," says Grant Hagen of Furniture By Design.
The hotel weaves an intricate atmosphere of different design eras, nodding to the easy-going aesthetic of the 1970s while keeping modernity alive in stand-out design flourishes. Showcasing an extensive art program, the interior features artworks of all sizes by some of Australia's boldest creative voices. A masterpiece of natural materials and textures, vibrant colours, playful contemporary art and some of Furniture By Design's most creative custom work, Flack Studio has articulated a revolutionary new voice in Australian design.
Learn more about Furniture By Design's contribution to this groundbreaking project and more on their website.
Photo Credit: Anson Smart