Flemington Race Course is famous around the globe. It is the home of the Melbourne Cup and brings a long history of thoroughbred racing. But it has been time for an upgrade to the stand, Victorian Racing Club (VRC) wanted to celebrate the history of the track and give a space back to the VRC members.
The Victorian Racing Club appointed Bates Smart as the architects and rather than following the traditional parameters of a stadium, the design features gentle curves and gradients, allowing extensive views out across the track.
The sweeping forms have been chosen to incite a sense of energy in the track and elevate the experience for racegoers. Wanting to capitalise on the theatre of horse racing, the design allows all elements to be taken in – mounting yard, track and members' lawn and the winning post.
Taking up the same footprint as the previous Members' Grandstand, the new Club Stand allows for an increased capacity and a suite of new luxury amenities in the interiors.
Now that the building's shell has reached completion, attention is being turned to the interiors, which are set to be ready just in time for the race that stops the nation in November. In the meantime, take a drone tour of the completed building.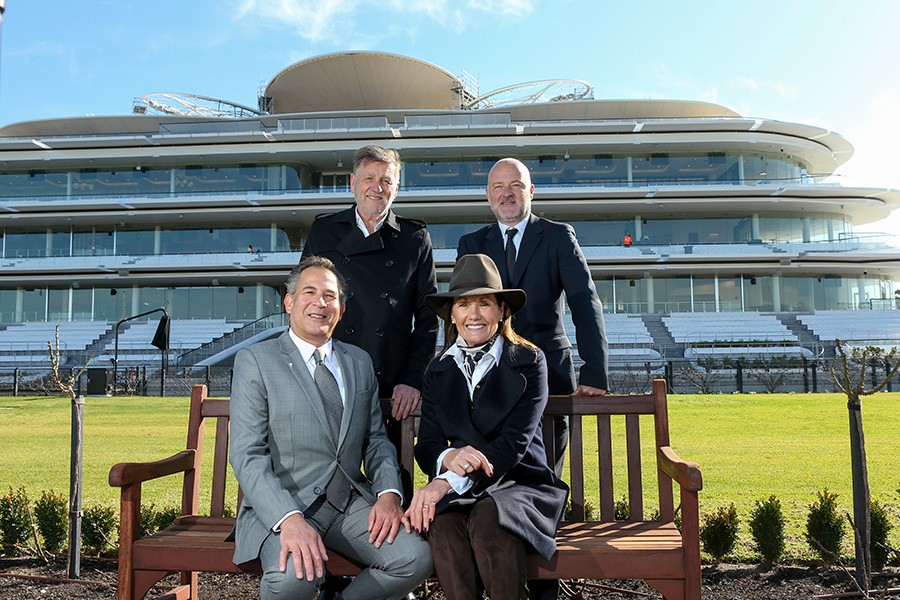 Proudly celebrating the completion is BACK L-R: Graham Cottam (Multiplex) and Kristen Whittle (Bates Smart), FRONT L-R: Jeff Copolov (Bates Smart director) and Amanda Elliott (VRC Chairman).
Photography by Pat Scala.