Mirroring its product, Deadly Ponies Armadale is a stalwart of simple, sustainable sophistication. The store's expertly executed palette is defined by clean lines and meticulous joinery that deliver a refined yet subtle quality, allowing the products to shine.
With five previous standalone Deadly Ponies stores under her belt, interior designer Katie Lockhart began exploring new ways to draw window shoppers in.
"Our clients asked us to further evolve our existing Deadly Ponies palette for this store and to really consider how the front window would act to engage the customer from the street," says Lockhart.
What resulted was a refreshed rendition of the existing soft palette of pale wood joinery and creamy walls, with the distinct addition of stainless steel.
"We really wanted to up the ante – creating something special that we hadn't ever done before," says Deadly Ponies founder and creative director Liam Bowden.
"We developed a collection of different pieces and unique elements that were new to us, like our rotating wood window plinths, giving us the ability to show off our products three-dimensionally," says Bowden.
An ongoing strong influence through Deadly Ponies' previous stores, the sculptural modernist works of Brancusi provided inspiration for the plinths. An oak wood ball is placed between two panels to create the display columns, "creating a surreal illusion of the ball holding the weight of this extensive wood block," says Bowden.
For Lockhart, the rotating plinths at the entrance are a favourite as they add "such an element of interest and intrigue as you window shop from the outside of the store," she says.
Stainless steel mesh curtains hang behind the display window plinths, giving the space "a transparent, jewelbox-like feel," according to Bowden.
The custom chain mail curtains delicately separate the window display from the interior, allowing only glimpses of what lies beyond.
Beyond the stainless steel, the pale naturally oiled American Oak that makes up the sculptural plinths is the star of the show, acting also as joinery, flooring, furniture and framing. Skirting boards, which are distinctly embedded into the wall, are also made from the oak, and marble sits atop an oak table in the centre of the retail space.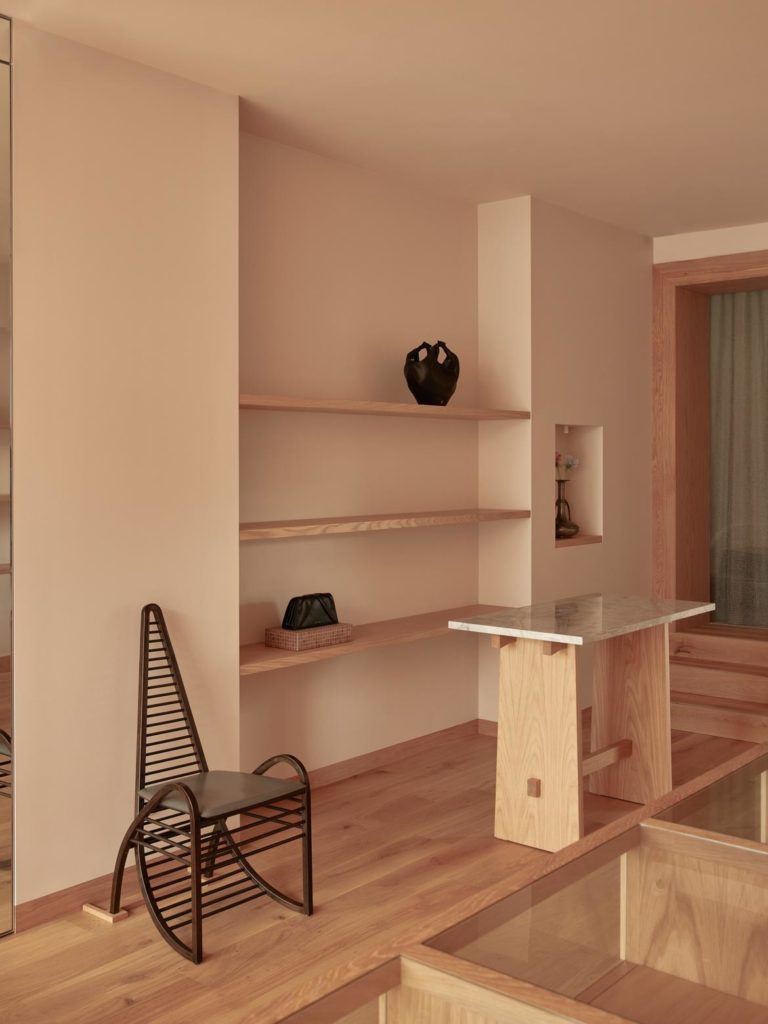 "Just as our pieces are made from quality, sustainably sourced materials, so is every element within our Armadale store. We don't promote the use of plastic, so instead have incorporated long-lasting materials such as wood, marble and stone," says Bowden.
The space incorporates unique, standout pieces, including an antique lamp by Paul Evans, a pewter vase from Archibald Knox and a sculptural modernist chair with a back that rises in a soft triangular peak. A small artwork by Alec Pula Lewis, View of Country, adds a soft dash of colour to the walls.
"Our goal was to design a space that would delight and enhance our customers' experience, now that we finally have a home for them locally," says Bowden.
Katie Lockhart
katielockhart.com
Photography
Sean Fennessy