This sight of contemporary architectural masterpiece of the Maleny House is one that impresses those discerning few with eyes for sincere architectural expertise. Its quality, craftsmanship and the attention to detail paid by Bark Architects.
For the award-winning Bark Design Architects, the brief was simple. Their expatriate Australian clients yearned for wide-open spaces, an abundance of natural light and environmental sustainability. The result is iconic.
Frank Lloyd Wright's once famous quote reads, "No house should ever be on a hill or on anything. It should be 'of' the hill. Belonging to it. Hill and house should live together each the happier for the other".
Delivering on this approach to design, Maleny House celebrates its site on the Sunshine Coast, with minimal impact on its local environment and taking advantage of the breathtaking views of the Glass House Mountains National Park, Brisbane and the ocean beyond.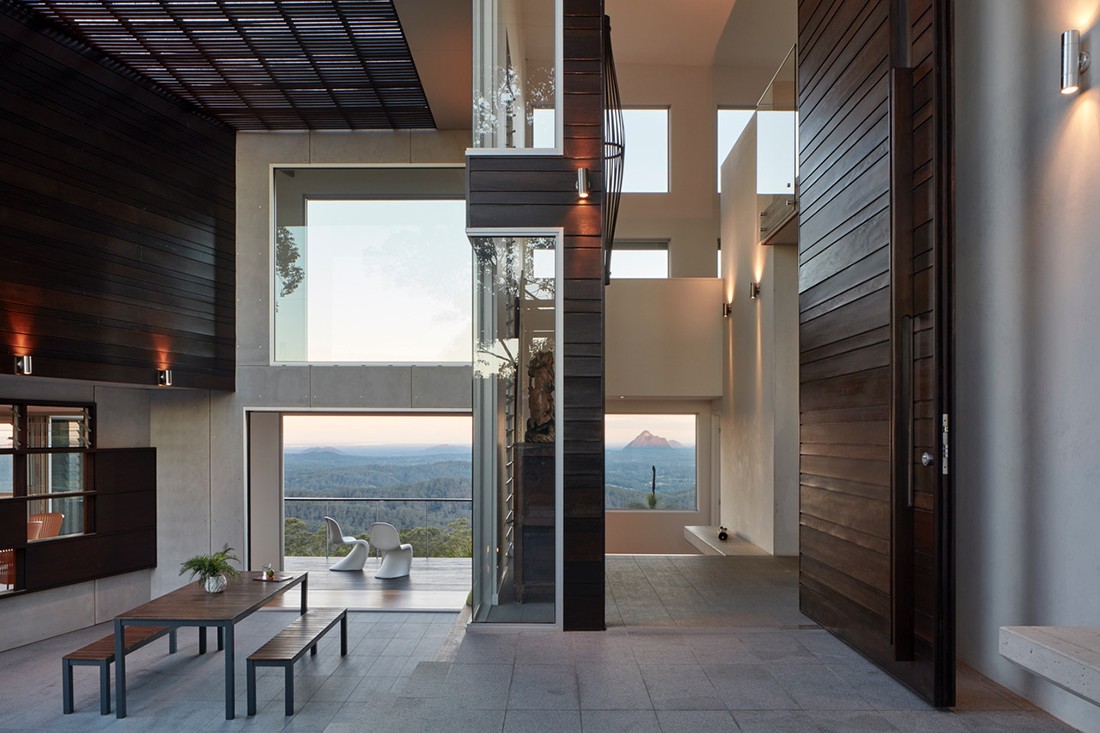 Finished in walls of toughened glass, the indoor spaces of the house are as impressive as the outside – absorbing the outdoor surrounding landscape and inviting the site of nature into view.
The meticulously landscaped garden surrounds continue the worship of the designed form enriching the natural surrounding landscape with a flourish of Japanese tradition.
The house's interior space has been designed to service privacy, functionality, and the need to collaborate and entertaining. The main level for example offers a seamless connection between indoor and outdoor – offering not only an invitation to nature, but a seamless entertain space, framed by an expansive living room and fireplace below spacious 5 meter ceilings.
The 1st level master bedroom again sees panoramic views alongside walk-in wardrobe and large ensuite it. A glass walkway to separate the master leads to the family room and two further bedrooms
The Maleny House is everything right about our special place in the global architecture community. This is a design that responds to its locale and channels it into beauty and function. Currently on the market and seeking a lucky new owner, the Maleny House currently being marketed by Villa Prestige Properties.