For modern office design, trends are heading towards furnishings are suitable for the flexible, versatile and fluid spaces of the open plan, mixed use workspace. As businesses evolve and offer workspaces to cater to the wellbeing and productivity of their employees, these dynamic spaces require a new and specialised design language when it comes to furniture and furnishings. This landscape is what has inspired Pedrali in 2018.
At Germany's influential Orgatec design trade fair, Pedrali presented a focus on "new visions of work". In a stand inspired by first step of any design – a blank sheet of paper – the Italian company's showcase of new ideas for the modern office existed in equal worlds of art installation and product suite.
Inside the 400 square metre stand, superimposed volumes of paper served as decorative macro-architectural installations, with the iconic peakcock blue colour so classic for Pedrali. The structure gave life to scenes showcasing the latest and greatest in Pedrali products…
Through a partnership with Claudio Bellini, Pedrali's Elinor is an Executive Chair with a base and armrests in die-cast aluminium. Its comfortable form offers body-hugging feedback to the user thanks to its polyurethane injected foam in both seat and back. Elinor incorporates the different attitudes and approaches to working life looking to the future: it is elegant with a high aesthetic quality.
Temps is a multitasking Executive Chair characterised by a die-casted aluminium base with an elegant, essential design and a comfortable, ergonomic seat. An injection-moulded polypropylene shell fits around the seat hugging the user's lower back, while the padding inserted in the polypropylene shell designs a continuous line.
Presented in a new tilting, stackable version, the Ypsilon table is proposed as a versatile and dynamic solution for flexible and temporary meeting room solutions and modern office co-working workstations. At the cutting-edge in terms of quality, it conveys both attention to details and high-tech design elements.
Boxie is a modular, versatile and colourful storage system with wheels designed by Claudio Dondoli and Marco Pocci made up of large polypropylene drawers and tops housed in a coated steel frame.
An indispensable accessory in any setting, the Ray freestanding coat stand by Pio and Tito Toso flaunts a truly fluid design that accentuates the beauty of a natural material like ash wood.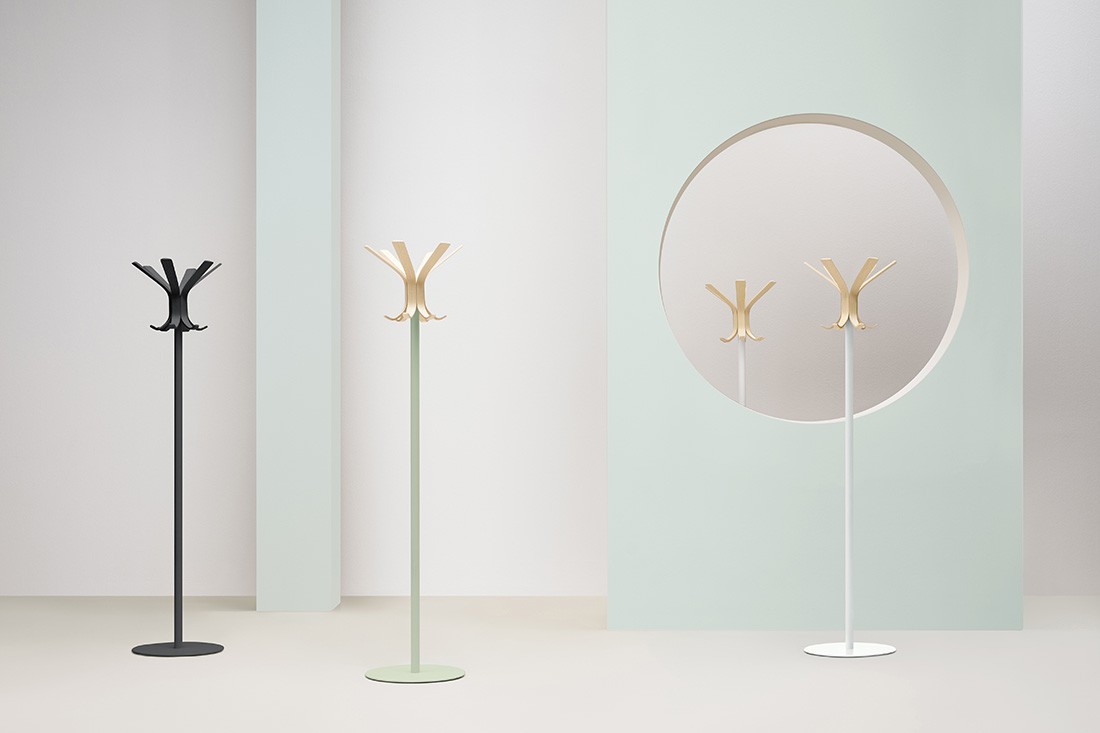 Simple yet refined, sophisticated yet versatile – Nym Soft is a timeless, organic chair reminiscent of the hollow of a hand, a nest or an embrace. The different densities of the foam padding ensure a sense of adaptability and support – two central elements of comfort.
The soft lines and clean design of the Buddy pouf and table can complete the interiors of any modern environment. Four thin and rigorous legs support the rounded shape of the pouf, with its generous and comfortable upholstery. These make the pouf extremely functional and visually lift the volume of it, and matching coffee tables, from the ground.