It's the finishing touches that bring an interior to life – and there are few details that make a bigger impact in the home than fabrics. The new generation of premium textiles from iconic Australian furniture brand King is a study in the art of textile design, delivering a powerful combination of sumptuous tactility and high-performance durability that elevates living spaces.
King has been on a mission to redefine our relationship with furniture for 45 years, creating beautiful, long-lasting pieces that truly respond to the way we live and inspire a better way of living through simplicity. To realise this vision, the dedicated in-house fabric experts – led by Fabric Development Manager Sebastian Nash – design and develop exclusive fabrics in collaboration with celebrated textile manufacturers and leather tanneries around the world. For the upcoming collections, King has introduced a range of new fabrics, leathers and colourways that celebrate the brand's long-standing devotion to design excellence.
The new King fabrics also continue the brand's green legacy – which dates back to the early days when founder David King set out to build furniture that would last a lifetime rather than end up in landfill. Richmond – a velvet-soft fabric made with 36 per cent Repreve polyester – is the next chapter in the King sustainability story, and the evolution of the brand's popular Manhattan range.
The yarn used to make Richmond is sourced from Repreve, a world-leading performance fibre made from recycled materials, including plastic bottles. Made using a process that embeds properties like wicking, adaptive warming and cooling, and water repellency, it is ideal for creating high-performance upholstery fabrics.
Green credentials are, of course, inextricably tied to longevity – and each new King fabric undergoes strict testing for factors such as wearability, pilling, and light fastness at prestigious organisations, including the Australian Wool Testing Authority (AWTA).
Futuro, for example, is a new vegan suede inspired by luxury Italian sports car interiors. The double cloth weave construction is both durable and pleasingly tactile, resulting in a leather-look upholstery that will keep up with the demands of everyday life for years to come.
"Futuro has a wonderful softness and durability, with natural colours inspired by our leather range," says Nash. "I see it being used on motion furniture, like recliners. It's perfect for someone who wants the look of leather without using animal products."
To connect with the local market, Nash gives each of the new textiles a uniquely Australian identity, taking inspiration from the relaxed Antipodean way of life and distinctive landscape. "It's the textiles that give furniture personality," he explains. "I'm particularly inspired by Australian impressionists who use beautiful ochres and Eucalypt greens in their work – these soft colours are so well suited to the clean light we have in Australia, which is unlike anywhere else in the world."
Preston Velvet is a celebration of this approach, taking its name from Australian printmaker and painter Margaret Preston, whose vivid artworks inspired the collection. The easy-to-care-for polyester velvet feels just like luxurious cotton velvet – and King is introducing 16 new colours.
"This collection is for people who enjoy colour," says Nash. "The texture of the velvet gives the colours a strong, saturated appearance that will inject a sense of luxury and drama into an interior setting."
These versatile new textiles for King contribute to creating a fabric and leather range that is constantly evolving yet part of a holistic vision. With each addition, the collection becomes more diverse and innovative, drawing on the knowledge of experts and new developments within the industry.
"I'm always looking at the King textile collection as a whole, and searching for gaps or ways it can be improved," says Nash. "I want people to be able to create a journey as they move around their home, and for there to be a cohesive story that can be added to in the future."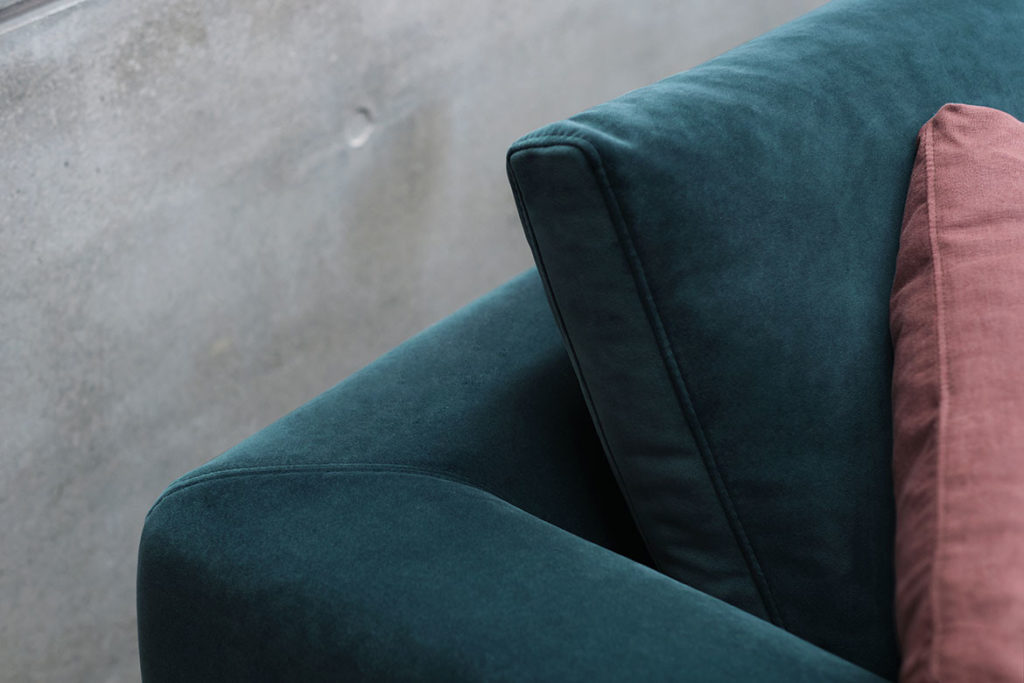 We think you might like this article about Voyager Tower by Mirvac with King.