With its unique range of premium natural stone-like tiles, Kaolin Tiles have firmly established themselves as an integral part of Australia's architectural landscape. Thanks to their sustainable and precision-made porcelain surfaces, including the luxurious Endless Vein®, the company is quickly gaining industry recognition, so it is no surprise that they had to upscale their showroom within only two years of opening their doors.
Located in Alexandria, one of Sydney's most dynamic inner-city neighbourhoods, Kaolin's new showroom has been beautifully designed in-house to showcase their large-format tiles, Endless Vein®, and their Seamless Joint Tiling Technology. This revolutionary product is a grid of six or eight unique large-format pieces that can be laid with grout joints as small as 0.5mm, and their veins and patterning aligned to look as though they have come from one giant slab.
Custom-made sliders have been created to showcase the magnificence of size and veining of Kaolin's latest products. Every element in the new showroom space demonstrates what is achievable and enhances the full radiance and depth of each tile's unique patterns and tones.
Not stopping there, Kaolin have also installed a bar to showcase Sodalite Blue, rich in deep mysterious cobalt tones that hold three arches of delicate Breche De Benou. The stunning 'Bar Sodalite' is not only a space to host clients, talks, and other industry-related events, but also to demonstrate the durability and affordability of porcelain. The company's tiles absorb less water, are far more chemically resistant than natural stone, and are crafted to stand the test of time.
The concept areas showcase three distinct styles: modern contemporary, luxury minimalism, and ambient art deco. The walls and floors have been carefully designed and aesthetically chosen to balance the different elements in proximity.
For Saturday Indesign this year, Kaolin teamed up with ARM Architecture to collaborate on 'The Project' – a chance for architects, designers and other creatives to work in conjunction with exhibiting companies and their products to create installations based this year on the theme of Regeneration. Together they created a circular patterned installation in the form of a conical anamorph. The anamorph sits over a technically designed spherical mosaic with white streaks across the tiles. At a given point, a checkerboard is revealed with the word 'Eternity' regenerated in the mirror. The outcome is a remarkable piece of art so impressive that Kaolin has made it a permanent installation.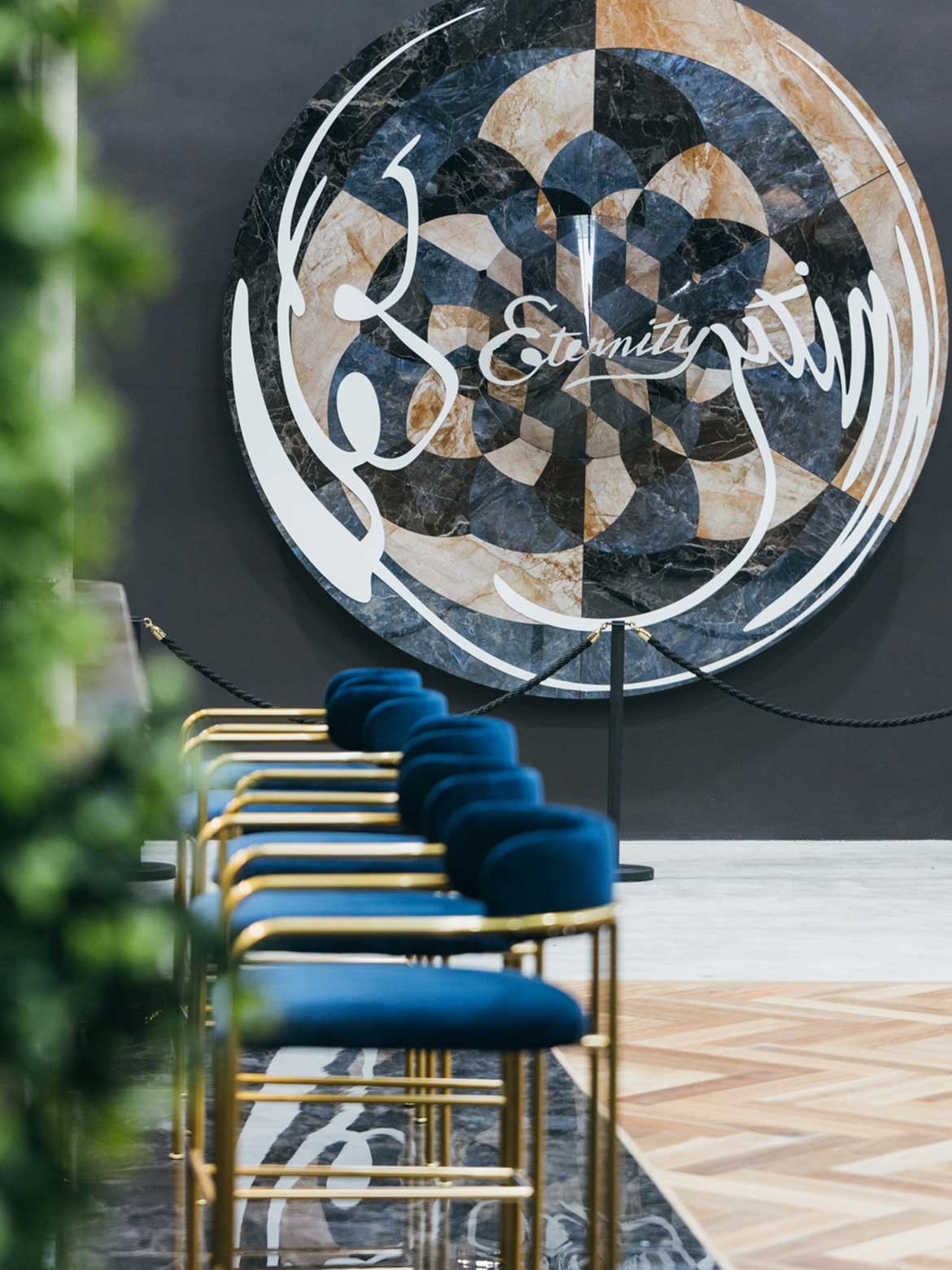 An intimate tea ceremony area reflects the soul of Kaolin, where time is taken to be mindful, respectful, exchange meaningful conversation, and self-reflect. The tranquillity of this space is framed by Endless Vein®'s Royal Green Jade, characterised by organic rock patterning, dark veins and vibrant beige and brown emulsions.
For designers looking to create a mood board for themselves or clients, Kaolin have created a sample library that is open to anyone. An ideal creative space, this library is stocked with books, materials, and finishes to help visitors curate and experiment with new ideas.
Kaolin's new showroom proves to be an inspiring place to witness the unique characteristics of their pieces first-hand and find the ones that will achieve the perfect mood for your next commercial project.
Kaolin Tiles
4/33 Maddox Street, Alexandria NSW 2015
T: (02) 8814 9447
kaolin.com.au