Soft to the touch and enduringly beautiful, with impeccable environmental credentials, durability, thermal properties and health benefits, wool sets the standard for all carpet fibres. Designed by mother nature to protect sheep in all weather conditions, this all-natural fibre is sustainable, renewable and offers performance that synthetics can only attempt to emulate.
Now, with the release of Natural Terrain and Natural Elevation, you can specify this premium fibre for commercial interiors in GH Commercial proven carpet tile format. Both products are available in four colors and feature wool sourced from New Zealand, the leaders in wool carpet products, and are manufactured at GH's tile plant in Geelong, once known as the 'wool centre of the world'.
Reflecting the organic qualities of our native environment, Natural Elevation echoes the raw terrain of the New Zealand and Australian landscapes. Its organic composition and meandering patterns seamlessly transform commercial interiors.
Inspired by aerial views of farm fields where sheep graze, Natural Terrain offers a familiar structure and optical arrangement in its wool design. Subtle shades blend together to create a stunning floorscape that sets a warm foundation for any interior space.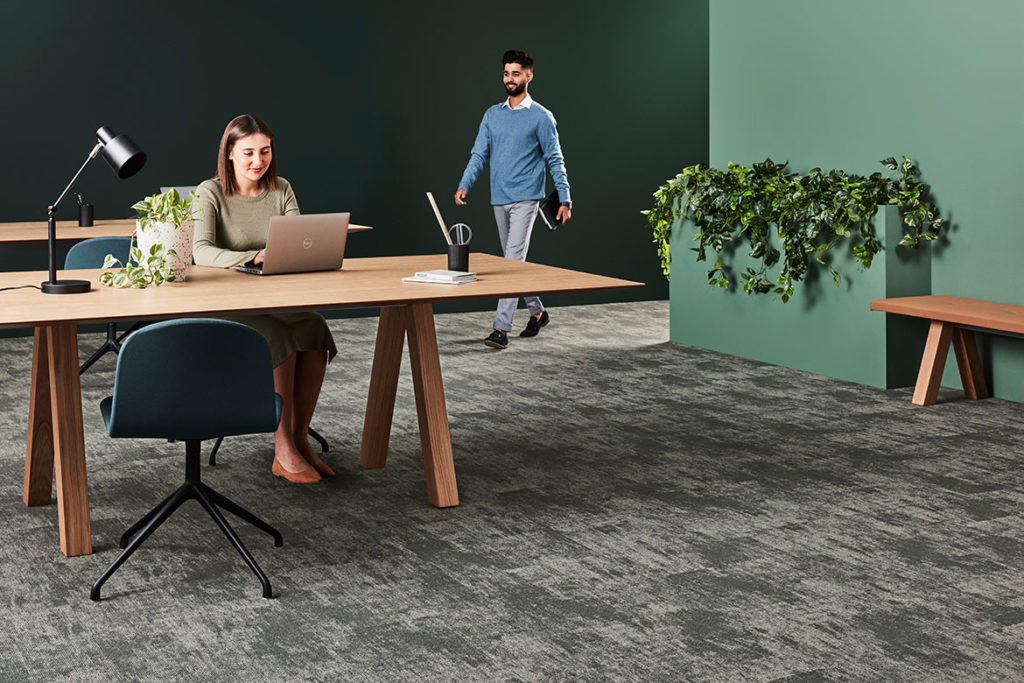 Beyond their refined aesthetics, these new carpet tiles bring all the performance benefits of wool to commercial spaces. Wool is crush resistant, durable and retains its look for longer. This longevity is partly owed to wool's natural stain resistance and easy cleanability. Without requiring any topical treatments, the tiny, overlapping scales on wool fibre provide a naturally protective surface structure that prevents liquids and soil from penetrating the carpet.
With material health the foundation for comfort and wellbeing, wool carpet is the ideal choice for any commercial project. Due to its insulating properties, wool is warm underfoot and naturally regulates the indoor temperature, keeping you cool in summer and warm in winter. It also acts as a natural humidifier with its ability to absorb moisture in the air to buffer humidity changes and keep moisture levels in balance.
A key consideration for asthmatics and allergy sufferers, wool carpet is inherently hypoallergenic and purifies the air. It absorbs common indoor air pollutants, dust and odours like pet smells (without re-emitting them) until they can be vacuumed out. Wool carpet does not promote the growth of dust mites or bacteria nor give off harmful emissions, but rather it naturally improves indoor air quality by absorbing and redistributing moisture from the air.
Good acoustics are essential for productive work environments and is another reason to choose wool carpeting. With their high pile weight and loop pile construction, GH Commercial wool carpet tiles trap airborne noise, impact sounds and reverberation. These qualities help keep rooms quieter by absorbing airborne noise and reducing its transmission through floors.
Both carpet tiles feature GH Commercial trusted Enviro Bac®, are certified Declare TM Red List Free, and come with Level 4 Environmental Certification Scheme (ECS) top graded certification. You can be sure that GH Commercial carpet tiles are free from manufacturing 'nasties' that pollute indoor air quality and the environment and deliver healthier carpets for interior spaces.
The GH Commercial Natural Elevation and Natural Terrain ranges are the perfect option for segments where indoor air quality, thermal performance and acoustic comfort are important, including education, healthcare and workplaces.
Bring the familiar qualities and warmth of wool into commercial spaces by visiting the GH Commercial website here.
GH Commercial