The correspondence between residential and workplace design is closer today, than ever before. Admittedly, WFH was rough at first, as we learned the hard way about the nuances of getting things like ergonomics and acoustics right. We can say now that, as they were, our homes were not properly fit for work. And to add salt to the wound, the market for home workstations was wanting, unsophisticated and hardly fit for purpose.
Now that we've seen the error of our old ways, and design has had time to resolve every little issue and irk, let's take a moment to look beyond our dining room tables and dream a little. What does your ideal home workstation look like?
Whether put to work in a home office or a homey office, here are 9 impeccably designed home workstations that prove to be 100% fit for purpose.
NCW Double Workstation Desk, Reddie
"Non-Corporate Workstation" NCW is all about having a little fun at work. Who wants to work on a boring white laminate desk? Not NCW. Featuring a teak veneer desktop with solid teak edges and a black metal frame with a cable tray and leg holes to hide and keep those cables neat and tidy. There is also a cable hole cut out to the top and a rattan divider to soften things up a little.
Candy Cubicle by Sabine Marcelis, AHEC
Designed by Sabine Marcelis with her partner—an architect—in mind, Candy Cubicle is a desk created in response to a brief by the Design Museum and the American Hardwood Export Council (AHEC), which called for nine international designers to develop a wooden desk and chair set up to suit their "new ways of working from and living at home" during lockdown.
Hiding its contents inside a pale wooden shell when they are not in use, Marcelis' conception is a transformer home workstation. Opening along a central axis, the Candy Cubicle transforms from a block into an L-shaped desk setup. The entire desk, as well as the drawer trolley and matching cylindrical stool nestled within it, are set on wheels so that they can be easily closed and moved around an open floorplan.
Ready-to-Ship Home Office, Cult
The 'Ready-To-Ship Home Office' from Cult is crafted to bring you the perfect combination of functionality, style and convenience. Featuring three different packages: The Virtual Meeting, The Webinar and The Zoom Call, each one boasts a collection of exceptionally designed pieces to take your set-up to the next level. Each one of the ready-to-ship edits comprise of a desk, a chair and a table lamp and have been specifically curated to meet a variety of interior styles and requirements.
Office Desk by Bodil Kjær, Karakter
Originally designed in 1959, this iconic desk was the first of its kind with its pure and simplistic design, almost floating mid-air. Bodil Kjærs' design has been called 'The most beautiful desk in the world' – or, the 'James Bond desk' as it was featured prominently in three early Bond movies.
A-Line Design Desk, Satelight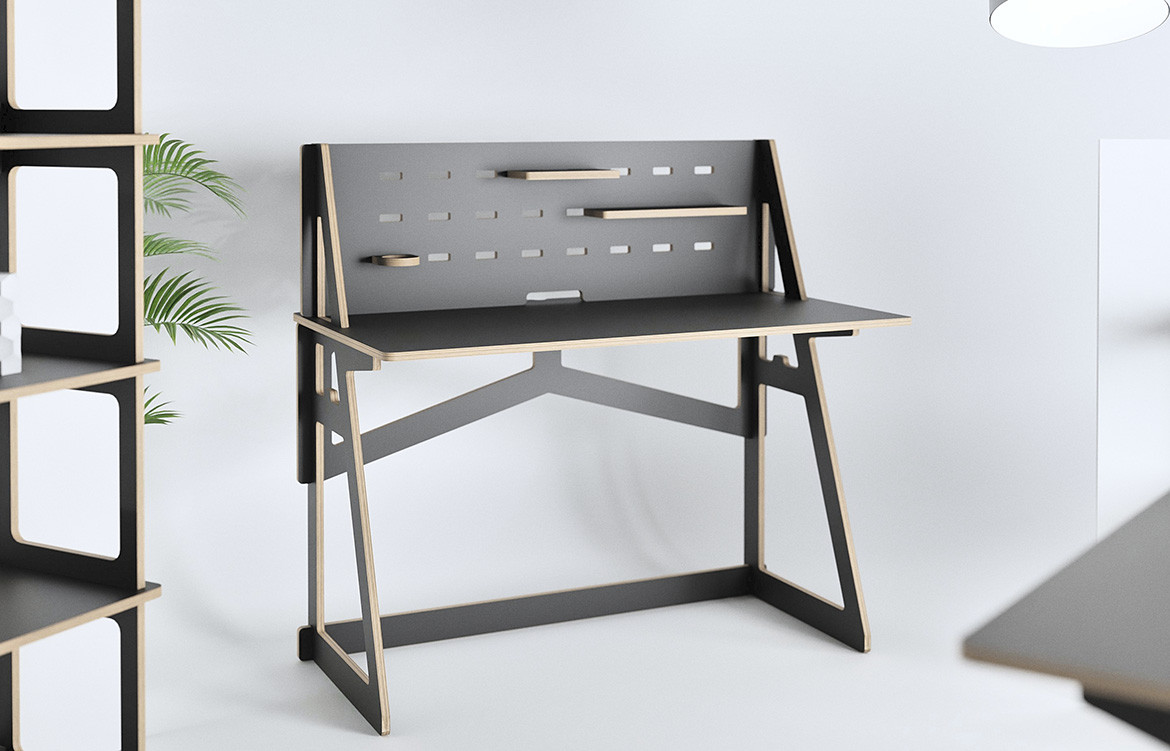 The "A-line design desk" is a simple and elegant desk, cleverly designed for quick and easy production and assembly, not requiring one fixing. Single components slide and slot together to create a beautifully designed desk that could be couriered out and assembled in less than 5 minutes.
Kabinett by Alexander Lervik, Adea Smartwork
At first glance, Kabinett looks like a regular cabinet or bench but it has built-in features that allow it to be transformed into an entirely different piece of furniture. The innovation lies in its function. You get a worktable that can be raised and lowered from a piece of furniture that doesn't look like a table.
WFH Desk, Koala
Featuring smart features that make all the difference. Clever cable integration to keep your cords in check, bag hooks for easy storage, phone/laptop charger indents to keep you powered, as well as smart 'gutters' that hold your smartphone and tablet in place while you work.
Finished with a beautiful birch veneer and made of high-grade, sturdy 18mm ply, the Koala WFH desk is tough as nails, but easy on the eyes.
Noa sit-stand desk by Tom Parfitt, Benchmark
Noa is a compact, height adjustable ergonomic desk for home working designed around the tenets of biophilic design and made from solid oak. Noa is highly tactile with sides and top that are shaped with softly, rounded edges. A central sit-stand mechanism allows for the table top to smoothly rise and fall, controlled by a console on the underside.
Solari desk system, IOC Project Partners x Gensler
Designed in collaboration with Gensler, Solari is the benching system that combines stellar performance with out-of-this-world style. Based on an electrically controlled, height adjustable work surface, desks can be configured across the open plan and accessorised with divider screens and storage elements that give every occupant a sense of personal space.