Constantly delivering one of the best luminaires in the industry for over three decades, Arkoslight debuts its new exciting products at the Salone del Mobile. Driven by the belief that light is an essential element of our lives, Arkoslight recognises the importance of designing products that are sophisticated, inspiring and functional.
Art
Arkoslight revealed one of its new products, Art, at the Salone del Mobile 2019 in Milan. Minimalist in design, Art is versatile, sculptural and elegant. Offering ambient lighting for an intimate setting or a large open space, the geometric forms demonstrate Art's sense of integrity and rectilinear structure. Meticulously crafted to suit every space, Art creates a levitating illusion by creating minimal visual impact and inhibiting the exposure of the cables.
The composition of the brushed copper finishing elevates Art's unique character and highlights its sophistication in tonality and texture. Also available in black or white textured finishes, Art delivers an array of options suited to any colour palette. The two versions of Art: Direct and Indirect, present the individual with the option of the uplight and downlight, allowing the ability for the light to be controlled individually.
Bright Line
Rubén Saldaña, the product director of Arkoslight, also presented something new at Salone. A minimalistic linear shaped lighting fixture that integrates perfectly in any architectural space. With the ability to diffuse the light levels, Bright Line is designed for architects and designers to make vivid lines in their designs. Detailed in composition and craft, Bright Light is composed of a flexible modular system with the ability to define straight lines as well as right-angled forms on flat surfaces.
The interlinking points between pieces create a seamless orchestration of luminosity across the ceiling and wall areas. Offered in a range of lengths, Bright Line's shortest segment is only 250mm long in size and is designed to meet any length requirements. Exploring continuity and homogeneity through its form, Bright Line creates a luminosity that is distinctive to the Arkoslight brand.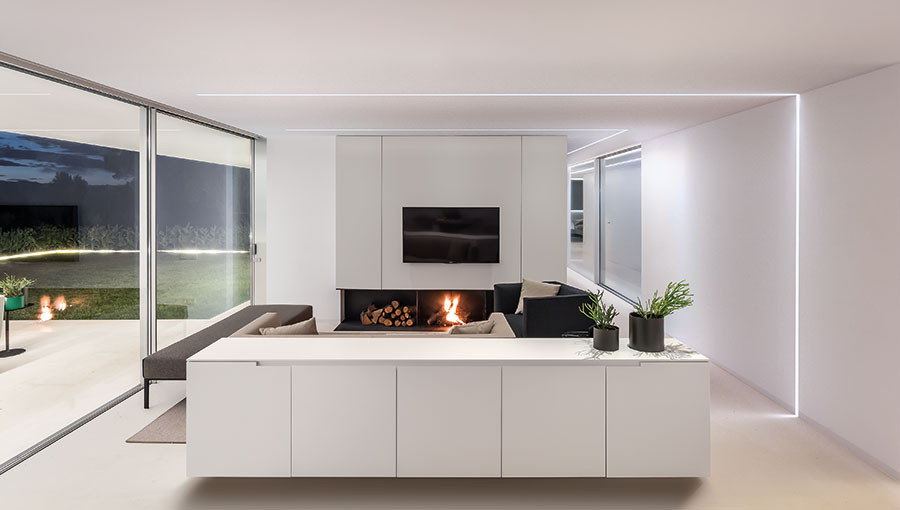 Puck
Organic in its form, Arkoslight brings forward a light that celebrates individuality with its function, opening angle and luminous flux. Another design by Saldaña, Puck embodies the brand's principles in simplistic functionality. The ultra-compact figure of Puck highlights the product's efficiency in lighting levels as well as having the ability to be discreet in the ceiling. Puck's minimalist curvatures are constructed in aluminium, enhancing its sophisticated composition that is celebrated throughout this piece with every component.
Hidden behind a spherical optical glass lens, the latest generation LED light offers an array of technical advantages that makes Puck a superior piece by Arkoslight. With maximum distribution of light through the lens, efficiency is paramount as flux loss is reduced and Puck further demonstrates its advanced ability to restrict glare and extraordinary light concentration at a well-defined angle.
Creating a harmonious balance of light, Arkoslight's endeavour to meticulously create luminaires is a true talent. Constantly challenging the boundaries of light technology and design, the pieces at Arkoslight are committed to create unique ambient atmospheres for any occasion and space.
Arkoslight is available Australia-wide through Koda Lighting.