Over a decade ago, renowned London architect and industrial designer Massimo Buster Minale was working as an architect by day. But by night, he was engaged in something worlds apart; sequestered away in a Shoreditch garage, Minale spent his evenings creating custom motorbikes and designing their parts – a process that would lead to his now renowned brand, Buster + Punch.
It was in the humble East London garage that he began making parts from scratch and selling his motorbikes to well-known Londoners. Because of his background in architecture, a niche stream of requests began to transpire: Could Minale take his industrial motorbike-part style and pair it with his architecture knowledge to create fittings?
Minale saw his two separate passions merge. "I set about making everything from door handles to toilet roll holders," he says. "In a nutshell, my mission is to reinvent forgotten home fittings into the unforgettable."
Minale has done just that, and Buster + Punch was formed. And while his designs have found their place in many residences, they're also beginning to establish a reputation for themselves in hospitality design.
Exercising his disruptive attitude, Minale has designed a series of fixtures and fittings to stand out, rather than settling for the covert industry standard.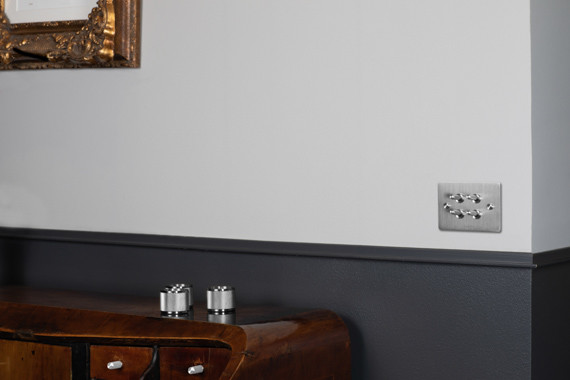 Light switches, for example, are designed to an unspoken industry norm. Whether they're simple white rectangles, or understated smart touch panels, there's a general running theme: They're purposefully surreptitious.
Flipping the switch on the preconception that light switches should be subtle and inconspicuous, Buster + Punch's Electricity Collection brings a weighty tactility to an otherwise disregarded touch point.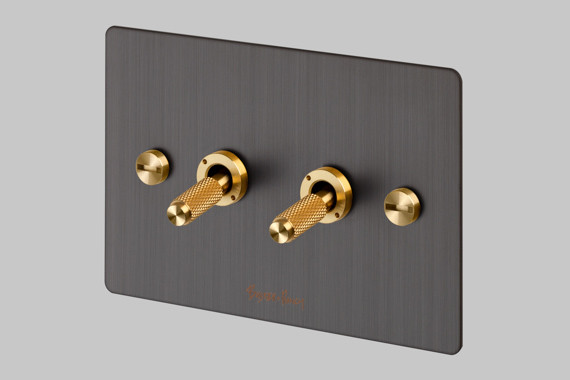 The collection has the ability to elevate hospitality projects to a new level – think luxe hotels with bold, velvety materiality, restaurants embracing enigmatic interiors, or warm and low-lit whiskey bars that require finishing touches to determine a high-calibre status.
The hardware delivers luxury, drama, and an idiosyncratic rock and roll style that remedies the mundane.
Reminiscent of the switches and controls on famous musicians' amplifiers, the signature of the electricity panels are toggle arms designed with a diamond-cut, cross knurl pattern, and made from solid brass.
The hardware comes in matte black, glistening brass or smoked bronze finishes, and sturdy coin screws in line with the switches give a robust and somewhat mechanical appearance.
The Electricity Collection is the latest iteration of the brand's style. Joining the extensive range of Buster + Punch handles, door stops, and lighting, the level of design intricacy and its distinctive style is continued meaning project-wide cohesion is easily achieved.
In Australia, the Electricity Collection is available at Living Edge. Visit showrooms in Sydney, Melbourne, Perth or Brisbane to experience the Buster + Punch collection with a selection of products in stock and available immediately.
Living Edge
livingedge.com.au