Way back in 2011 a 24 year old Louise Courtice walked into an interview for Stylecraft's Perth Manager role, a role that she is the first to claim she was a little under-qualified. It was Anthony Collins, the current Managing Director who saw that despite not being quite ready for the State Manager role, there was something special there and created a new sales role for Louise that began her 9 year journey (so far) at Stylecraft.
"With Stylecraft Perth in the middle of its first showroom construction and finding its feet in the Perth market, it was a really fun and interesting way to start with the company." Louise said "I feel really lucky that I was a part of that period of time and have such fond memories of the early Stylecraft Perth days."
Working in the Perth showroom for 4 years she finally rose to take the responsibilities of the State Manager role while on a maternity leave cover, when this came to an end it was again Anthony Collins who proposed her next step. A complete relocation to Singapore as Manager of the Singapore showroom. As terrifying as this offer was, Louise saw it as a huge adventure for herself and her husband Jay (also part of the Stylecraft Singapore team) and couldn't resist the opportunity.
After 5 years of working in Singapore with her team and most recently taking maternity leave herself to become a mum she has been offered position Managing Director of Stylecraft Singapore, due to start in July becoming the first female Director in the company's history.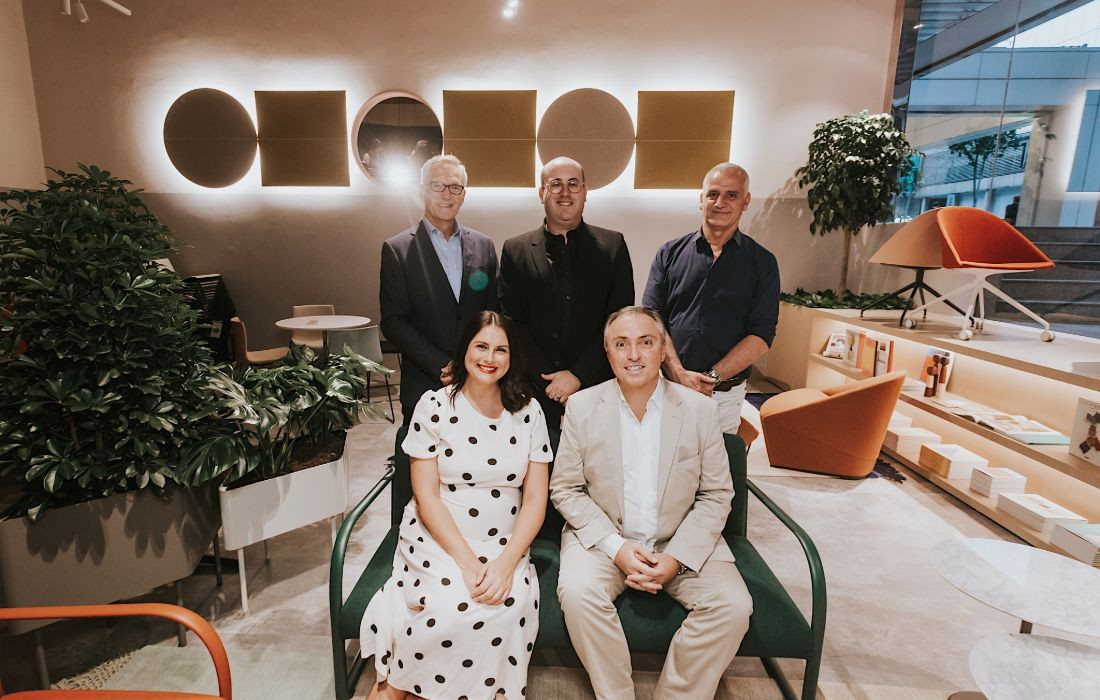 Anthony Collins could not be more excited about her starting the role;
"Louise is very smart, strategic and she does not get caught up in the small issues. Lou has an opinion and can cut through the noise" he said. "She is a wonderful person, very warm and engaging and behind her big smile is a huge determination to succeed. She is a winner and cares enormously for Stylecraft and that excites me."
We were lucky enough to have Louise answer a few of our questions about this exciting new role.
What do you feel has been your greatest achievement at Stylecraft so far?
Definitely moving to Singapore and the evolution of the Singapore market over the last 5 years, which has resulted in the recent opening our beautiful new showroom in Tanjong Pagar. Stylecraft Singapore has gone from strength to strength in the last 5 years and as a result of this, we were able to look for a showroom space double the size of what we had previously and in a much better location for our clients. The new showroom in itself was a big task, originally being three times run down old tenancies, which we had to combine into one times cohesive space that flowed seamlessly for our clients. We worked with Hassell on the design, and it has been totally transformed into a multi-zoned workspace showcasing all of our latest product offerings and providing a calm space for our clients to work from or hold meetings, and a pretty special place to entertain from – our opening party was a true highlight! Getting to this point would not have been possible without the support from our Singapore clients and industry.
What are your plans for the first steps you will be taking when you start the new role?
Its such a privilege to return to work after my maternity leave in the new role of Managing Director, one I feel very fortunate to have the opportunity to do. I am looking forward to bringing a female perspective to the executive team at Stylecraft for both Singapore and Australia. Returning in this new role re-iterates the importance of the Singapore market to Stylecraft, and being a Director means I can be a voice for the Singapore design community related to strategic decisions for Stylecraft. I'm also really looking forward to getting back into the new showroom space and working alongside our tight-knit team again to help navigate them through this 'new normal'.
You said you'll be starting again in July, how do you feel the workplace would have changed when you get back? How will you manage the new normal that we'll be living in?
Yes, I'll be starting back in July, and this new world is definitely not how I envisaged my return back to Stylecraft after maternity leave. So much has changed in such a short time. Singapore has been in lock-down for 8 weeks now, and we are only re-opening very slowly and in stages from this week, so its still very early days for us here. The majority of the Singapore workforce will still be working from home for the foreseeable future so this will definitely change the way we do business going forward. We are already starting to see a shift back to more individual workspaces/seating and screens as opposed to collaborative furniture and shared spaces. And there is also concern around materiality as well, with clients wanting easy to clean/hygienic materials and wipe down surfaces. I will be looking to our industry peers to gather expert opinions related to the new normal, and working with the Stylecraft team, to ensure our product offering and services around this topic match the standard our clients trust and rely on.