For a moment there, it was looking like April was a quiet month, in terms of talent on the move about the architecture and design industry. As it turns out, that presumption was wrong. So, bear with us, this one's a biggy, involving recent promotions and new appointments within the likes of Arcadia, ClarkeHopkinsClarke, Grimshaw, Hames Sharley, Techne and Unispace.
Arcadia Landscape Architecture
Arcadia Landscape Architecture is delighted to announce that Nicole Wilson is joining the Sydney studio as a Principal, working alongside Alex Longley, Michael Barnett and Chris Tidswell.
Nicole Wilson
Nicole brings more than 15 years of years of diverse local and international experience to the team, with a particular passion for complex, community-focused urban design projects. Having previously worked with Alex Longley and Michael Barnett, Nicole has been following Arcadia's growing success over the past decade.
"I was eager to work with a company that had a great pipeline of urban and public work but is also championing innovative design with a point of difference. I love that Arcadia's projects embrace upfront, authentic Indigenous collaboration, and that there is a commitment from the business to integrate this through every facet of the company, not just design," says Nicole.
"Nicole's exceptional experience in large-scale master planning and multi-faceted projects with numerous stakeholders will be a huge asset to our project teams, who are currently working on a range of city-shaping legacy projects, including a network of state-significant urban activation precincts," says Alex Longley, founding principal at Arcadia Landscape Architecture.
ClarkeHopkinsClarke
The founding partner of ClarkeHopkinsClarke's Sydney studio, Jordan Curran, caps off a busy 12 months with appointments to three influential industry committees.
Jordan recently joined the Property Council of Australia's NSW Retail Committee, where he's working on the omni-channel sub-committee exploring opportunities for better integrating the mobile, online and bricks-and-mortar experience.
Jordan's also been appointed to AIA NSW's revamped Built Environment Committee to advocate for better design quality, sustainability, liveability and public benefit across not only architecture but landscape design and planning. He continues his work with the UDIA's Smart Cities & Sustainable Built Environment Committee with a second year on the Circular Economy subcommittee, investigating innovative models of adaptive reuse helping retailers reinvent underutilised space in mixed-use environments.
"Retail design and built form are responding to massive challenges and opportunities right now," Jordy says. "It's an exciting time to be part of three diverse committees exploring the best ways for designers, clients and communities to collaborate, adapt and repurpose space, and advocate for more holistic approaches to sustainability and liveability."
Grimshaw
The formidable force that is Grimshaw has announced that Tim Williams is to join the global architecture practice as Cities Advocate, and to lead the Sydney studio's inaugural 'Thinkers in Residence' program.
Tim Williams
Former CEO of the Committee for Sydney and former Head of Cities for global consultancy ARUP, Tim Williams is known across Australia and indeed has an international reputation as an expert in cities, urban renewal and the built environment.
"We are very appreciative that Tim Williams will join Grimshaw in our Sydney Studio, bringing his extensive and global experience in the planning, renewal and revitalisation of our cities into our practice. Grimshaw's existing cities research and thought leadership in the practice will be vastly enhanced," says Andrew Cortese, Sydney Managing Partner of Grimshaw.
Hames Sharley
Hames Sharley is delighted to announce a string of recent promotions, with four team members promoted to senior associates, and another four new associates to the leadership team.
Such big news, we believe, calls for its very own story. See this one here.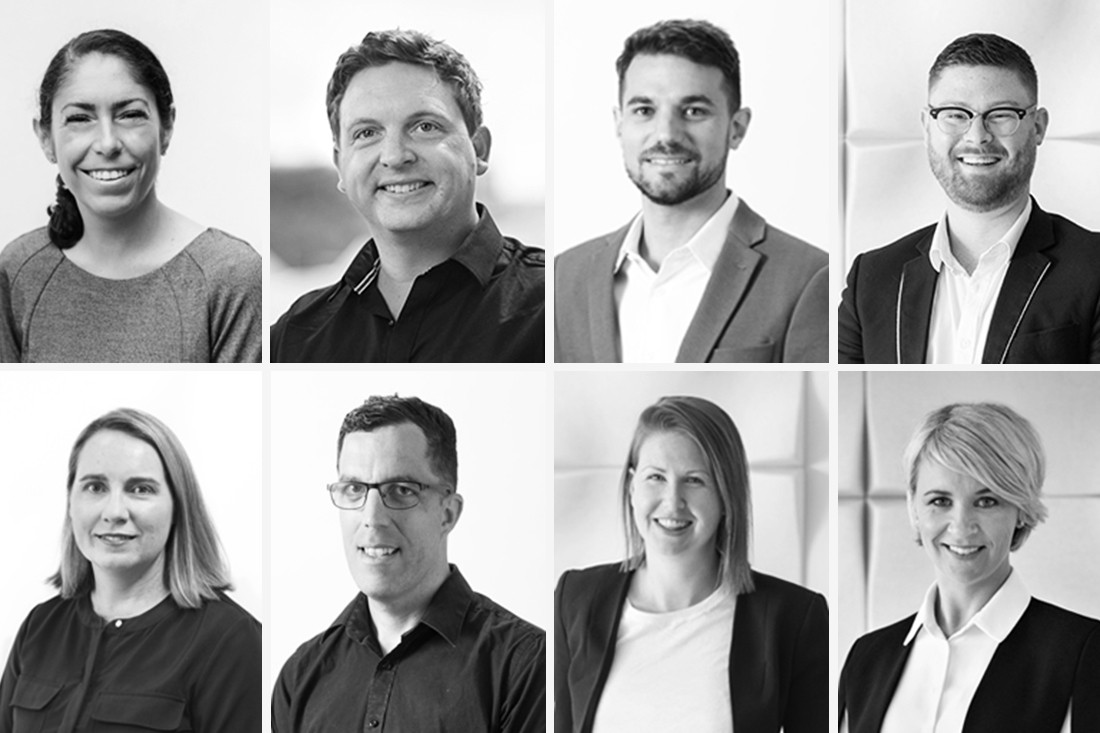 Technē
Technē Architecture + Interior Design has announced the promotion of interior designer Bianca Baldi to associate.
Bianca Baldi
Beginning her career with Technē as an undergraduate in 2010, Baldi now boasts more than ten years' industry experience. Her project work has spanned a variety of sectors including hospitality, residential and commercial.
"I have thoroughly enjoyed watching Bianca cultivate her creative scope and leadership skills over the years. Continually striving for excellence, Bianca is a valued member of the Technē team and we are delighted to see her take this next step within the business," says Technē director Nick Travers.
Unispace
Following the appointment of Steve Quick as Global CEO and Michael Casolo as Global Chief Revenue Officer in September last year, global workplace expert Unispace has appointed CRE industry veteran John Forrest as a global board advisor.
John Forrest
Well-known in global real estate circles as a highly experienced business leader and industry trailblazer, Forrest has had a 27-year career with JLL. During his tenure, he led commercial real estate service businesses serving Fortune 500 companies and served as Global Corporate Solutions CEO, which charged him with leadership of the business in 80 countries with 35,000 employees.
The appointment of Forrest is just the latest in a series of strategic moves made by Unispace as of late, with the company's eye set firmly on owning the realm of workplace design.
"With John on board, in addition to other senior appointments we've made over the last six months, we are well-positioned to meet the needs of our clients' business transformation goals in a post-Covid work environment," said Unispace's Global CEO, Steve Quick.
"Following our acquisition by multinational private equity firm PAG in February, we are well-placed for our next phase of business maturity and accelerated growth across tier one and emerging markets; John helps us unlock this opportunity."
Suffice it to say, we'll be watching this space.
・・
If you have news of anyone On the Move within the local architecture and design industry to report, we'd love to hear about it. Send the details through to editorialteam@indesign.com.au