With the reveal of 2022's Victorian Architecture Awards Shortlist, the projects on offer have been nothing short of incredible.  The awards process includes a site visit as a key component in the judging criteria, and as such it's a rigorous process to be chosen. 
Run by the Victorian Chapter of the Australian Institute of Architects, the awards celebrate the significant and unique contributions architecture provides across Melbourne and regional Victoria. And out of 252 submissions, this year saw the biggest shortlist to date with 125 projects being shortlisted over 14 broad and diverse categories.
While there is no set theme, this year's shortlist harbours a strong emphasis on urban revitalisation and the creative steps toward conservation and adaptation of heritage buildings.
To celebrate the Victorian Architecture Awards, we've picked just five of the shortlisted applicants that we believe encapsulate the spirit of the awards and architecture in general.
Monash Robotics Lab by Studio Bright
Nominated for – Educational Architecture
The new robotics lab design by Studio Bright has left waves through Monash University's Robotics Research programs. For flexible and oft unpredictable work, one needs a flexible space that can hold academics, students and robots alike. And Studio Bright has delivered by providing a dedicated facility for human-centred robotics research and a new pathway toward a public connection.
Penleigh and Essendon Grammar School Gymnasium by McBride Charles Ryan
Nominated for – Interior Architecture
MCR's latest project at Penleigh and Essendon Grammar School has completely rethought what a secondary school campus can be. Transforming the gymnasium into a meeting place for the school community, it's just the next step in building a remarkable mini-metropolis. It is a place of community, connections and health.
Good Samaritan Primary School, Toilet Pavilion by Harrison and White
Nominated for – Small Project Architecture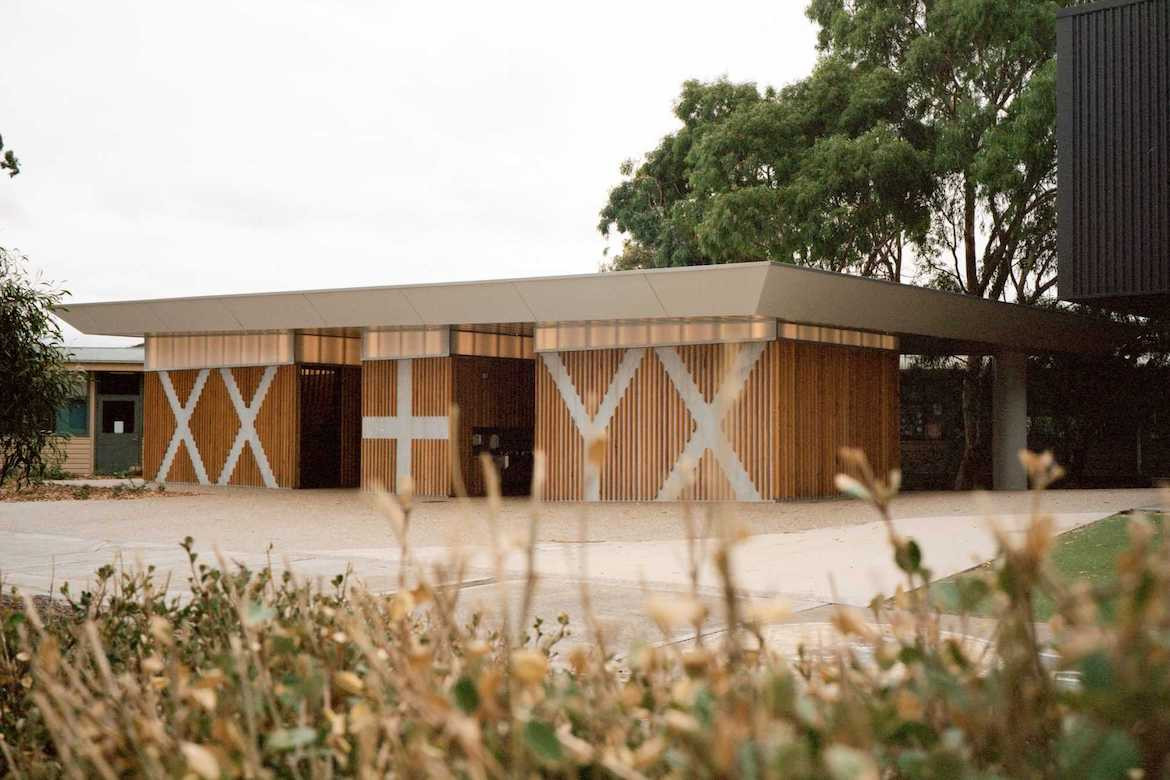 An often overlooked aspect of architecture, the toilet pavilion by Harrison and White celebrates differences and disability. The pavilion for Good Samaritan Primary School provides both a large covered outdoor area, with inclusively designed toileting that facilitates positivity and growth for our future generations.
Shepparton Art Museum by Denton Corker Marshall
Nominated for – Sustainable architecture, Urban Design, Regional Prize, Public Architecture
Designed by Denton Corker Marshall, the Shepparton Art Museum is the first public art museum or gallery space to achieve a 6 Star Green Star rating. Every fibre and touch within this museum exudes brilliance, with its sustainability measures setting the standards for all development across Australia.
Related: SAM – art, architecture, people and place
Ballarat Gov Hub
Nominated for – Sustainable Architecture, Regional Prize, Commercial Architecture
This project is a web of possibilities, the Ballart Gov Hub interlocked to the surrounding library, civic precinct and park. The open plan floor plates enable a new world of working and set the standard for all regional Government Offices. The shared spaces and connecting services genuinely bring the world of its government tenants into the public spheres.
Be sure to follow the Victorian Architecture Awards as the winners of each category are announced on the 17th of June, with the ceremony streamed live and free of charge to the public here.
Australian Institute of Architecture
architecture.com
We think you might like this article about The Project installations happening at Saturday Indesign, Sydney 21 May.