Club Street in Singapore's hip Chinatown district is famous for its beautifully restored, pastel-coloured shophouses and myriad bars and restaurants but now, with the addition of the new Cult showroom, this special part of the city is a destination not to miss.
As a leading supplier of furniture and lighting to the design industry, Cult is at the forefront of world-class creativity. For more than 20 years it has determined the style and design of our homes, offices, restaurants and bars, providing architects and designers with products that help realise their projects with style and panache.
Now with the new Singapore showroom, Cult is open for business and the architecture and design community can touch, see and experience a curated range of brands and products. While Cult has been operational in Singapore for some six years, 2022 was the year to open a physical store to better serve its clients and the response has been more than impressive.
Cult Founder and Managing Director, Richard Munao says, "Our first six years in Singapore were dedicated to relationship building with key clients and increasing the Cult brand awareness within the regional design community. We gained confidence as we grew, plus the confidence of our brand partners, which naturally led to the conversation of opening a physical store. During the pandemic the rising demand for well-designed furniture for the home also led to a sharp increase in retail enquiries, sales and repeated requests from retail clients for us to have a physical store to visit."
To help design the new showroom, Munao and Business Development Manager at Cult Singapore, Ravi Shankar, worked with Paper Plane Architects to conceive an experiential destination.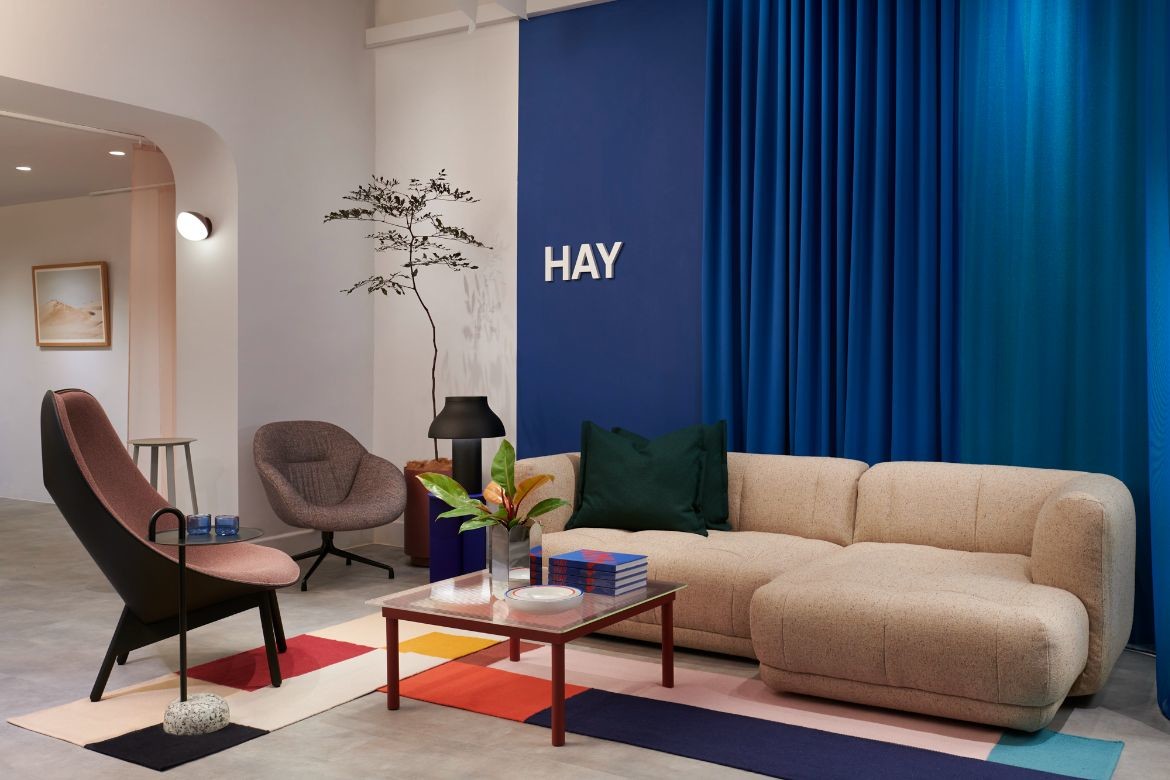 The showroom is housed in a conservation property that has been sensitively restored. The exterior is painted white on the ground level and pale sage green above and the front window provides a tantalising picture of what lies inside. Through the door and a feature ceiling installation of white undulating horizontal panels of Kvadrat Reiko upholstery fabric creates presence and drama in the front section of the store. Using transparent curtaining lengths, areas are subtly delineated, providing veiled glimpses of product behind and beyond and the journey through the deep rectangular floorplan becomes a voyage of exploration. On the floor are well-known brands such as nau, Tait and Coco Flip from the Australian collections plus Danish design houses, &Tradition, Vipp, Gubi and HAY.
The interior colour palette is light and white with pops of bold blue and saturated mustard yellow that adds interest, while furniture and accessories add texture. A wall of chairs provides the best setting to study the extensive offering and furniture groupings are arranged to advantage.
The showroom is small but oh so perfectly formed. It's a place to pop in and visit, sit and chat with Ravi or Ron Sim, Commercial Sales Consultant and design a space or purchase an object of desire.
Cult in Club Street is a new destination for Singapore's design community and if the opening party was a guide, this showroom is certain to be overrun by eager customers.
Cult
cultdesign.asia
Photography: Jovian Lim