This article was first published in INDESIGN Magazine, The 'State of Wellbeing' Issue, full issue free to view here.
Without diving too far into the past, the idea of health as a primarily physical body state that's free from disease has been eschewed for a more holistic approach. Since 1948 the WHO has defined health as "a state of complete physical, mental and social well-being". This was revolutionary at the time as it shifted the focus towards the environmental and social aspects that influence quality of life and the need for wellbeing. Though criticised for being closer to a description of happiness than health, the shift offered a number of opportunities for changing how we think about healthy places and spaces.
Look into changes in healthcare and we can see a more value-based approach and the definition keeps evolving. Physicians from the Keck School of Medicine of USC (California) would like to see health defined as, "a holistic state of physical, mental, emotional, and social wellness supported by an integrated and technologically sophisticated healthcare delivery system tailored to meet the entirety of a patient's medical needs, including disease prevention and management."
That's a mouthful, but the takeaway here is that our definition of wellness keeps growing alongside our understanding that there must be embedded environmental support to achieve it. Through a more healthcare-focused definition, how can the places and environments we design support an expanding understanding of wellness and preventative medicine?
Glenroy Community Hub for the City of Moreland, Melbourne by DesignInc.
Contributing to the reframing of health and wellness within built environments isn't a 'nice to have', it's essential. Jan Gehl's adage: "First life, then spaces, then buildings", holds as true now as ever. But we have to ask ourself how we define life. Is it people-centric or does it include the web of life that people are only a part of?
In many ways, healthy environments, places and spaces can be evaluated from a human-centric design perspective. That's nothing new. But our task now is to determine how to evolve that understanding so it includes all people and moves further to include our environment.
How can buildings do more good?
Glenroy Community Hub.
DesignInc's Kieran Leong, principal, and Stephen Webb, design director, have been tackling all of the questions touched on and more with the development of the Glenroy Community Hub for the City of Moreland in Melbourne. The Glenroy Community Hub is an inspired convergence of nature, health, wellness and community with a grounded sense of place and industry-defining sustainability standards.
Leong describes the connection to nature as intrinsic and pervasive, "Nature informed everything about the choices – fabric, joinery, carpet, etcetera. We needed to ensure that throughout the building people have connection to nature, through colour or texture as well as plants. People's fundamental connections to place are often to do with nature and there wasn't ever a version of this building that didn't have nature in the experience."
Leong and Webb's definition of health and wellbeing is expansive and a cornerstone of their approach is the inclusion of community. The Community Hub offers a library, kindergarten, maternal child health, a community health provider and childcare co- located with the library. The library is pivotal, offering an anchor important enough that Webb calls libraries "the new health and wellness spaces". Leong describes a library that moves beyond the traditional hall of book collection and quiet concentration to deliver a, "living room, study, safe place, meeting place and a place to belong with others".
On top of all this, the building has impressive credentials as the first community building in Australia to achieve Passive House certification while also built to achieve Living Building Challenge standards. Webb notes that, "We want our practice to re-explore what a healthy building is, one that quantitatively and qualitatively performs for everyone. Passive House and the Living Building Challenge should be the base of what buildings should do. Even if we're not certifying Passive House, we want our buildings to meet that standard."
Living experience deeply attuned to people's needs
Bowden Brae, Sydney, by PTW.
Further east in Sydney, Diane Jones, executive director at PTW, has led the development of Bowden Brae, a reimagining of assisted living for Uniting in the garden suburb of Normanhurst. The health and wellbeing of the residents and visitors to Bowden Brae formed an essential foundation for the development of a living experience that is deeply attuned to people's needs.
Formal elements like universal accessibility and the detail around how people with differing abilities move through space are coupled with a sharp eye for how best to deliver quality of life to residents in advanced age. Jones speaks about how the spaces promote quality of life: "There's nothing magical about it. People need a connection to nature. They need opportunities to interact with neighbours. They need enough neighbours and a variety of choice. They may have to walk – it's good for them to walk."
The more you dive into Bowden Brae, the more it becomes a small city in itself that encourages interaction and social connection. Jones notes that, "There's no difference really between this and a good neighbourhood. They shouldn't look any different. There's connection and resilience in that connection. One resident in his 60s had a neighbour that was 90. She made him cake because he took the garbage out. The neighbours look after each other. Our jobs as architects is the translation of social models."
Bowden Brae.
Jones describes the approach as "people-centric, community- centric, all-of-the-above-centric. The   inter-generational   aspect is also essential. The playground and café open on a green heart that's home to endless incidental interactions."
There's a unique sense of place as well. Jones notes that many concepts of vertical living and aging in place are centred on an atrium. "But that's not desirable in Australia. We replaced it with big open space that connects to nature." The place is undeniably Australian.
So, where to from here: How do we develop better places and spaces that continue to push the envelope? Webb notes that, "Twenty years ago benchmarking became essential and lots of green standards took shape. The last 10 years has been a welcome focus on health and wellness. The next should be building as part of nature, not just integrating nature. Hopefully in 10 years' time aspects of health and wellness are givens and we're on to a new paradigm of interrelated systems."
Maybe a better fundamental and expanding definition of health and wellbeing will help us ensure that our healthy places are built for life in its truest sense.
This article was first published in INDESIGN Magazine, The 'State of Wellbeing' Issue, full issue free to view here.
Photography
Dianna Snape and Pablo Veiga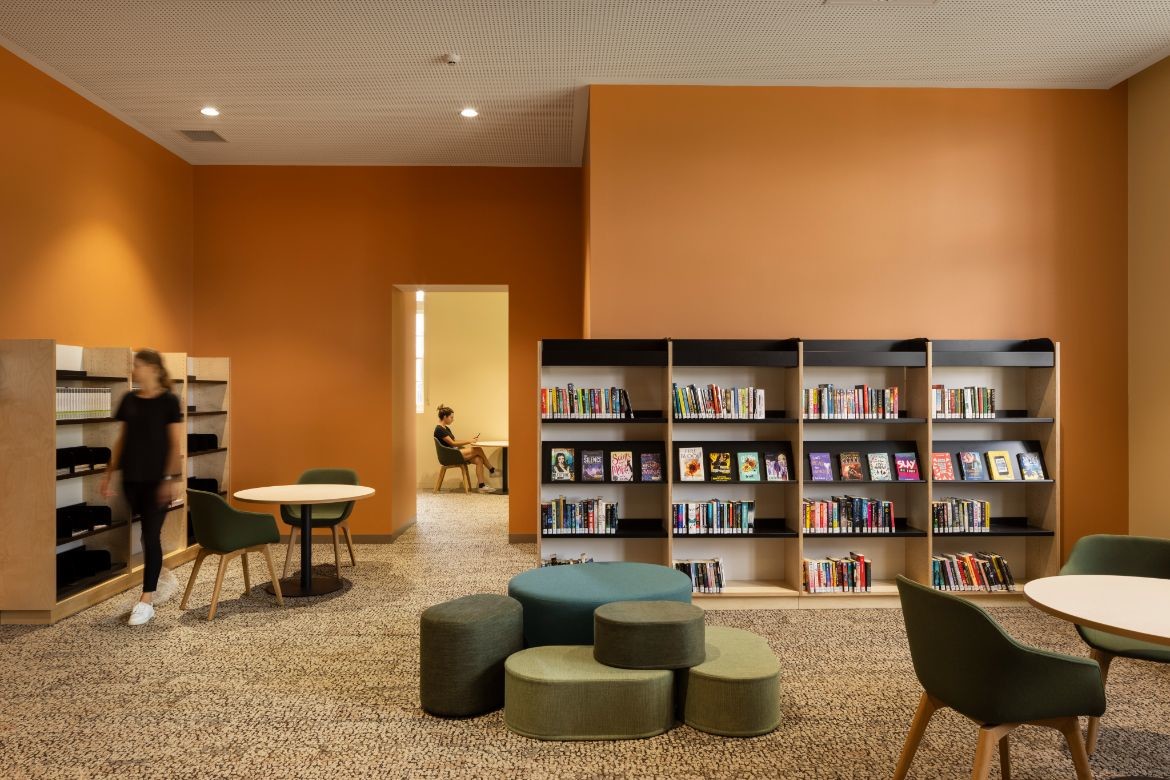 We think you might like this story on PTW's agility and design diversity.