Dynamic, interactive and engaging, CPD Live brings together expert panels to dissect curated discussions, with each session tailor made to keep you across the latest developments in architecture and design. Tune in anywhere you have an internet connection to catch up with the June season of CPD Live on demand. Formally recognised as part of the AIA refuel program, each session offers one formal CPD point, or stick around for the entire program to gain a huge 10 formal CPD points.
Let us introduce you to some of the speakers behind the sessions with some of the industry's most recognised names lining up to give you expert insights to inform your specification.
Rebecca Cadorin (Lighting Designer, ARUP)
Rebecca Cadorin leads the Arup NSW Lighting Team. As a designer I take a wholistic approach to the built environment and believe that places have the power to shape and influence people.
Hear from Rebecca at Lighting to make Cities Safer
Ljiljana Gazevic (Director, SJB)
Ljiljana Gazevic's refined and elegant aesthetics have shaped some of Australia's most beautiful homes, apartments, hotels and commercial projects. As an interior design director at SJB, with an extensive career spanning over 24 years Ljiljana is involved in all her projects – from the initial brief and conception through to completion. She takes a hands-on and collaborative approach in all her projects, working closely with clients and her team, builders and suppliers, to get the best results. Ljiljana's long-standing relationships with consultants, suppliers and craftspeople means her work is not only contemporary but commercially astute, giving her clients a peerless market edge.
Hear from Ljiljana at Sustaining the Flow: Water for the Future
Peta Heffernan (Director, LIMINAL Studio)
Peta is co-founding director of LIMINAL Studio, a design and architecture practice known for inventive outcomes fed by creative thinking and embrace of collaboration. Their interdisciplinary approach is captured through the Studio's Architecture, Spaces, Objects and Ideation identities.
Hear from Peta at How Timber Sustains us
Marnie Morieson (Senior Project Architect, Kennedy Nolan)
Marnie is a Senior Project Architect at Kennedy Nolan with experience across a range of project scales & typologies, specialising in high-end residential projects. Marnie has contributed more broadly to the architectural profession as a design studio leader at the University of Melbourne and sessional tutor at Monash University, and through her writing for various publications including Architecture Australia and Houses Magazine.
Hear from Marnie at Water Management Solutions: Future Proofing Drainage
Dale O'Brien (Partner, Gray Pucksand)
Dale is an accomplished Interior Designer with over 20 years of industry experience, a reflection of his recent promotion to Partner at Gray Puksand. His primary focus is leading wellness, workspace, retail and commercial projects.
Dale's passion for design and the people who inhabit them drive him to create spaces that enrich user experience. Dale has an intimate understanding of construction methodology, programming and consultant coordination that enable him to produce work at the cutting edge of design.
Hear from Dale at Greening Parcel Deliveries for the Built Environment
Anita Panov (Director, panovscott)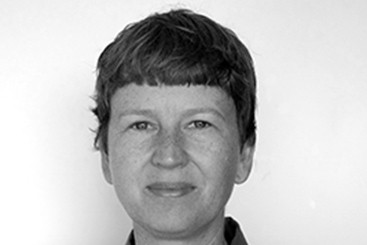 Anita Panov established emerging architecture practice panovscott with partner Andrew Scott in 2012, following a decade each of apprenticeship with respected Sydney practices. Their work has been recognised locally and internationally, and includes public and private buildings, exhibitions, strategic planning, and teaching/research based speculations. The practice has been described to reveal 'a passionate and poetic commitment to architectural life: in practice, theory and education'.
Hear from Anita at How to help Architects Achieve their Objects through Clever Design
James Perry (Principal, fjmtstudio)
James is a Principal of fjmtstudio and has experience across Australia and South East Asia within a variety of industry sectors. James has a particular expertise and interest in the design of public and educational buildings and has also led a number of complex single and multi-residential projects from conception to completion. James also leads the studio's Landscape group and the Design Research and Development group which is dedicated to the investigation and performance of current emergent technologies within the industry and application to each specific and relevant project.
Hear from James at How to help Architects Achieve their Objects through Clever Design
Ben Robertson (Director, Tecture)
Ben Robertson is the creative Director of Tecture, and has over 15 years experience within the Architecture and Interior Design Industry working on a number of meticulously detailed residential homes and multi-residential boutique developments. With a strong sense of space and detail, Tecture create finely crafted spaces for living.
Hear from Ben at Sustaining the Flow: Water for the Future
Luigi Rosselli (Principal, Luigi Rosselli Architects)
Luigi Rosselli is a Milan-born architect who came to Australia in the 1980s. Over more than three decades of practice, Luigi has developed a reputation for innovative and inspirational architecture with a humanist focus across a wide variety of projects: from small suburban alterations and additions projects to remote multi-unit accommodation designed to withstand harsh outback conditions.
Hear from Luigi at How to help Architects Achieve their Objects through Clever Design
Sarah Tyson (Associate, Interior Design, Hassell)
Sarah's skills have been developed by understanding the complex needs and work flows required for health facilities to operate at their best. Similarly, in workplace projects, she has the ability to extract detailed briefs by working closely with clients to create unique outcomes that really work. Sarah's technical ability and organisational skills means that no stone is left unturned. Her project management and delivery skills are exemplary. Sarah is never afraid to pick up the phone to solve problems. She brings joy to every interaction.
Hear from Sarah at Opening the Blinds on Section J and Beyond
Rebecca Yeo (Senior Interior Designer, Billard Leece Partnership)
Rebecca has worked exclusively for the Health + Research sector for the last 10 years and has developed a detailed understanding around planning, workplace, health environments and public spaces and how these environments affect both patients and clinician. She continuously works to achieve the optimum outcome within the interiors of healthcare buildings for all occupants. Rebecca is an effective leader, communicator and manager of multiple stakeholders with nuanced, complex relationships, whose experience and project skills transition a diverse range of projects from concept to delivery.
Hear from Rebecca at How Timber Sustains us
Want to learn more? Explore the entire program below and follow links to watch on demand now.

Sustaining the Flow: Water for the Future
Presented by Ljiljana Gazevic (SJB), John Hoogendoorn (Phoenix Tapware), Ben Robertson (Tecture).
At the end of this presentation you should be able to –
Explain the concept of water conservation and how it applies to residential projects
List the critical issues/points of water efficiency and which products can help achieve optimum results
Identify the technology that can help to address the conservation of water
Outline the WELL Standard and what this means when specifying products
Define what is possible to achieve to conserve water through good design
–

Greening Parcel Deliveries for the Built Environment Today
Presented by Lauren Melton (Groundfloor), Dale O'Brien (Gray Puksand), Liam Timms (International Towers Sydney).
At the end of this presentation you should be able to –
Identify the negative consequences associated with the rise in e-commerce and therefore parcel deliveries, particularly for multi-storey commercial and residential buildings.
Outline the emerging alternatives that can help alleviate these impacts. Examples include parcel management systems that enable deliveries for all occupants to be made to a single pick-up point.
Detail the typical component parts (software, security protocols, parcel lockers, etc.) of parcel management systems and how they interact to deliver parcels securely and efficiently.
Identify the potential financial, social, and environmental benefits associated with such systems.
Apply your critical evaluation to choose an appropriate parcel management system for a given project.
–

Lighting to make Cities Safer
Presented by Rebecca Cadorin (ARUP), Tom Curtis (Light Project).
At the end of this presentation you should be able to –
Establish and evaluate client requirements in lighting urban and public spaces and how best to meet these.
Analyse a project brief with relation to a client's objectives, budget and timeframe to decide what is the best solution for the site.
Identify how a design response meets the requirement of the location, as well as associated regional, contextual and environmental issues.
Outline how a particular lighting design response incorporates relevant codes, legislation and industry standards for both urban and regional areas.
Use creative and aesthetic judgement to produce a resolved project that takes into account site appropriate planning, physical composition and spatial planning.
–

How Timber Sustains Us
Presented by Brent Calow (Havwoods), Peta Heffernan (Liminal Studio), Rebecca Yeo (Billard Leece Partnership).
At the end of this presentation you should be able to –
Explain how timber can address a brief, the intent of the use and how it can influence the built form.
Identify how timber can be used creatively, provide an aesthetic difference and contribute to formulating design options in regard to site, physical composition and spatial planning in line with the brief.
Outline that using timber complies with guidelines, codes and regulations, what they are and how and when they apply.
List how timber can add aesthetically to a project and which timber is appropriate for which use.
Define the properties of timber, its strengths, how it is formed and where it is best to be used.
–

Aluminium Core v Solid Aluminium: Fire Safety and Beyond
Presented by Ben Wallis (Bluechip).
At the end of this presentation you should be able to –
Outline the regulations dealing with external cladding and fire safety in Australia and explain how products achieve compliance.
Identify the various types of aluminium cladding products and explain why each is/is not compliant with fire safety regulations.
Identify the general benefits associated with the two types of compliant aluminium cladding, namely Aluminium Core Panel and Solid Aluminium Panel.
Evaluate the benefits of Aluminium Core Panel and Solid Aluminium Panel individually in terms of waterproofing, durability, sustainability, and thermal transfer.
Use your professional judgement to specify aluminium cladding that meets aspirations in terms of not only design and fire safety, but also the criteria mentioned in the previous point.

Window Systems of the Future, Delivered Today
Presented by Samantha Anderson (Inhabit), Ross Baynham (Alspec), Vince Wardill (Technoform).
At the end of this presentation you should be able to –
Explain the key requirements of quality window systems, including not only functional and aesthetic considerations but also environmental ones.
Identify the role that window systems play in heat gain and heat loss, and therefore their potential for maximising a building's overall energy efficiency.
Explain the concept of a 'window system' and identify the fact that it extends beyond glazing to components like window frames.
Outline the various types of window frames available and the benefits of each.
Analyse a project brief in terms of both client objectives and environmental considerations to choose the best, most sustainable window framing option.
–

Corrosion Protection: Contributing to Sustainability
Presented by John Barker (HBT Insurance Brokers Pty Ltd),  Justin Rigby (Remedy Asset Protection), Troy Walters (TWC Group Pty Ltd).
At the end of this presentation you should be able to –
Explain the prevalence of corrosion in the built environment and identify its impacts in terms of cost and sustainability.
Identify the legislative framework surrounding corrosion and assess its effectiveness.
Outline the common characteristics of comprehensive, effective corrosion management strategies.
Identify the potential benefits (financial and environmental) of adopting best practice in this area.
Having considered all relevant factors (including location and building materials), use your professional judgement to implement an effective corrosion minimisation strategy.
–

How to Help Architects Achieve their Objectives through Clever Design
Presented by Anita Panov (panovscott), James Perry (fjmt), Tim Phillips (TILT), Luigi Rosselli (Luigi Rosselli Architects).
At the end of this presentation you should be able to –
Identify the processes involved with designing new products to achieve aesthetic and practical goals.
Define what is and isn't possible, including financial constraints, to bring a new idea to manufacture.
Be aware of other parameters such as budgets that can influence the design of a new product.
Familiarise yourself with available processes and materials that can address client and design needs.
List how to achieve best outcome for a project, site, environment and client when designing or customising various products for particular projects.
–

Opening the Blinds on Section J and Beyond
Window coverings play a crucial role in ensuring that commercial buildings are sustainable. The most recent update to NCC 2019 reflects this fact. This session will explore NCC 2019 Section J and will provide an understanding of window covering options and how to evaluate them for design, functionality and energy efficiency.
Presented by Dr. Roberto Minunno (Curtin University), Alison Peach (Verosol), Sarah Tyson (Hassell).
At the end of this presentation you should be able to –
Identify the sections of the NCC that relate to the energy efficiency of commercial buildings.
Outline the changes to NCC 2019 Section J and their relevance to the specification of window coverings for commercial buildings.
Identify the various tools – including the NCC 2019 facade and other modelling software – that help maximise thermal efficiency.
Analyse a project brief and evaluate the relative effectiveness of various window covering products in reducing energy consumption for that specific application
–

Water Management Solutions: Future Proofing Drainage
Presented by James Huggett (Everhard Industries), Marnie Morieson (Kennedy Nolan), Kevin Smerdon (Everhard Industries).
At the end of this presentation you should be able to –
Explain how products can best help when siting a project with reference to drainage run off and ground water issues.
List processes and products that will help in sustaining water in relation to the brief and also uphold the desired aesthetics of the build.
Identify experts and products that will help to obtain the appropriate outcome for the project that includes liaising with experts in the field.
Outline best practice in relation to sustainability in drainage for a variety of projects.
Be able to list those products that meet standards but are also comply or exceed environmental guidelines and regulations.