Chain screens offer the ability to divide, direct or stylistically define commercial and living spaces. Stylish and durable, Kriskadecor chains are made available to Australia and New Zealand via ChainCraft, who offer assistance at every step of the consultation process.
Founded in 2005, ChainCraft have specialised solely in the production of high quality chain screens and chain link curtains. Long term quality and performance is paramount to the company, and all chain links used are tested against strict European regulations.
Kriskadecor is a specialist in creating custom ceiling features, that range from simple geometric shapes to chain link sculptures and art features. The chain links have been used as dividers and amongst screens, but their full potential is realised when used as artistic figures or volumes. Kriskadecor links can recreate the effect of rain, hang from the ceiling, cover walls and even depict images through the use of shading techniques. Irrespective of the task, ChainCraft are able to guide designers through every step in order to create stunning visuals.
Thanks to the lightness and versatility of the chains, clients can create fully customised solutions in colour, shape and dimensions for hospitality, retail, leisure, and corporate projects throughout Australia and New Zealand. ChainCraft takes great pride in being able to provide a local connection for architects and designers down under and deliver a fully personalised customer service provided by all team members.
Among many other projects, ChainCraft has several examples of incredible ceilings that feature Kriskadecor chains. Curved and layered veils in matte bronze and coffee for The Amstel Club in Cranbourne, designed by Clever Colour & Design and built by Five One Group; a 10-meter diameter 3-layer ceiling feature in matte bronze for the for the Event Cinemas Westgate in Auckland, designed by Events Cinemas; or the 2-metre diameter 9-layer chandelier in matte colours for the Parramatta Club in Sydney, designed by EJE Architecture.
Whether you are looking for a subtle touch to direct or privatise an area or a truly striking visual, the company offers several fixing systems and a wide palette of 24 colours in brilliant and satin finishes with which to unleash your imagination. You can also play with the transparency of the chains, creating effects of lights and shadows.
The Kriskadecor aluminium chain is resistant and has been found to stand the test of time, thanks to an anodised coating on the surface that counteracts harsh indoor environments or outdoor climatic conditions. This process allows for the wide range of colours on offer. In addition, aluminium is 100% recyclable, allowing for designers to utilise a truly sustainable entity that won't bring any harm to the planet.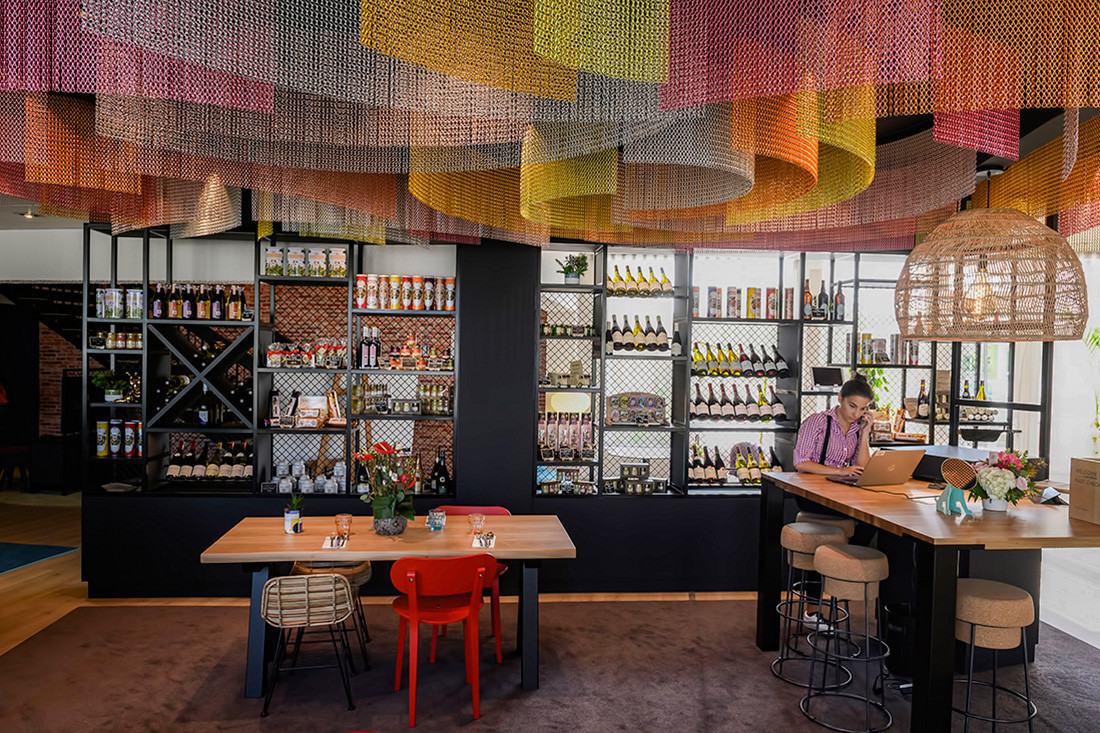 Continually pushing its limits in terms of aesthetics, creativity, and technological advancement, Kriskadecor is a leader within its industry. ChainCraft's ability to make Kriskadecor available throughout Australia and New Zealand opens up a realm of new possibilities for designers, especially those who aim to take their projects to the next level, through the use of chain links.
ChainCraft