Following the 1871 Great Chicago Fire which decimated most of Chicago's wooden buildings, Chicago Home Insurance Building architect William LeBaron Jenny pioneered skyscraper design by searching for a more fire-resistant structure. The refinement of the Bessemer process meant that steel frames, stronger and lighter than iron, could now be used to create multistory buildings the likes of which had never before been seen. Since then, new feats of modern architecture have allowed skyscraper construction to soar far beyond that first design; by contemporary standards, the Home Insurance Building is not even considered a skyscraper anymore.
What is a Skyscraper?
Originally, the term skyscraper referred to a building of 10-20 stories (the Home Insurance Building standing at just 10). However, with the rapid advancement of technology and developing modern architectural practices, the term has culturally shifted to mean only exceptionally tall buildings – generally over 40-50 stories. There is no universally agreed upon definition for what constitutes as an official skyscraper. Generally, a skyscraper building is considered to be any continuously habitual and multistory high-rise building of over 100-150 meters in height.
How are Skyscrapers Built?
Skyscraper construction begins with a steel skeleton formed by vertical columns of riveted metal beams, which are then strengthened by attached horizontal girder beams. The weight of the building is distributed amongst the vertical columns, alleviating the pressure of gravity on individual walls. The strong yet light steel skeleton allows for skyscraper architecture to reach daring feats of height that walls of load-bearing reinforced concrete could not. One of if not the most famous skyscraper in the world is the iconic Empire State Building of Manhattan, New York City, which was constructed in just one record-breaking year and forty-five days. However, this record was later crushed by the Abraj Al Brait in Mecca, Saudi Arabia, the most expensive skyscraper to ever be built – costing an astounding $15 Billion USD – which was constructed in just three months.
Common concerns for the construction and design of skyscrapers are challenges of gravity, plumbing, wind and elevators. Perhaps the most prominent issue is making sure that skyscrapers are capable of swaying in the wind – as all tall buildings must – without any danger of a collapse. This involves ensuring that the substructure is built on a strong foundation generally blasted from bedrock, as well as architectural strategies in the building design such as small nooks or channels which can catch and slow wind. The top of the tallest building in the world – the Burj Khalifa in Dubai, United Arab Emirates – sways at about two metres. Most buildings over a certain height will have a Turned Mass Damper, a device with a matching resonant frequency to that of the structure that serves as a counterweight to the building's sway.
Skyscrapers Around the World
Currently the city boasting the most skyscrapers is Hong Kong, housing a staggering 480. The other cities with most skyscrapers are Shenzhen in the People's Republic of China (292) followed closely by New York City, USA (287), then Dubai in the UAE (232) and Shanghai, China (175). Overall, China holds the record for the most total skyscrapers per country – standing at 2,605 – and is followed by United States (840), and the United Arab Emirates (305). The specific future of skyscraper development if we continue construction at this rate is uncertain, but likely to involve even more impossible heights and incredible technology – it is even possible that skyscrapers may become fused with smart tech and multifunctional. Some, like Elon Musk, believe the solution to increasing demand is to look down instead of up; perhaps future skyscrapers will actually be inverted 'Earthscrapers.'
Read on for a list of the current top 10 best and tallest skyscrapers in the world, as assessed by their highest architectural feature.
10. Taipei World Trade Centre
Also known as Taipei 101, at 508 metres the Taipei World Trade Centre was the tallest building in the world from 2004 until the 2009 completion of the Burj Khalifa. It is located in Taipei City, Taiwan and was designed by C.Y. Lee & Partners. Most of its lower floors comprise a luxury shopping mall while the upper floors are dedicated to rented office spaces. It took two years of planning (starting in 1999) before construction began, and the Trade Centre was opened to the public December 31st, 2004.
9. China Zun
The CITIC Tower known as China Zun is a skyscraper in Beijing, China which stands at 527.7 metres tall. Construction began in September 2011 and it was declared open in 2018. China Zun was a collaborative effort of multiple design firms, most notably Kohn Pederson Fox and Farrells. The CITIC Tower is multipurpose and predominately provides office space, as well as luxury residential apartments, hotel rooms and a rooftop garden. Despite the tower's "open" status, it has faced significant delays and is still ongoing construction, meaning that the public are yet to venture inside. Estimates suggest the entire project will cost around 3.8 Billion USD at its completion.
7. A) Tianjin CTF Finance Centre
Tianjin CTF Finance Centre is tied at 530 metres with Guangzhou CTF Finance Centre for the title of seventh tallest skyscraper in the world. It is located in Tainjin, China. Construction officially finished in 2019 and the design was a collaborative effort between Chicago founded Skidmore, Owings & Merrill LLP and Hong Kong architecture firm Ronald Lu & Partners. The Tianjin CTF Finance Centre was made with regional development in mind and provides rentable office, hotel, apartment and retail space. Its unusual design gives it particular notoriety, with eight interlocking curves forming a crown at the building's summit to minimize the variation of surface geometry.
7. B) Guangzhou CTF Finance Centre
The Guangzhou CTF Finance Centre is located in Guangdong, China. Like China Zun, it was designed by Kohn Pederson Fox. Construction completed in October 2016. It also holds the fastest elevators in the world, which can reach up to 21 m/s. The Guangzhou CTF Finance Centre, like most skyscrapers, houses shopping malls, office spaces and hotel rooms. It connects at multiple levels to underground subway lines and outdoor pedestrian bridges join it with other buildings. It cost approximately $1.5 billion USD in total to complete.
6. One World Trade Centre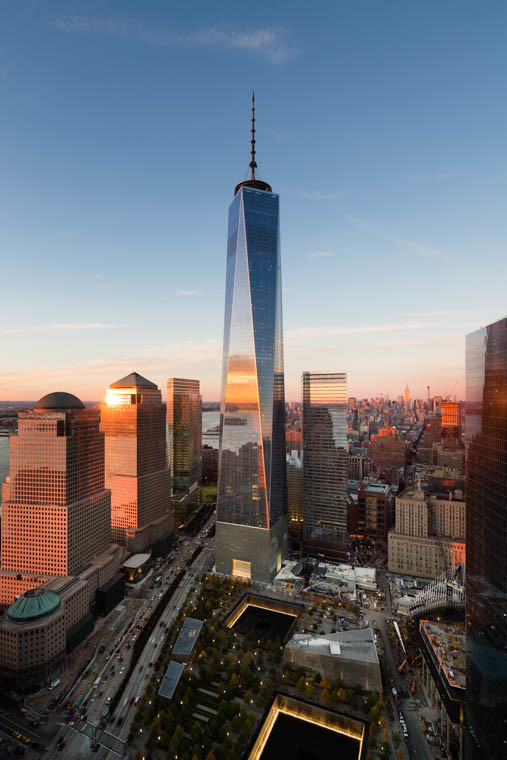 Formerly the Freedom Tower, New York's One World Trade Centre is a rebuild of their original World Trade Centre destroyed by the 9/11 attacks. It was opened to the public in November, 2014. At 541.3 metres, it surpasses even the iconic Empire State Building to take the title of the tallest building in the US. The One World Trade Centre's height in feet (1,776) is a reference July 4th, 1776; the year that the American Declaration of Independence was signed. It was designed by Skidmore, Owings & Merrill LLP, along with two other skyscrapers which make this list: the Tianjin CTF Finance Centre and the Burj Khalifa. Today, it is primarily used for office space as well as restaurants and an observation deck to pay tribute to the victims of 9/11.
5. Lotte World Tower
The Lotte World Tower stands at 554.5 metres tall and is found in Seoul, South Korea. Like China Zun and the Guangzhou CTF Finance Centre, it was designed by Kohn Pederson Fox. Construction on the Lotte World Tower began in 2010 and finished in December, 2016. It is the first 100 story building in Korea and, like most skyscrapers, is multipurpose. The Lotte World Tower contains a ten-story shopping mall, office space, a luxury hotel and an observation deck. It also contains the Sky Skuttle – the fastest double decker elevator in the world, running at 10 metres a second.
4. Ping An International Finance Centre
The Ping An Financial Centre is a 599.1 metre skyscraper in Shenzhen, China. Construction began in 2010 and the Centre was opened in March, 2017. It was also designed by Kohn Pederson Fox. The Ping An International Finance Centre is the second tallest building in China and accommodates over 15,500 workers on top of the 9,000 passengers to its observation deck. It is the headquarters for the Ping An Insurance company and houses office spaces, shopping malls and restaurants.
3. Abraj Al-Bait Clock Tower
The Abraj Al-Bait Clock Tower is the third tallest building in the world, standing at 601 metres tall. It is located in Mecca, Saudi Arabia. Construction began in 2004 and the tower was completed within just three months. The development project was undertaken by the Saudi Binladin Group and Dar Al-Handasah won the design contract in 2001. The Abraj Al-Bait is a complex of seven government-owned hotels primarily catering to the city's pilgrims, though it contains a mix of residential and temporary housing. At $15 Billion USD, it remains the most expensive building ever made. It also hosts the largest clock face in the world.
2. Shanghai Tower
The second tallest building in the world, Shanghai Tower stands 632 metres tall and is located in Shanghai, China. Construction began in November, 2008 and finished in 2015. It was designed by global architecture firm Gensler and cost approximately 2.4 Billion USD. The Shanghai Tower provides office, residential and recreational space for up to 16,000 people and has become a major tourist attraction.
1. Burj Khalifa
The Burj Khalifa, located in Dubai (UAE), is easily the tallest building in the world at 828 metres. Construction began in January 2004 and the tower was opened to the public in January 2010. It was designed by Skidmore, Owings & Merrill LLP. It hosts a mix of commercial and residential endeavours; namely, shopping malls, hotels, office spaces and residential housing. Recently it has become the centre of a fund-raising drive for coronavirus food relief, auctioning off symbolic ownership of each of its 1.2 million external lights.