The most commonly used of all kitchen benchtops materials is probably engineered stone. Engineered stone is one of the most durable materials for a kitchen benchtop and it comes in a range of styles and colours, giving the renovator the opportunity to choose the right look for their kitchen. Kitchen benchtops were historically made from tile, until the 1950 revolution of high pressure laminates took the industry by storm and laminate became the most popular kitchen benchtop material.
Now, however, there are a wide range of material options available on the modern market and new trends are evolving rapidly. Australian kitchen design trends have been closely following British and American styles, but recently there has been a rise in attempts to develop a more unique Australian identity through the use of different benchtop materials. Continue reading for a comprehensive benchtop material comparison of the top ten benchtop materials.
Best kitchen benchtop materials: Top 10
10. Laminate benchtops
Laminate kitchen benchtops are one of the cheapest countertop options and come in a vast range of styles/colours. Laminate kitchen benchtops can even mimic other materials if you really want that natural stone look but don't quite have the budget. It weighs much less than most benchtop materials and the installation is much easier, meaning that you will save on the cost of labour as well. High pressure laminate benchtops are heat/stain/scratch resistant and easy to clean.
A laminate kitchen benchtop will generally cost $100 per square metre, though obviously the price will increase with the quality of laminate. Look here and here or search the Ikea catalogue to browse for some of the various styles and colours of laminate benchtops.
A disadvantage to laminate benchtops is that they are generally less durable than many other materials. Laminate countertops will usually only last about ten years. They are also likely to lose their shine over time.
09. Natural stone benchtops
Natural stone is a luxurious choice for the stylish modern kitchen. The most common natural stones used for kitchen benchtops are marble and granite. Both have impressive durability and will maintain their beauty for many years. They are low-maintenance and easy to clean, requiring just a wash with warm water and a wipe down after use. Most natural stones are heat resistant and can be sealed to better resist the typical surface damage that comes from regular kitchen activity.
8. Natural stone: marble benchtops
Marble is one of the most beautiful benchtop materials available. In terms of pure aesthetic appeal, it is probably the single best kitchen benchtop material. Marble can come in many colours and with many different patterns or veins, each one as breathtaking as the last. This means that you are almost guaranteed to find a suitable style and tone for your kitchen in marble. Like all natural stone, it is heat resistant and durable – though marble is slightly softer than some of the other natural stone options.
However, marble is also one of the most expensive materials on the market. The average cost for a marble slab countertop is $100 / square foot, but the price ranges from $60-100 depending on the quality and type ($700-2,000 per square metre). The most expensive type of marble is Calacatta, averaging $180 per square foot. The installation of marble will also add significantly to the overall cost, with the installation time generally taking around 10hrs at $35-45/hr. However, if you have the means, a marble countertop is an incredibly stylish option sure to increase the sophistication of your kitchen renovation. Have a look at some beautiful examples of different marble types and their prices here.
7. Natural stone: granite benchtops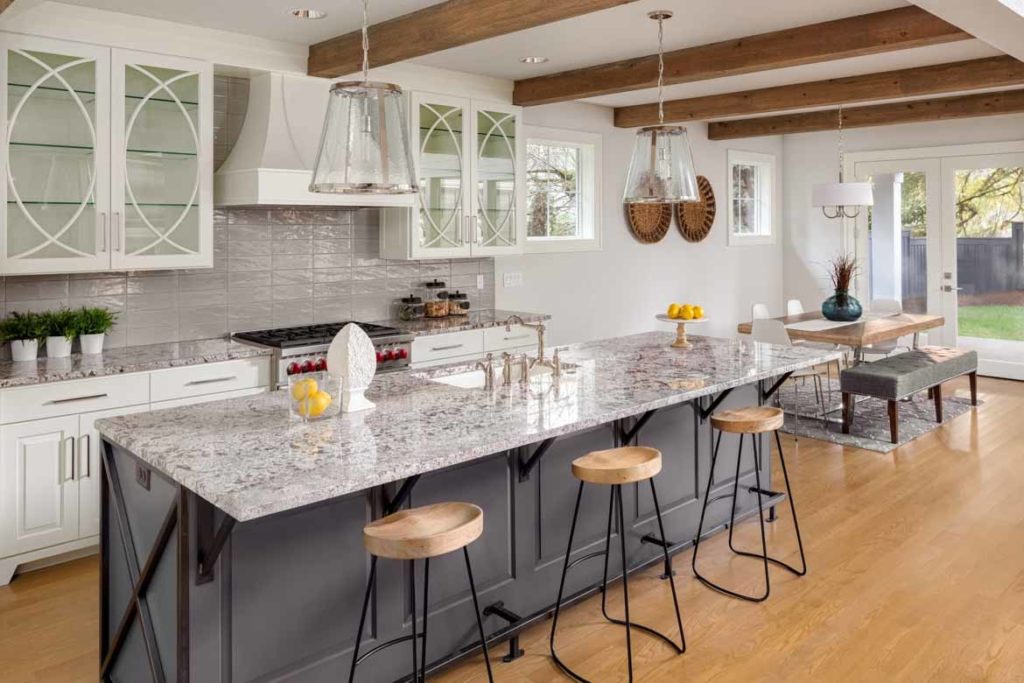 Sharing many of the properties of marble, granite is durable, heat resistant and low maintenance kitchen benchtop material. It is slightly harder than marble, making it more resistant to impact/stain damage. There are many different colours and styles of granite, and while they do not have the same elegant veins of marble, they definitely come close in terms of visual appeal. There is also ample opportunity to match a granite kitchen benchtop with your existing colour schemes and the atmosphere of your home. Browse some of the beautifully varied style and colours of granite slabs here.
Granite is also cheaper than marble, though it is still the second most expensive of all the kitchen benchtop materials. The average price for a standard granite kitchen benchtop is approximately $75 per square foot, not including transport or installation costs (which will be very similar to marble). A problem for granite is that it is extremely heavy and can put pressure on the cabinetry beneath. You will need to assess the strength of your bench before selecting granite as your benchtop material.
6. Stainless steel benches
Stainless steel benchtops are currently rising in popularity after migrating from commercial hospitality uses into residential kitchens. A stainless steel kitchen benchtop has an industrial chic about it and puts a contemporary twist on the traditional kitchen setup. Stainless steel is practically indestructible and extremely durable. It is impossible to stain, hence the name, impervious to rust and easy to clean.
Installation of a stainless steel countertop is simple and it can be easily manufactured/cut to any shape or size necessary. Stainless steel is also more affordable than the natural stone options and usually sells for $285-350 per metre. See here for more information on custom made stainless steel products for your kitchen.
Stainless steel, though very durable, can be susceptible to scratches or dents over time and with significant wear. This can be minimized by regularly washing your countertop and taking care not to damage it throughout the cooking process.
5. Wooden/timber benchtops
Timber benchtops are usually made from hardwood such as walnut, oak and beech which have been treated and finished. Timber benchtops have a rustic appeal and come in many different shades, leaving plenty of opportunity for creativity. A timber benchtop is also very durable and actually last longer than most other materials as it can be sanded and refinished if necessary. Timber is also recyclable, making it one of the most environmentally friendly options for a benchtop. It is softer than most of the other benchtop materials even after sealing, but small scratches and nicks actually enhance its charm. Maintenance is fairly simple and timber just requires resealing every few years.
The price will vary depending on the type of timber, but timber benchtop materials will usually cost around $600 – $1,200 per square meter for the higher-quality hardwoods. However, using reclaimed timber will slash this cost to just a fraction of the price. If you like the homely feel of reclaimed timber this is an excellent to save some money without sacrificing character. Browse the Bunnings catalogue online or see here for some more high-quality recycled timber benchtop options.
4. Bamboo benchtops
Bamboo is sometimes considered to be timber, though it is technically a grass. Regardless of the semantics, bamboo is a distinct enough material that it deserves its own category. Bamboo is one of the most environmentally friendly materials as it grows incredibly fast and can be recycled. It is also a very visually appealing material and the neutral wooden colour tones well with most kitchen colour schemes.
Bamboo is naturally non-porous, making it a hygienic choice. It is also extremely tough, often more so than even some of the most expensive hardwood options. Bamboo is also quite cheap – averaging around $40-$100 – due to the ease of its production. Some top quality bamboo benchtops can be purchased here.
However, bamboo needs to be treated and sealed as it is not naturally very waterproof. Nor is it resistant to scratches or heat – it is susceptible to chipping and denting, though not particularly more than any other timber option. Bamboo will require occasional upkeep such as sanding and resealing the surface. This will be required within generally the same time-frame as most timber products.
3. Polished concrete benchtops
Polished concrete has a similar visual effect to stainless steel in that it adds a stylish, industrial element to a modern kitchen. Polished concrete is versatile in the colour, finishes and aggregate levels, meaning that it can be specifically tailored to your home. It can also be burnished, honed or stained as desired. Polished concrete is a durable choice with very little maintenance and an easy cleaning process. The surface will need to be sealed during installation, but once this is done it will make the benchtop almost completely resistant to stains/scratches/heat. See here for some quality examples of how polished concrete benchtops can be used in the modern home.
Polished concrete can be fairly expensive, usually costing about $1,000-$1,750 per square metre. The price will depend on the type, complexity of the cut, and the finish (the higher the finish level, the more expensive the product will be). Polished concrete can also be susceptible to cracking if improperly installed. It is a good idea to research the likelihood of concrete cracking with respect to your geographical location, as temperature changes are likely to have an effect on your concrete's structural integrity.
2. Porcelain benchtops
Porcelain is a relatively lightweight countertop option. Like bamboo and engineered stone, it is non-pourous and therefore easy to clean/maintain. Porcelain can be coloured, patterned and finished in many different styles, so there is plenty of creative opportunity for those designing a kitchen with porcelain benchtops. Porcelain has the same sophistication of marble and can even be manufactured to mimic the marble look for those who wish to keep the marble look on a budget. Porcelain is a reasonably priced material, usually sitting at around $1200-$2,000 total for the full material cost of one benchtop.
A disadvantage to porcelain is that, unlike marble, the pattern does not run beneath the surface. This means that chips and scratches may expose the plain porcelain beneath the surface pattern.
1. Engineered stone benchtops
Engineered stone shares many of its attributes with natural stone. The main difference is that engineered stone is manufactured primarily from quartz, one of the hardest minerals available. Quartz benchtops have a superior durability and have been proven to be very resistant to scratches, chips, cracking and heat. Engineered stone is currently the most popular choice of kitchen bench material. It comes in many different colours and with different aggregate levels that can be chosen according to personal taste. They are also easy to clean and do not require any on-going maintenance.
Engineered stone benchtops are also a cheaper and more sustainable option when compared to their natural stone counterparts. They cost approximately $400-$600 per square metre. Caesarstone are known for their quality quartz benchtops, or you can browse here for some more engineered stone benchtop options.