COLORBOND is a type of coated steel used for roofing which is owned and manufactured by the Australian company BlueScope. Colorbond cladding is made from a corrosion resistant steel base finalized with a baked on paint finish that provides protection against chipping, peeling and cracking. Colorbond is a tried and tested coated steel product which has been on the market for more than half a century. The coating technology places colorbond steel cladding among the most reliable and durable roofing materials available today.
Colorbond carries an extensive range of palettes, colours and styles. For fans of the traditional look, classic and timber look finishes are readily available. If you prefer a more contemporary style, Colorbond can certainly cater to you as well. Colorbond stock contemporary, metallic and matte cladding which is sure to transform the exterior of your home.
Colorbond cladding is a quick, cheap and easy way to transform your exterior façade and give your home a more modern appearance. Colorbond sheets prices are usually around $13-$37 each (around $53-$97 per square metre). This will also depend on the type of Colorbond cladding that you opt for; corrugated iron, for example, is usually cheaper than powder-coated Colorbond.
Cladding is a time honored tradition in Australia for its many practical benefits. Layering a durable material over the top of a house's exterior provides thermal insulation, protection against weather, and strengthens the building's resistance to damage from pests and water. Cladding also provides aesthetic appeal, with weatherboards in particular being a popular choice to improve the exterior appearance of a building. The most popular style of cladding in Australia is brick – namely, traditional red-brick – but that is all subject to change. For more information about the types of cladding and exterior facade trends in Australia, see here.
Colorbond steel panelling has seen a huge boom in popularity over the past few years, possibly related to the resurgence of industrial influences within contemporary home designs. The durability of Colorbond steel is gaining recognition among the best options available, as well as the superior protection that Colorbond wall cladding provides against weather, pests, water, chipping, flaking, and warping.
Colorbond steel cladding is readily available in Australia and relatively affordable, especially when compared to other similar cladding styles. Colorbond steel cladding is compatible with all wall surfaces and can be installed professionally by companies such as Kiteleys roofing. DIY is possible with Colorbond cladding and there are many tutorials available on the internet – however, it is no mean feat to clad an entire home exterior in metal, especially if you do not have experience with this material or type of job.
When considering installing Colorbond cladding, try to make a realistic assessment of your skills with reference to the relevant experience that you have in the field. If you are uncertain at all or unfamiliar with this type of job and the necessary basics such as how to cut Colorbond products, it is certainly worth leaving the job to professional contractors. Though it will cost more up front, the consequences of incorrect cladding installation are likely to be much, much more expensive.
Colourbond cladding ideas: the best Colorbond cladding house desings
10. Vertical
Traditionally, cladding is installed horizontally. However, vertical cladding is making its way onto the design scene for its contemporary and sleek look. Vertical cladding also makes a building appear taller by emphasizing the length and height. Vertical Colorbond cladding looks best in bold, contemporary colours such as the sleek black pictured above.
09. Horizontal
Horizontal cladding is a more traditional style and thus works well with classic as well as contemporary colours and features. Horizontal cladding is ideal for a building designed to blend in with the surroundings such as a shed or a garage.
08. Ceiling lining
For a more interesting ceiling design on a budget, you might want to consider installing Colorbond ceiling lining. This subtle accent provides layered visual interest without breaking the bank.
07. Corner flashing
Corner flashing and edge trimming is a great way to disguise the unseemly gap in sheeting at the corners of buildings. Colorbond has a particularly beautiful range of matte finish metal corner and roof flashings, available here.
06. Matt
Q: Is colorbond matt more expensive?
Yes, matt products in the Colorbond range tend to be more expensive. However, the effect is well worth the few extra dollars per square metre. A matte finish like the one pictured above helps to keep the colour bright over the years as well as creating a softer, more subtle immediate look.
05. Steel
Keeping the authentic steel appearance of a Colorbond roof is a beautiful way to make a building appear contemporary. Industrial materials such as exposed brick, engineered glass, steel and timber are seeing a resurgence at the moment – and Colorbond steel is a great way to join the movement.
04. Corrugated iron
One of the most affordable of all Colorbond products, corrugated iron is a practical roofing option that is more durable than non-corrugated styles. Corrugated iron is stronger and stiffer, and has channels to guide water during heavy rain.
03. White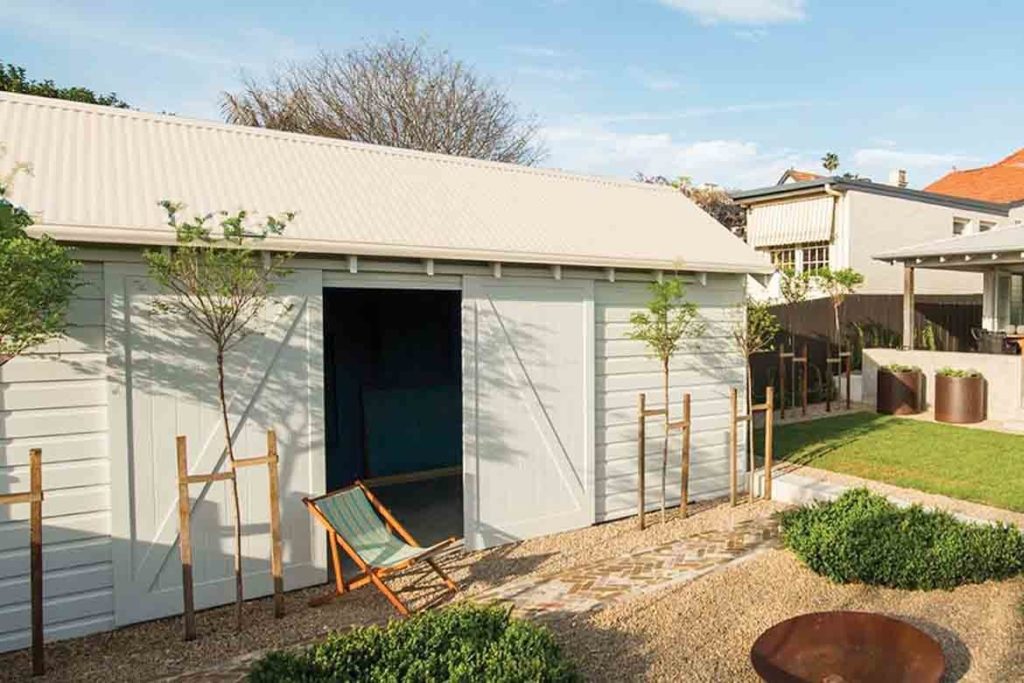 Colourbond has a huge variety of colours, but the shades of white on offer are clearly among the best. Colourbond steel in white creates a romantic and rustic feel that works exceptionally well alongside traditional and coastal design styles.
02. Metal
By contrast, the metal finishes on offer create a bold contemporary statement reminiscent of industrialist style. Harshly beautiful, the Colorbond matt finish black steel is sure to catch the eye – whilst also providing the best possible protection for your home's exterior.
01. Timber look
The Colorbond timber look range is nearly indistinguishable from the real thing, except with all of the benefits of steel. In particular, the timber look garage doors are exceptionally beautiful and capable of toning well with whatever exterior cladding scheme you have already established.