When one of the world's biggest names in technology opens a new office, you know it's going to be state of the art. For Microsoft's Lisbon office in Portugal, the architecture teams of OPENBOOK Architecture and Vector Mais turned to Pedrali to furnish the technology giant's cutting edge space.
Accounting for the office evolution of the past few years, Pedrali's furnishings showcase a working life that is both flexible and versatile, reflecting the way people now work in companies.
Located in the stunning Parque das Nações neighbourhood of Lisbon, the new Microsoft headquarters is split across four floors, creating a collaborative, open environment in which human interaction and wellbeing are maximised, suggesting a sense of harmony between man and technology.
This interaction between the human and the designed was an essential part of the design of the space, and the furniture selections needed to match this design philosophy. Designed with a strong spirit of functionality and sustainability, the office has a total capacity of 1048 seats, articulated in over 500 workstations.
With rooms designed with a wide range of purposes – from phone booths to meeting and conference rooms, to multifunctional rooms – the furniture throughout had to match these multifunctional ideals.
The Malmö armchairs from Pedrali were a natural fit for the space.
Aimed at creating small corners for socialising, Malmö armchairs – designed by CMP Design – bring a sense of warmth to the spaces they inhabit.
The Nolita outdoor armchairs, designed by CMP Design, give a sense of form to the informal meeting of the office.
Made entirely of steel, these chairs are light and resistant, easy to clean, maintain and move.
Meeting room also see the presence of Arki tables, designed in house by Pedrali.
These tables, with their structurally linear and rigorous shape, also help shape the tone of the meeting rooms. While formally strong, the tables are also versatile and allow for multiple uses when the spaces are not housing meetings.
During breaks, the Microsoft office also houses a restaurant and a cafeteria, where employees can take in the breath-taking views off the nearby Tago river.
For this space, Pedrali provided a collection of Intrigo chairs, which are not only functional and comfortable for the staff, but add a playful element of colour, with the green of the chairs matching the connection to nature offered by the view.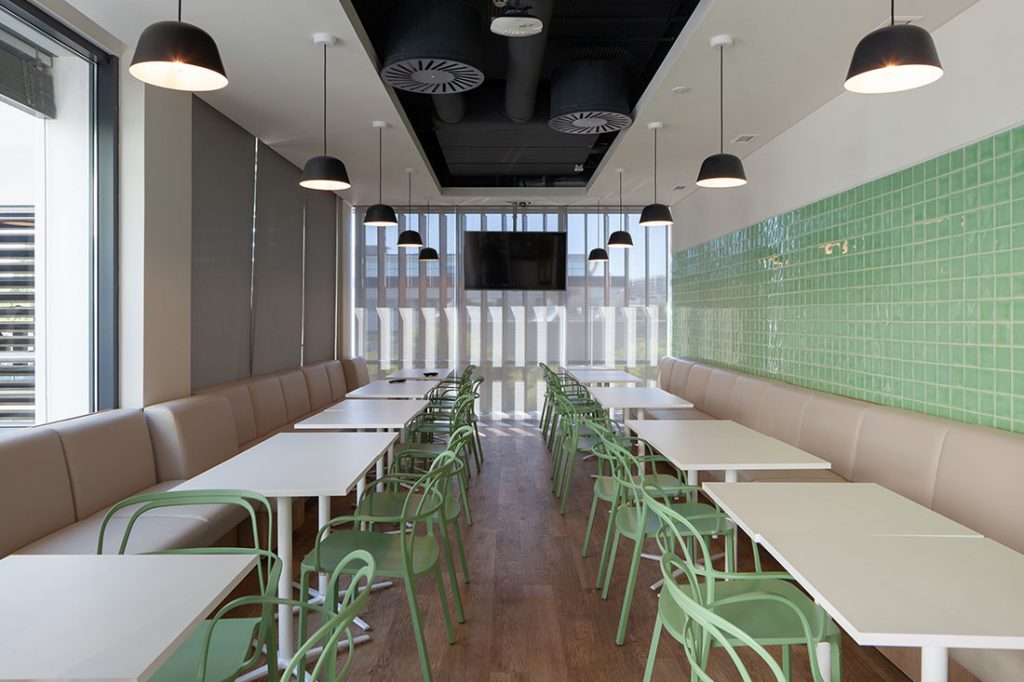 A company as iconic and important as Microsoft doesn't do anything by halves. The company's Lisbon office is an inspiring place to work, and thanks to Pedrali, one that it is also functional and beautiful.