Connection and fun are cornerstones of the human experience. Recently, the aged care industry has come to recognise the potential that quality design holds to create supportive environments. Custom aesthetics and bespoke designs have the power to shape dynamic spaces which can evoke a sense of joy, nostalgia, and togetherness.
The move to resort-style living is the next step in this journey of evolution for aged-care spaces. Achieving luxury, safety and enrichment is the obvious goal for an aged care facility – but how best to execute this vision in a contemporary context? GH Commercial suggests the answer lies within quality, custom design.
Firstly, long-term living facilities have a number of considerations which will influence the design of the space. Longevity, functionality and safety are key concerns when it comes to healthcare design – from independent living to assisted living and special care sectors. Evidence-based flooring design solutions are critical to upholding the wellbeing of the residents, particularly within Aged Care, as flooring needs to be slip resistant, resilient and easy to clean.
GH Commercial strikes a careful balance between functionality and aesthetics with all of its custom flooring solutions. A recent collaboration with TSD Studio on Thompson Health Care's brand-new Aged Care facility allowed GH Commercial to explore the value of comfort, flexibility, accessibility, and familiarity in design – from aesthetics through to performance.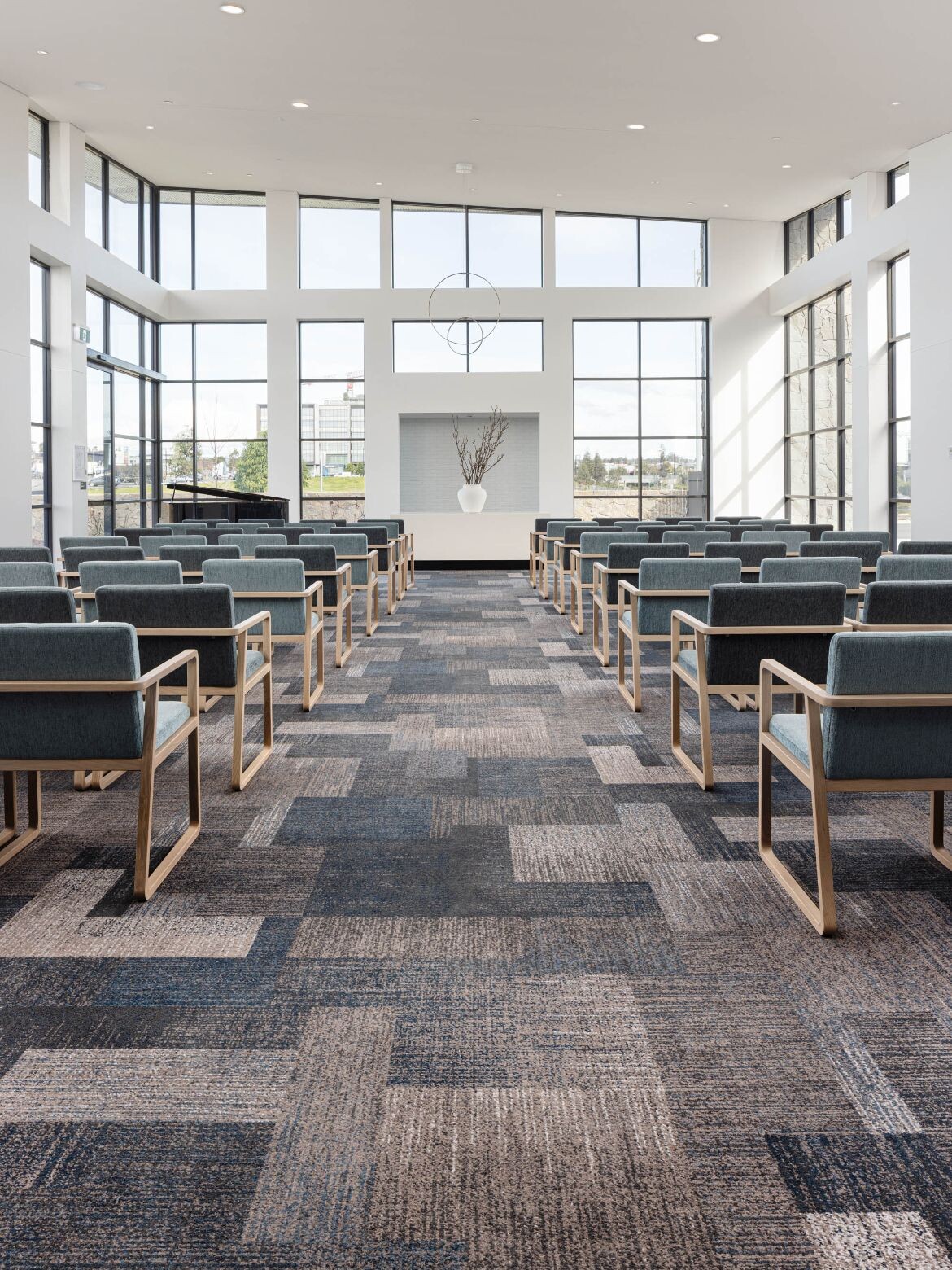 Oran Park House has a number of facilities designed to make life more enjoyable. A private dining room, library, beauty salon, arts and craft space and cinema contribute to the residence's atmosphere of luxury and sophistication – while the 24hr registered nursing care, resort style accommodation and respite places ensure that quality care is a constant.
Subtle graphics and modern industrial finishes throughout nod to the site's rich history as Oran Park Raceway. GH Commercial helps to tie together the various stylistic elements of the design through a series of custom woven 42oz carpets which respond to the clean lines, feature colours and high contrast trims of the contemporary interior.
Residents' rooms and hallways feature a subtly patterned, neutral carpet in variegated shades of earth tones speckled with blue to promote calmness and a return to nature. The sweeping architecture of the Chapel, with its massive windows and a vaulted ceiling, is complemented by a patterned carpet of gently overlapping squares in muted tones.
Spaces of revelry such as the Function Room and Bar area called for something more vibrant. GH Commercial knew just how to deliver. Irregular geometric shapes interspaced with bold borders emulate the style of entertainment venues that many of Oran Park House's residents may have frequented in the past. Vibrant and packed with energy, these carpets create a buzzing ambience filled with timeless style.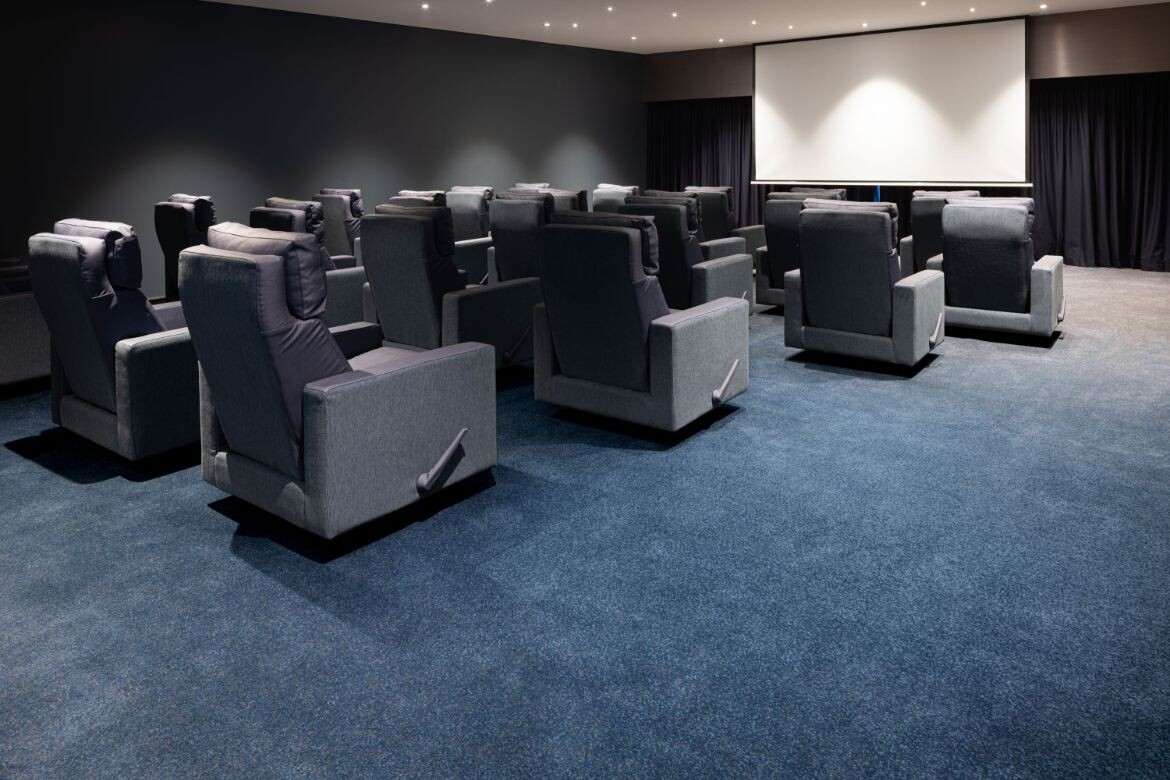 One of the highlights of the project was undoubtedly the design of the cinema. The gradient deep-toned carpet joins a twinkling ceiling light in recreating the moody atmosphere of a heritage cinema. The series of carpets was made possible using GH Commercial's fully customisable Fast Track® program, which combines the bespoke aesthetic of one-off custom projects with the convenience of ready-made carpet collections.
Fast Track® champions tight timelines, making it possible to create Custom Woven Wool Blend carpet and have it delivered in as little as 8 weeks. Its benefits include flexibility, performance, durability, luxury and unmatched comfort, among others. GH Commercial's custom solutions also extend beyond the woven, as its world class Designer Jet® technology helps to create custom carpet tiles, planks and 1.96m wide sheet products.
Learn more about the fascinating design processes of GH Commercial here and explore what happens to design when customisation becomes limitless.
GH Commercial