Bildspec has been building and supplying custom-made operable walls in Australia for more than 50 years. The family owned business is committed to providing solution-focused, industry-leading products manufactured from locally sourced parts. With a reputation for exceptional lead times and customer surface, Bildspec is the go-to for many high profile projects around Australia. Here are just three.
Novo Nordisk Pharmaceuticals
When it came time for Novo Nordisk Pharmaceuticals to choose their wall system, nothing fit quite as perfectly as Konnect Double Glazed. A recent redesign of Bildspec's existing Moveable Glass Wall System, this new glass operable wall system boasts thinner stiles for a sleek, subtle appearance and effortless operation – ideal for the contemporary office fit out.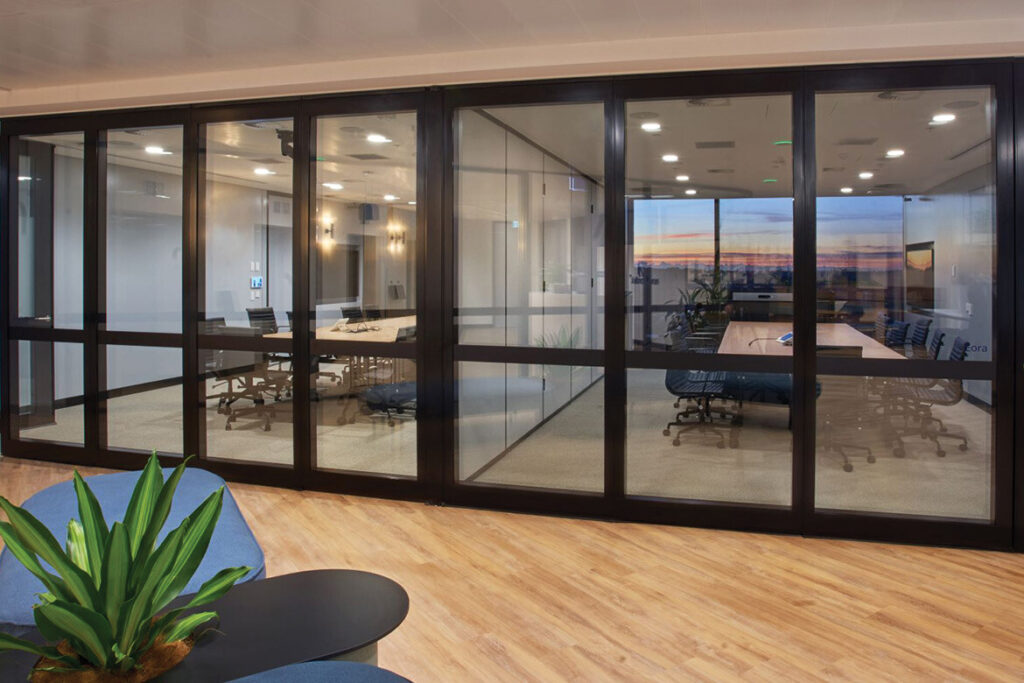 The Konnect glass acoustic walls are remarkable for a number of reasons. The double-glazed wall is CSIRO Certified with an Rw46 rating. It also uses a thinner glass profile than most of its competition, making it the lightest system on the market. Double Glazing along with a sleek panel frame allows the system to provide visual connectivity between divided spaces while still providing acoustic protection.
The combination of an elegant glass appearance with the durability of a Bildspec Operale wall makes the Konnect Double Glazed system a game-changer in the world of creating interconnected environments with acoustic integrity.
Learn more about the Konnect Double Glazed glass wall system.
Shore Financial
Scope Projects reached out to Buildspec during their build for Shore Financial's new office fit-out in North Sydney. Konnect's outstanding acoustic abilities once again take centre stage with the installation of Konnect Double Glazed moveable acoustic wall panels to provide a glass office partition as well as three boardrooms adjacent to the common working area.
These user-friendly, movable wall panels transform the landscape of the office into a space of complete flexibility. They maintain continuity throughout the office by providing see-through connection with all of the spaces but simultaneously help to define and protect the privacy of individual areas by providing acoustic isolation and reduction.
Once again, elegant form meets durable function with Buildspec. Learn more about the flexibility of these acoustic glass partitions and their noise reduction benefits here.
Data #3
Konnect Double Glazed operable walls are given room to shine in Data#3's new North Sydney office fit-out. Builders True Projects chose to install Bildspec Operable Walls to separate adjacent boardrooms and the borders between the boardrooms, a parallel kitchen, and a breakout area.
Data#3 are now able to increase or reduce the size of their board rooms at will, and even incorporate them as part of a larger breakout room or multipurpose space whenever required. This flexibility allows Data#3 to adapt their workspace in an instant in response to the shifting needs and demands of their customers.
These intuitive operable walls also have incredible acoustic abilities and can greatly reduce the amount of external noise which permeates through the wall and into a divided space. Sound reduction is measured in Rw (Weighted Sound Reduction Index) and these operable walls achieved an exceptional acoustic rating of 48Rw when tested at the CSIRO's facilities in Clayton, Victoria.
Learn more about the flexibility of tomorrow's office here with Bildspec.