Australia's most recognised and trusted name in engineered stone surfaces, Smartstone is known for combining the beauty of natural stone with the durability of quartz. The most recent addition to its range, the Ibrido collection, delivers on the aesthetics, quality and value the brand is known for, in seven unique designs including Calacatta Oro's magnificent veined marble, Onyx Verde's remarkable reinterpretation of a prized Iranian marble, Tundra Grigio's superb limestone recreation, and more.
Truly setting itself apart, Ibrido brings previously unseen environmental qualities to the engineered stone category. Engineered from an exclusive Smartstone NewGen formulation, Ibrido contains 56% recycled material with Greenguard, Greenguard Gold and NSF accreditation and a remarkably low silica content – only 28% – both of which raise the bar in product responsibility and sustainability.
Smartstone's leadership in environmental care extends to Ibrido sampling, with eco-sample providing precise surface reproductions on 100% recycled cardboard. The eco-sample sets are presented in bio-based recyclable vacuum pouches made using carbon-negative laminates derived from renewable plant materials.
Replacing stone samples with cardboard samples reduces product waste while providing an accurate reproduction of each of the seven surfaces in the range. This allows designers to view a sample portion of the Ibrido slab, with all the aesthetic qualities of the final product, in a recyclable and lightweight format.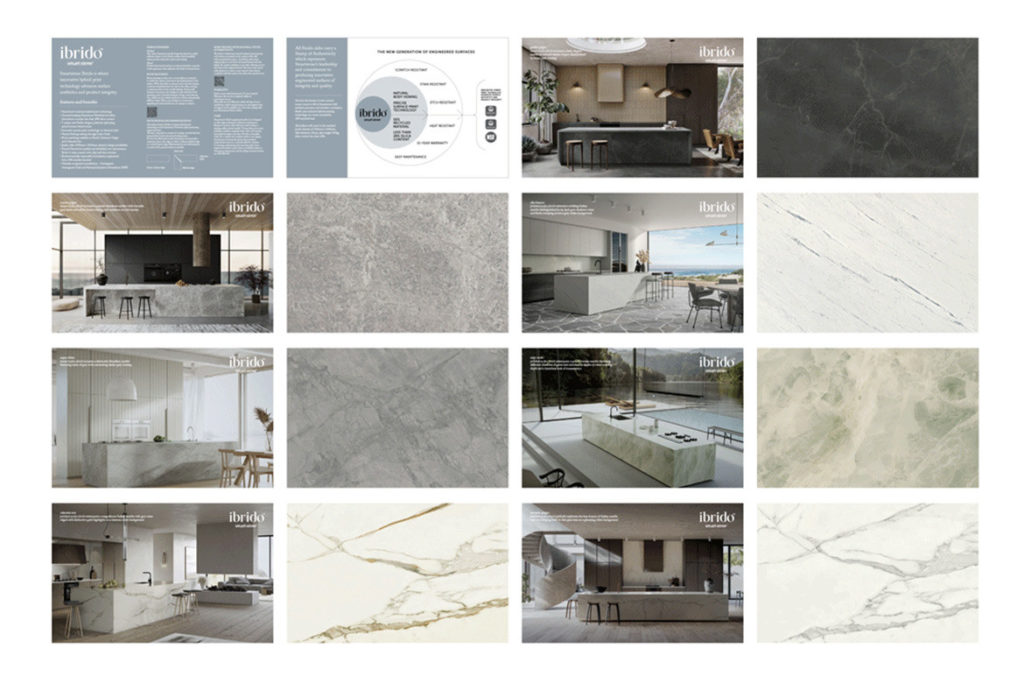 Smartstone's exclusive hybrid print technology ensures each Ibrido slab is identical, which is a valuable tool to assist with design planning, particularly where multiple slabs are being used. These innovative printing techniques set new standards in terms of textural beauty and depth of colour, with natural looking veined patterns and colours printed on the surface of the slab with exceptional accuracy. Identical jumbo slabs (3200mm x 1600mm) further optimise design possibilities, and provides the ability to create a beautifully seamless surface aesthetic.
The printed reproductions on the Ibrido eco-samples reflects the precision offered in this groundbreaking new range. The printing detail on quality coated card even depicts Ibrido's natural looking veining through the body of the slab. Each eco-sample is accompanied by corresponding images from Smartstone's beautiful campaign for detailed product visuals and added Ibrido inspiration.
Resistant to stains, scratching, and heat, Ibrido offers a longlasting surface solution that comes with a 15-year warranty. It is available across Australian and New Zealand now.
Order your eco-sample set directly from Smartstone today.
Smartstone
We think you may also like Hybrid engineered stone product from Smartstone