There is an inimitable power in architecture that can define, challenge and rediscover our sense of place. Design is made for humanity – with a forethought of provoking a unique connection for every individual that passes through. For Tim Ross, there is nothing more timeless than finding all of this in a well-loved home and it's beauty in the memories that it creates.
.
"Imagine if your family home is an architectural masterpiece. Could you let it go? Or would you want to hold onto that design legacy?" – Tim Ross.
.
Inspired and captivated by mid-century architecture and modernist homes, Australian comedian, presenter, writer and the self-proclaimed design nerd delves deep into the heart and soul of Australian design and its long-lasting impact on humankind in his new live show, Designing A Legacy.
Tim's deep passion for architecture and design has been seen through an impressive list of projects: a series of speaking engagements at The '50s and '60s House Symposium at the Museum of Sydney; Sydney Design Week; features in publications such as Real Living, Habitus and The Saturday Paper; his first exhibition titled, 'Design Nation' at the Powerhouse Museum in Sydney in 2018 exploring design objects from the mid 1960s to late 1980s; and to top off the last decade, Tim along with Kit Warhust performed their live show, MOTEL – a thought provoking and funny exploration of Australian holidays of the past; and many more.
Over the last 6 years, his live show, Man About the House has captivated his audiences across the globe. Transforming each architecturally-significant buildings and homes into a temporary theatre, Tim and Kit have performed their sold-out spectacles in buildings designed by esteemed names in Australian architecture, including Harry Seidler, Robin Boyd, Glenn Murcutt, John Wardle, Clare Cousins and Roy Grounds to name a few.
After a successful tour in the United States, New Zealand, the Venice Biennale and the London Festival of Architecture – Tim decided to kick off the new decade with his new live show, Designing A Legacy.
.
"The key theme of Designing A Legacy is the idea that great architecture can elevate us all. It speaks to us of our story, and reminds us of what we can achieve."
.
Ready to take us on a journey through the greats of Australian architecture, Designing A Legacy tells the stories of design legacies and heritage within Australian modernist houses. Designing A Legacy opens the national tour at the Sydney Opera House this Friday February 7 and Indesignlive had the pleasure of catching up with Tim before the premiere.
Heartfelt, passionate and relatable – Tim's unique cinematic experience reminds us what coming home truly means.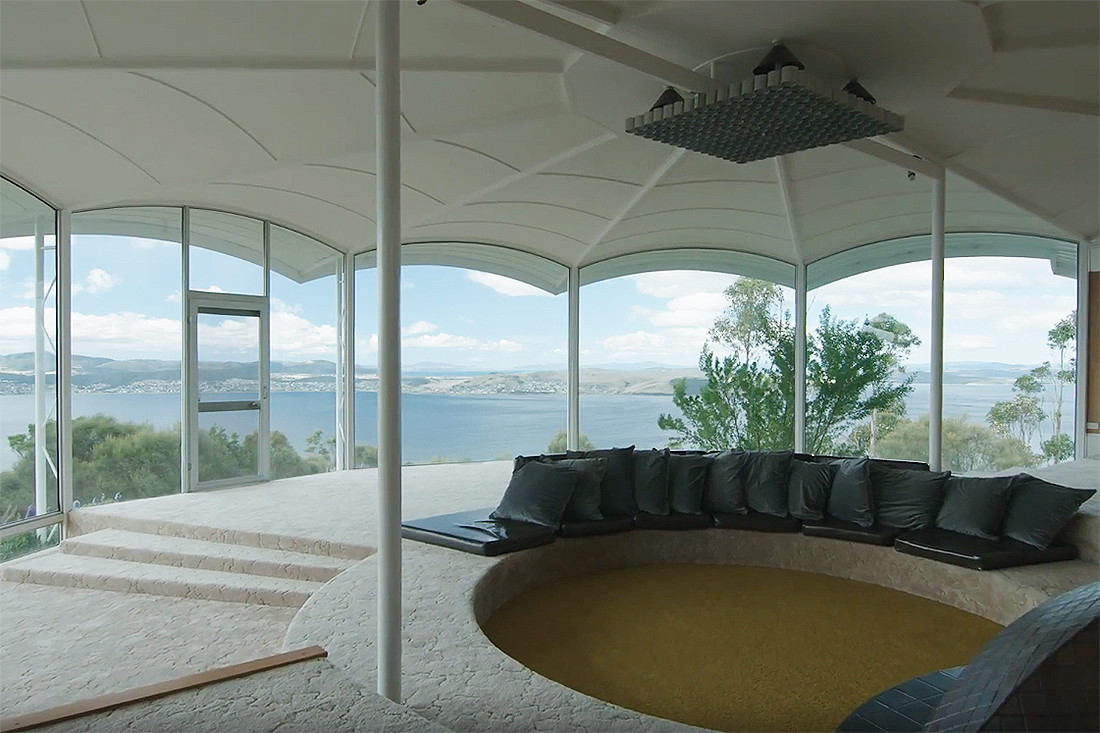 –
Emily Sutton: Tell us a little bit about yourself – you're renowned for your comedic presence and titling yourself as a "self-proclaimed design nerd."
Tim Ross: It's interesting calling yourself a design nerd – but sometimes you have to label yourself something outside of the box. Even though I don't have any professional qualifications in regards to design nor do I aspire to actually design anything myself other than things for my own home, I'd like to think that it's a title to remember me by.
It's certainly had an impact in the Australian design/comedy sphere. Where and when did the interest in architecture start?
Australian design and history has always interested me since I was just a little kid in the suburbs. All these different types of houses, their link to a sense of identity and inherent ability to create a dialogue of history that I experienced throughout the years resonated with me and had a profound effect on me.
The idea of each place having it's own story to tell influenced by the people within them.
Many of us can relate to the idea that there's a house or a building that's inspired you in some way. Through exploring these ideas over a series of projects in the last 5 or so years, I'm trying to go back into that time where I was inspired by these buildings.
If you allow architecture and design to move you, it will move you. Some people don't let that happen for whatever reason and can't see past the physical being of a bunch of doors and walls put together. I've spoken to people who grew up in my house currently and it had no effect on them like it does for me. And I'm here thinking, how does that happen? How can you not be moved by it or let it move you?
We can all have architecture and design in front of us, but some people are just oblivious to it. I can get very emotionally affected by my sense of place – always seeking comfort or some sort of connection to any space I'm in.
These buildings are silent influences on our lives. In retrospect, this emotional experience doesn't happen in isolation – it all just seems to make sense when you put it together with the memories that you create. The formative power of architecture on me was really full on and it just stuck with me throughout all these years.
What is it about Australian design that you connect to?
The connection between our identity and architecture, materiality, and how our buildings reflect who we are through the environment, nature, colours and blending with the bush – everything that is so quintessential about living in Australia.
Australian design could be seen as a creative expression of national pride of the materials and tones in this country – and we're quite good at it. I always find a lot of joy in the newer architecture coming in, particularly in Brisbane. For us Sydneysiders, we don't live in that climate so you think, 'what is happening? Why are they putting all these outdoor walkways and pavilions in that heat?' But then you go there, be amongst it all, and realise – yes it makes sense.
The regional differences within Australia make space for some really exciting and forward-thinking architecture to come through. The balance between land and water is truly something unique.
Every city does so well in speaking to place, allowing them to move you in the way you need or want to live. This whole concept confronts our views on how a house should be and how it should work, rather it lends itself to a practical situation dictating the build rather than one house looking the same as others.
Having regional styles of architecture in a place like Australia lets design organically happen, rather than forcing it to be a certain way.
Australia is in the perfect position of creating it's own identity and not following the trends of others anymore.
We take on modernism fully. What we're able to do here in isolation is something to celebrate. Back then, you used to have to travel to see great architecture or see little pictures in a book and reinvent those things in our own ways. Today, we take it upon ourselves to play off that isolation and do things our own way.
Where do you see it on the global stage for its past, present and future?
There is a huge potential for us in designing sustainably. At the moment, the focus of the world is climate change and how we can react to it. One of the houses we have on the show – a John Andrews house built in the 1980s ­– was so forward thinking for its time and the sustainability aspect of it made it one of a kind.
I see Australian design practically reacting to a need, which is exciting because we can show the world how we do sustainable architecture.
Places we build today – if we build it with intent – will always have a cherished place in our society for the future generation of Australian design. We'll be sitting here trying to design the next big thing of the future, and it'll be used as a precedent later on – it's a thrilling thought.
How did Designing A Legacy come about?
From collecting stories over the years. People would talk to me about their houses that had character and a distinct style that created a story for them. The idea of how designing and creating with some sort of conviction can have longstanding relationships is important to me, and to those who grew up around something with that.
There's something special about what makes people want to hold on to an old home and not want to sell. What is it about that?
You'll find true gems if you just look. It's the reason why this would make a great live show – being able to work with small and tricky things, thoughts, feelings and talking about architecture on a more personal level.
What does this live show mean to you compared to your past shows?
Some things can be described better on stage in a story that I can tell in a minute. Sometimes documentary can be quite sparse, where the editing and production of it is quite rigid because once it's out there, it's out there. I'm not great at describing how houses look, as that's not my profession, but I can tell a good story. I let the stories paint a picture for them.
In a live show, I'm able to add all these other elements and have it as a moveable feature. I can adapt, mesh and evolve these stories as I go but on film, that's it. The story I'm able to tell lets people add their inputs continuously, turning it into this sort of organic beast. I'm very lucky to be able to perform in front of people and watch their reactions to their own stories that I'm telling.
It sounds like a lovely way to make a living.
It's my creative pursuit that I'm very fortunate to have found early on.
What has been the most exciting thing in the creative process for Designing A Legacy?
The diverse thoughts and ways that people feel about their family home have been truly fascinating. It made me realise that I needed to be ready to be surprised by things no matter what you've read or what you've been told. You sit down with them and once you push record, a different story can evolve.
It's as though only a building knows what it wants to be and everything that comes afterwards is a result of your past perceptions of place.
It's remarkable that there's this canvas of a place that's different to every single individual. A conversation that stuck with me was one with Victoria Grounds – architect, Roy Grounds' daughter. She brought back the house she grew up in after all those years.
There was this sense of purity in her desire to preserve that house. The thought process in buying back the house had little to do with the architectural integrity of it, but the memories embedded within it – it was a symbol of her parents love.
That's what makes architecture so important – we all want to believe that we can attach humanity to architecture.
When we're watching a story about someone, a film, documentary, anything – we tend to put ourselves in that situation and wonder what we would do. It's exactly that with architecture – you didn't have to grow up in some significant architecturally designed house to understand or have empathy of what's happening.
It's humankind's ability to relate.
Humanity is ingrained into all of it, whether we notice or not. We start to frame things in terms of our identity; our own thoughts; our relationships; and the social history all come into play.
I've romanticised architecture in a way that I see people making, building and creating things with a beautiful purpose. I know architecture is different in the romantic sense than what it is in reality, but it's an incredible creative profession – it's an art form.
And we always just mostly want to think about the art. Where do you find inspiration for your shows? Or is it something that naturally comes to you?
I talk to a lot of people so the best stories aren't in books. Sure, I do a lot of research for facts and figures but it's the stories first-hand that inspire it. People usually ask me to come and see their house and most of the time, there's always a story there in the projects that I come across.
The one project that didn't deliver stories in the same way was when I did MOTEL. They're only places that people go to for a night or two and nothing much happens there. Whereas in houses, you live in and there's denser information. It's a self-fulfilling loop of architecture stories that keeps on coming in and I'm thankful that people want to share stories of their lives.
You must hear lots of stories about a whole myriad of projects and styles. What makes a piece of architecture timeless and irreplaceable? Design trends are so temporary these days.
It's harder now than ever not to be sucked into certain trends because things stick in the back of your mind subconsciously. I see a multitude of projects on Instagram everyday as I'm scrolling and they come and go so easily. Ultimately, what makes a building timeless is how well it works for someone and having the open mind to let that architecture take you along for the ride. Whether it's a piece of 90s architecture of post-modern architecture – it's timeless if you allow it to be timeless.
So timeless architecture can be based on memories.  
A lot of great architecture last century can't be fully found online; you can see their details and pictures in books that make it significant of that period. Sometimes, timeless is based on a specific moment and time where there's a certain fit-out or style that's part of your life – but 15 years later you remember it and think, 'damn I really like that.'
You have an emotional connection to it because it made you feel something and it won't ever make you stop feeling that thing.
It makes you feel like you're a part of something – when I'm sitting in my favourite restaurant amongst everyone; all the noise; and within the walls; it's something different to anything else.
And those moments is what architecture strives for – if there is an intent and consideration and thought going into a place, that feeling and that memory will last a lifetime.
For example, I love the anecdotes that come with furniture. I've got this old Eero Saarinen chair and we got it re-covered in an off green colour. When my kids were young and small, they would use the chair and their tummy's would touch the height of the fabric and it used to wear away the chair's materials – but it's a memory that I'll always think about when I look at those chairs.
That also makes that piece of furniture a one of a kind. You can't pre-make a gem like that.
I don't understand when people somehow can't hold onto their furniture because they can't fit it into a current space. How can you give away a table where all these things and memories used to happen? Furniture that's had a good life is furniture well loved.
In the last year, you've done some amazing things – winning the 2019 National President's Prize from the Australian Institute of Architects, your live show MOTEL and now, Designing A Legacy. What's the next step from here into the new decade?
There's a couple of big anniversaries coming up, the Sydney Opera House in 2023 – that'll be an exciting one. The National Gallery in Canberra in 2022, which is a project I'll be working hard on – taking the story of the building and reintroducing it's importance of it in who we are as a nation. There are a few TV projects lined up here and there, but honestly I'm just looking forward to this new decade.
I guess looking forward is always the most important thing!
The bigger discussions about how we can build cities, houses better in sustainable matters and constantly celebrating everyday architecture – need to keep pushing those boundaries.
It's interesting to look at how we can architecturally plan for the future as a nation. There seems to be a war on innovation in this country, where there have been times that it's been much easier to pull things out of the ground and exploit what we have rather than think, 'what can we build?' instead of 'what can we take out?'
It comes back to the idea of designing a legacy – building something that stays. The conversations you have in the live show also strips away the stigma of how untouchable architecture is for the everyday person, making it a dialogue that we can all contribute to.
After these buildings were built, it's a story that I want to tell and invite everyone else to tell. The consideration of the design, how it affects people and its longstanding impact that goes beyond the structural build and the minds that built them. I explore the essence of houses and what they're meant for.
It's a conversation I would very much love to continue.
Tim Ross premieres Designing A Legacy at Melbourne Design Week 2020 before touring nationally. For more information and details about the show, click here. 
Designing A Legacy credits |
Director: Andrew Garrick
Cinematographer: Rod Pollard
Producer: Shelley Kemp
If you enjoyed this, we think you'd might like this story on the whimsical world of Bompas & Parr.