The embodiment of the designer-as-entertainer who shuns vapid showboating, David Rockwell is the longest-living icon of American design and a mastermind of parallel worlds that he ceaselessly recreates in every field of design.
Rockwell Group is a 250-person design practice that was founded by David Rockwell in 1984 in New York and now has satellite offices in Shanghai and Madrid.
The Group delivers projects across the entire spectrum, from interiors to hotels, set and stage design and museums, all recently portrayed in Drama, a new book published by Phaidon that explores the firm's kaleidoscopic activities.
Whether it's sets for Academy Award-winning movies, design-driven luxury hotels or forays into product design, David Rockwell deploys imagination and empathy as tools for sensing an audience's vibe and amping it up with visual stimuli and sheer joy.
From his base in New York, Rockwell offers us his own privileged perspective on post-pandemic scenarios for the hospitality industry, the growing need for stronger community ties, and the very special bond that Salone del Mobile has forged with the design community as a whole.
Giulia Zappa: In your decades-long career, you have designed hotels, restaurants, and sets, among others. What role do entertainment and awe play within the design process? Is there a specific approach that contributes to the memorability of your projects?
David Rockwell: As an architect, I'm interested in places that bring people together. At the beginning of every project, we ask how we want the guests or visitors to feel, not how we want the space to look. That's a consistent approach, whether for a restaurant, hotel, university, museum exhibition, or play.
Then we use a variety of tools to produce the kind of emotional experience that we've agreed we want to create. The methods and creative principles behind them come from our experience in – and are applicable to – both architectural and theatrical disciplines.
Your firm has designed dozens of hotels. How do you identify your idea of luxury and how much does it have to do with the specific venue where you are working?
Luxury can be less about the cost of particular design features and finishes and more about how guests experience a space.
For example, at the new Virgin Hotels Las Vegas, we wanted to create an inclusive series of lounge and dining spaces that invite guests to linger and explore. The hotel is located a couple of miles away from the iconic Strip, and we chose to accentuate this separation by creating a luxury destination that taps into the wider context of the desert landscape with pure forms and sculptural moments.
Our public spaces reference desert Modernism and, wherever possible, blur the lines between indoors and out, with skylights, glazing, and an outdoor terrace. We imagined taking guests on an adventure along a desert highway spotted with natural wonders and follies.
You are the New York designer par excellence. How do you think the offer of hotels and restaurants in the city that never sleeps has changed in recent years? Do you see new preferences and habits emerging?
I think design in service of rituals, community-building, culture, and comfort will be prioritised.
There's a power now in the post-pandemic city, an electricity of liveness and togetherness, that we can harness in the ways that we design and build.
For example the upcoming Civilian Hotel in New York City's Theater District is built around placemaking and community building that serves different groups of people.
We wanted to create a space where creative insiders and visitors can gather, collaborate, and unwind. It's envisioned as a new home to serve the needs of New York's local performers, designers, directors, producers, and writers.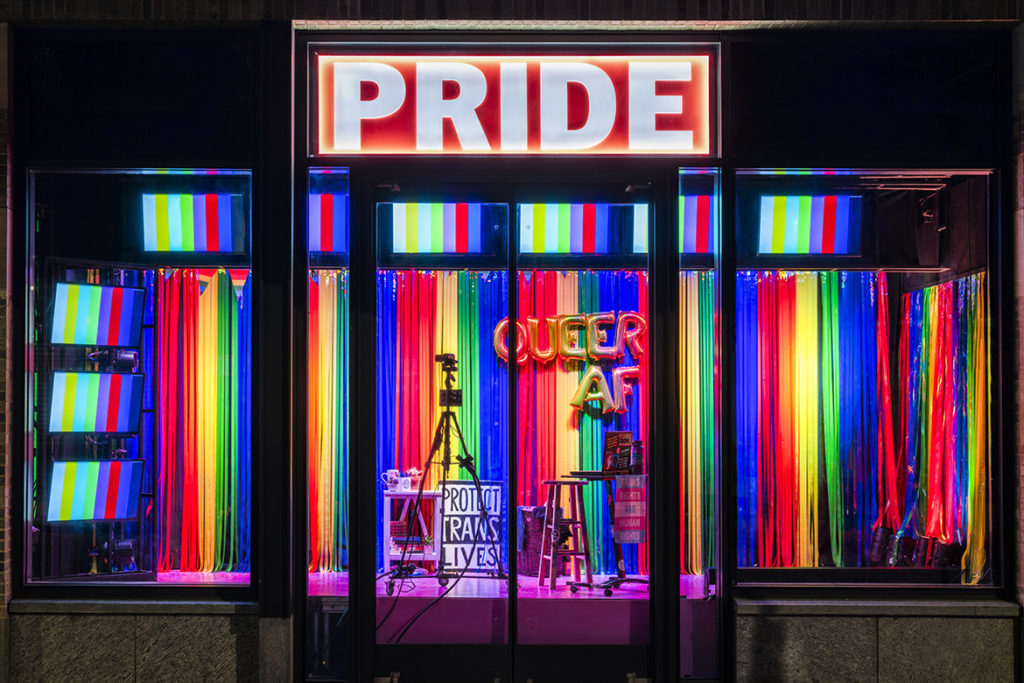 With DineOut NYC, a pro-bono tool kit made available to the city's restaurateurs, you helped over 40 restaurants reorganise their activities outdoor. Do you think COVID-19 will have a long-term impact in terms of how we use these spaces?
Yes. DineOut NYC, along with other outdoor dining efforts across the world, really taught us a great appreciation for the benefits of public space around different uses.
This summer, The Seven Deadly Sins transformed streets in Manhattan's Meatpacking District into a playhouse. We designed sets in empty storefronts for seven new plays, each addressing a sin – pride, sloth, greed, lust, wrath, envy, and gluttony.
The pop-up bar you launched in 2018 with Surface magazine, The Diner, has entered the annals of Fuori Salone. What is your relationship with the Salone del Mobile of Milan?
Salone del Mobile is incredible! What I love about Milan Design Week is that it is the design industry's version of the World's Fair. There is such a sense of wonder and discovery that spills over into the city, which has its own rich history of design.
The grand scale combined with the feeling of excitement and energy there attracts people from around the world. It's also very inclusive in the sense that established, emerging and student designers are well represented at the various events.
This article was written by Giulia Zappa for Salone del Mobile Milano. The Salone del Mobile Milano takes place 7-12 June 2022.
Rockwell Group
rockwellgroup.com
Salone del Mobile
salonemilano.it
Photography
Via Salone del Mobile