As the beast that is the Salone del Mobile Milan continues to grow in scale each year, it's becoming more common to see Australian design well represented. With 2019 marking the biennial return of the Euroluce, there is a marked number of Australian lighting designers turning their attention to the global behemoth.
It's not surprising when you consider the design clout of our island nation, alongside an ever-narrowing global economy.
So which Australian lighting designers are illuminating Milano?
RAKUMBA
Australian lighting design studio Rakumba is joining forces with Montana during the 2019 Salone del Mobile. All of the lighting being featured on the stand of the well-known Danish brand is from several of Rakumba's ranges including Typography (designed by Studio Truly Truly) and the Mito (designed by Tom Fereday). The stand is graphic and bright with a colour palette in oranges and reds, with hints of blue – complemented by the brass finish seen on Typography. It's a fusion of new meets old, as Montana will showcase the original 1971 Verner Panton classic Pantanova seating system and Rakumba is launching the Typography floor lamp.
Find Rakumba at Workplace 3.0, Hall 6, Booth D26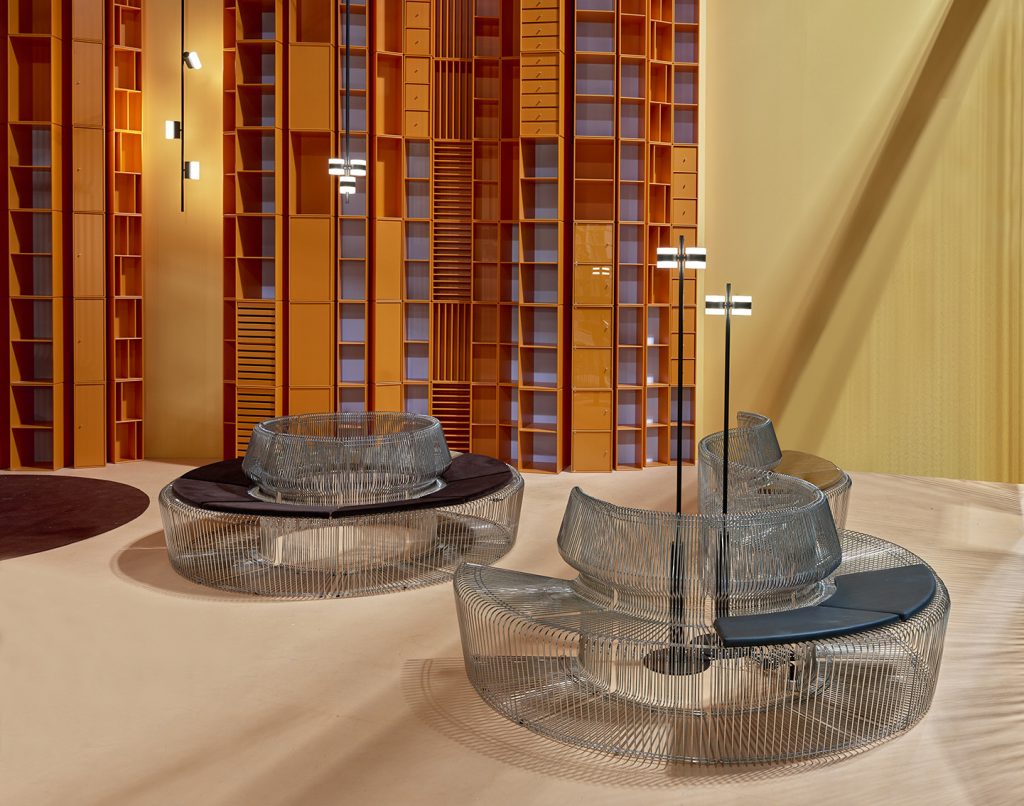 ARTICOLO
The Melbourne-based lighting studio is both presenting at the fairgrounds at Rho Fiera and will be featured in a group show as part of the Fuori Salone.
The minimalist stand is a reflection of the brand's design aesthetics and has been designed by longtime collaborators Studio Goss. Studio Goss is also the practice behind Articolo's Melbourne and New York showroom designs.
The pieces being unveiled on the stand at Salone del Mobile Milan are two lighting designs that form part of the range 'Scandal'. The new design comes in both a pendant and wall sconce, featuring a distinctive barrel shape with a brass inlay to hold it all together. The light source is then hidden by a rounded glass profile.
Find Articolo at: Salone del Mobile Milano – Pavilion 9, Booth D09 and Meet My Project – Next Agency, Viale Crispi 5, Milano
VOLKER HAUG
Also showcasing its designs across two locations is Volker Haug. For Volker Haug Studio versus John Hogan the Melbourne-based lighting studio has teamed up with Seattle glass artist John Hogan.
Volker Haug is synonymous with its use of metal in its lighting products. It is the material of choice and has become the cornerstone in the studio's fabrication process. The installation brings together two studios to experiment and explore the design possibilities of metal and glass. The show features scaled-up works that bring a hefty structure and visual weight.
In addition to the special collaborative project, Volker Haug is also showcasing a product in the Local Milan No.4 exhibition.
Find Volker Haug at: Volker Haug Studio versus John Hogan exhibition, Via Santa Marta, 21 and Local Design No.4, Via Cesare Correnti 14
PORCELAIN BEAR
Returning to present its products at the Salone del Mobile Milan is Porcelain Bear. The Melbourne studio will be revealing four new shapes, extending its Acrobat Series. New to the latest additions is a selection of marbles, each then paired with porcelain to form the weighted base. A growing collection, Acrobat takes its inspiration from the fluid movements of aerial performers.
Find Porcelain Bear at: Local Design No.4, Via Cesare Correnti 14
CHRISTOPHER BOOTS
Yet another Melbourne-based lighting studio, Christopher Boots will present Glass Bucky as part of Local Milan. The pendant light features fluted glass coupled with brass, creating a feature light exuding classical elegance. The Glass Bucky is an update to the designer's Bucky light, which is inspired by Buckminster Fuller's geodesic domes.
Find Christopher Boots at: Local Design No.4, Via Cesare Correnti 14
CALLUM CAMPBELL
West Australian designer Callum Campbell will present his award-winning range 'Objects for Self' as part of Local Milan No.4. Within the three-piece range is the Honne, a small brass light that casts illumination through negative space. More or less light can be cast by rotating the top of the piece, revealing a concave form.
Find Honne by Callum Campbell at: Local Design No.4, Via Cesare Correnti 14
ZACHARY HANNA
A graduate of University of Technology Sydney, Zachary Hanna will present his Trapeze light at the 2019 Salone del Mobile Milan as part of Local Design No.4. The suspended light brings versatility in its application while a key to the design is the necessary tension holding it together. For biggest visual impact the light is strung across two perpendicular surfaces such as two walls, or a wall and a ceiling.
Find Zachary Hanna's Trapeze light at: Local Design No.4, Via Cesare Correnti 14
NICHOLAS FULLER
Showcasing balance and engineering finesse through his ME light is Nicholas Fuller. The light is the culmination of a lifetime of knowledge gained while working alongside his father and grandfather, who were veteran machinists and manufacturers. ME01 and ME02 are pendant lights that feature a meticulously machined bronze component, offset by hand-blown glass and carbon fibre. The result is a light that hangs delicately in place.
Find Nicholas Fuller at: Local Design No.4, Via Cesare Correnti 14
BEN-TOVIM DESIGN
A graduate of the prestigious Eindhoven Academy, Melbourne-based designer Jonathan Ben-Tovim (Ben-Tovin Design) will present his Fold Lamp as part of Local Milan No.4. Coming in both a floor and table version, the solidly constructed light includes a hefty granite base with a curving blackened steel section that deflects the light to create a certain level of ambience.
Find Ben-Tovim Design at: Local Design No.4, Via Cesare Correnti 14
Want more action from the streets of Milan? Follow along at #MilanIndesign2019.